If the area around your shed looks neglected, there are plenty of shed landscaping ideas to make it eye-catching. Even if you're too busy to keep up with lawn care, you can get creative with low-maintenance options that still look clean and inviting.
Check out this full list of ideas and tips on landscaping around a shed to liven up your yard and add value to your property.
Landscaping Styles
Looking for designs that cater to your climate? Check out the following landscaping styles to draw inspiration.
1. Tropical
For a tropical vibe, you'll need a lot of large, leafy green plants, such as those commonly found in tropical rainforests and humid climates. Tropical landscaping is all about plant density. You can create a backyard paradise with your shed as your focal point.
2. Desert
Contrary to popular belief, plenty of bright and colorful flowers and plants thrive in dry, desert climates. You can create a desert-inspired landscape with succulents, cactuses, sand, and stones.
3. Modern
If you have a metal shed, consider complementing it with a modern design. This style consists of clean edges with a sleek and neat look. The goal is for the landscaping around your shed to be low-maintenance, such as with potted plants and concrete tiles.
4. Japanese
Japanese garden and landscaping design centers around asymmetry and symbolism, incorporating natural elements like water, rocks, and plants. Think minimalistic and simplistic.
5. Country
If you live in a rural area, such as on a farm, consider the country cottage look. This style has a casual and relaxing feel, such as trees and wildflowers with hedges. 
6. Tuscan
The Tuscan landscaping style incorporates lush greenery and a variety of edible plants, such as fruit trees and herbs. It's also known for having impressive architecture. You can achieve the Tuscan style with an outdoor dining area or patio, bright flower colors, and hardscape elements like stone walkways and water features.
7. Mediterranean
Like Tuscan, Mediterranean landscaping also has water features, outdoor seating, and vibrant colors. The major difference is that it caters to hot climates. Try this design for your shed landscaping by adding shady retreats, gravel walkways, and painting your shed a bright color.
Walkways
If you prefer low-maintenance shed landscaping ideas, look no further than walkways. Paths and walkways not only add charm but also help keep people off the lawn.
8. Pavers
Add concrete pavers to guide your path to the shed. You can also swap out the concrete with faux stone pavers to save money.
9. Stamped Concrete
Stamped concrete is the best choice for a heavy foot traffic area in your yard. It adds a textured look to your lawn that can imitate tile, stone, and other landscaping materials.
10. Mulch
A quick and affordable walkway solution is mulch. Made of bark and wood chips, mulch is lightweight and easy to spread. Since mulch can naturally decompose over time, you'll have to add more seasonally.
11. Gravel
Gravel is a simple yet attractive walkway to direct foot traffic to the shed. You can use it alone or together with other hardscapes like pavers. You can also add gravel as a decorative border around your shed, which helps with drainage and keeping pests out.
12. Cobblestone
Popular since the middle ages, a cobblestone walkway consists of stone blocks fitted together to create a pattern. This option is a great way to add geometric design to your landscaping.
13. Pallet Wood
Pallets are a popular choice for DIY walkways since they're inexpensive and recyclable. Align the pallet boards in any way you'd like to create a path to your shed. You will need to coat the wood to protect it from rot and weather.
14. Brick
Lay brick to create a charming path through the garden to your shed. Brick is also good for heavy foot traffic and heavy objects like wheelbarrows and bikes.
15. Stepping Stones
Another easy DIY walkway is with stepping stones. You can dig holes for in-ground stones or simply lay them over the lawn.
Shed Additions
If you've converted your shed into a backyard studio or guest house, these additions will make it a nice hangout space.
16. Built-in Deck
Are you using your shed as an office or workshop? Add on a deck for outdoor seating and leisure. Consider choosing cement and concrete footings, two of the strongest types of foundations for decks.
17. Stairs
If your shed door entrance is higher up, stairs are a convenient addition. Build them with wooden two-by-fours for a natural look, or use poured concrete for a sleeker surface.
18. Porch
If you're up for a DIY woodworking project, you can add a porch to your shed as a more attractive entrance. Porches also serve as extra space for storage or yard decor.
19. Ramp
Ramps are handy for rolling heavy vehicles and tools into large storage sheds. Add a ramp as an easy entranceway for ATVs, riding lawn mowers, and other large equipment.
20. Lattice
Enhance the look and feel of the shed with lattice skirting. Line it around the base of your shed for extra design. Lattice also helps keep animals out.
21. Fencing
Does your shed have a tiny house style? You can install a decorative fence or gate around it to give it a "homey" look.
Plants
The best thing about plants is that they come in various options for every season. From bright colors to unique textures, here are a few plant options for your shed landscaping.
22. Flower Garden
Add a pop of color to a plain shed with a vibrant flower garden. You can line flowers around the shed base or along a walkway.
23. Vegetable Patch
Create an edible garden around your shed by planting a vegetable patch. Consider perennial vegetables like eggplants and peppers, which you can grow and enjoy year-round.
24. Potted Plants
Not all flowers and plants need to be in the ground. Opt for potted plants and move them around as you wish.
25. Trees and Shrubs
You may already have trees and shrubs in your backyard, which you can use to your advantage. With mulch borders and professional trimming, your trees and shrubs will complement any landscape design.
Lawn Decorations
Easy and affordable, you can improve the landscaping around your shed and lawn with decorations. Check out the following yard accessories for inspiration.
26. Stones
Stones are simple decorations that can work almost anywhere on your lawn. Stack them up in front of your shed for a natural look, or place them along edgings and walkways to enhance the design.
27. Water Features
Water features make great focal points of a landscape design. Many are also easy to install and portable.
28. Statues
Statues and antiques give your property personality and make good conversation starters when entertaining guests. You can also find many options that offer functionality, such as statues that double as water fountains and fire pits.
29. Outdoor Furniture
Get creative and experiment with different types of outdoor furniture. From patio swings to hammocks, the options are endless. 
30. Birdhouses
Hang a birdhouse on your shed to attract birds, which help pollinate your gardens. Birdhouses are also a fun DIY activity for children to make.
31. Outdoor Lighting
Having lights outside allows you to enjoy the yard after sunset. LED string lights are an easy and convenient option for shed lighting since they're energy-efficient and good for indoor and outdoor use.
32. Signs
Add a few custom signs of the different zones in your yard. For example, you can hang a directional sign on a tree pointing to the pool area or add stakes in the garden indicating the types of flowers or vegetables.
33. Fire Pit
Want a cozy, fireside seating area? Install a fire pit in front of your shed to create a backyard camping retreat.
Design the Perfect Backyard Storage Shed
We hope the list of shed landscaping ideas inspired your next backyard project. If you want to remove your old shed, our metal sheds are the perfect replacement.
Durable and customizable, you can design your prefab metal shed to fit your landscaping design of choice. Once ordered, we'll ship and install your new shed for free.
Get an instant price for your new metal shed.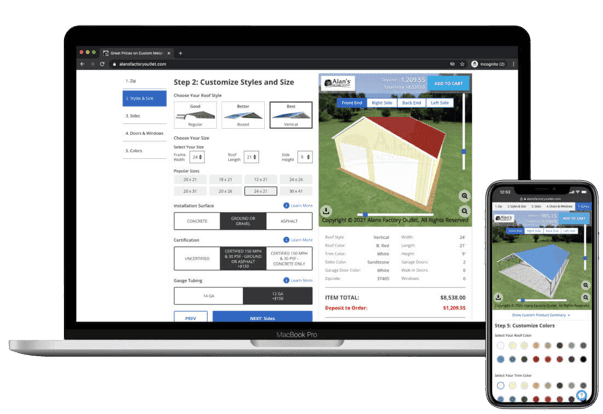 Price and Buy Online with Our 3D Builder Plus Free Shipping and Installation!
Select a size to meet your needs
Choose roof, side, and trim colors
Add garage doors, windows, and walk-in doors
Customize additional options
Customize Now