If you need a place to store gardening tools and outdoor equipment, garden sheds are an excellent solution. But before you hunt for a random shed, it's best to consider the look and style of the structure. You'll want your shed to be both an attractive and functional addition to your garden—not an eyesore.
If you need some inspiration, you're in the right place. From unique styles to DIY options, we've rounded up 30 garden shed ideas to consider for your space as well as DIY tips to make it your own.
Creative Garden Sheds
A unique shed design can be a whimsical addition to a bland backyard. Check out these creative ideas that add visual appeal to your garden.
1. Tiny House Shed
Want a tiny house without the "tiny lifestyle" commitment? Get a shed that resembles a house design. You can even add welcoming decor such as potted plants and a doormat.
2. Greenhouse Hybrid
Are you trying to grow plants in your garden shed? With a greenhouse-shed hybrid, you'll have the climate-controlled space needed for your plants, natural lighting, and storage area for your tools and equipment.
3. Backyard Campsite
Do you already have a backyard hangout area with lounge chairs? A firewood shed and firepit addition can make it the perfect campsite.
4. Cabana-Shed Hybrid
Need a shaded area for lounging? This cabana-style hybrid has an attached storage shed—the perfect combo for outdoor entertainment.
5. Living Wall
Even with a plain garden shed, greenery can enhance the look. Choose fast-growing vertical plants like vines to grow along the walls of your shed and blend in with your yard.
6. Cottage Style Shed
If you like architectural designs, consider a cottage-style shed. This design creates a relaxing, countryside feel for your garden.
7. Kids Playhouse
Looking for ways to keep the children busy? Convert your shed into a playhouse, allowing you to keep an eye on them while tending the garden.
8. Garage-Shed Hybrid
Some larger metal sheds come with a roller garage door that can double as a mini garage. These are perfect for storing lawn mowers, bikes, and outdoor furniture.
9. Mural Wall
Hire a muralist to transform your garden shed into a work of art. It can be an attractive focal point when hosting backyard cookouts and other get-togethers.
DIY Potting Sheds
Up for a good home project? Here are a few ideas you can build and customize yourself.
10. Phone Booth Style
Looking for a nostalgic yard addition? You can paint a slender shed red and add a glass door to resemble an old-fashioned phone booth.
11. Wood Pallet Shed
If you're a skilled DIYer, consider building a pallet shed. If you already have the shed foundation in place, pallet structures are simple and quick to assemble.
12. Custom Theme
Consider personalizing your potting shed with a cool theme, like with signage and paint colors of your favorite sports team.
13. Reading Nook
If you enjoy curling up with a good book, consider installing bookshelves into your potting shed and stack them with your favorite reads. Simply add a lounge chair to create a cozy garden reading nook.
14. Rustic Appeal
Sometimes faded wood and a rusted roof can work to your advantage. You can embrace the weathered shed and add some plants to create a charming, rustic look.
15. Upcycled Materials
Save on shed costs by building your potting shed with secondhand materials. From old doors to leftover lumber, the options are endless.
16. Pop of Color
An old, faded garden shed can still be useful! It may just need a fresh coat of paint to bring it back to life.
17. Lattice Gate
For a potting shed, opt for a lattice gate enclosure. This will let fresh air flow through and also allows you to keep an eye on the plants.
Small Garden Sheds
If you're working with less square footage, smaller shed sizes are ideal. When it comes to limited space, these next few ideas won't be a problem.
18. Lean-to Style
Want a shed with versatility? Lean-to styles can be either freestanding or "leaning" on a wall. Plus, their sloped roofs can make the shed look like an extension of the house.
19. Open Front
Not all sheds need a door. An open-front style for firewood storage can add a natural wood aesthetic to the yard.
20. Storage Cabinet
A simple outdoor storage cabinet can serve as a garden shed. You can use the shelves for storing tools, lanterns, and more.
21. Vibrant Door
It's easy to lose sight of a small shed surrounded by nature. Give it a bright-colored door to help it stand out.
22. Trash Bin Cover
Garden sheds aren't reserved for tools and equipment. Use them to store and conceal unattractive garbage cans in the yard.
Garden Shed Storage Ideas
No matter the size, organization is key. Check out these storage solutions to keep your shed spacious and clutter-free.
Potting Bench
As both a storage and workspace station, potting benches are every gardener's dream. Use one to do all of your gardening tasks and even as a buffet table for outdoor dining.
24. Wall Shelves
Wall shelves allow you to make the most of vertical space. Shelve lightweight items to keep the floor clutter-free.
25. Pegboards
Organize small tools and items on pegboards to keep them at eye level. Hang them on your shed walls and door.
26. Racking Shelves
A durable alternative to wall shelves, you can use racking shelves for larger, heavier items. These freestanding shelves are great for baskets and storage bins.
27. Storage Bins
Plastic bins are perfect for storing cords, cables, and other miscellaneous items that can easily become cluttered. Use bins to categorize and stack tools and equipment as needed.
28. Bin Labels
Add labels to your storage bins as an easy way to organize them. Bin labels also help others know where to find (and return) your items after use.
29. Utility Hooks
Utility hooks are a convenient solution for items you use frequently. Use them to hang bikes, chairs, and large gardening tools.
30. Magnet Bars
Last but not least, magnet bars are an easy and cool hack for organizing tools. Mount these bars, and metal tools—like screwdrivers, pliers, hammers, and scissors—will cling to them.
Tips for Creating the Perfect Potting Shed
Whether you're buying a shed or building one from scratch, here are a few tips to make sure you choose the best option for you.
Choose Your Materials Wisely
When comparing metal sheds to wood and other materials, metal almost always has the upper hand. Not only is it low-maintenance, but also fire- and rot-resistant, which may come in handy if your region experiences wildfires. Another option to consider is UV-resistant windows. They can help protect items inside a shed from sun damage and color fading.
Size Matters
Most garden shed sizes are 48 to 120 square feet. This is something to keep in mind when planning yard additions, especially if you're building a shed. If you have a small backyard, consider a slender, taller look to take advantage of vertical space.
Location is Key
Finally, you'll want to choose the best location in your yard. The goal is to find a place that is not in direct sunlight and has a little bit of shade. This also comes in handy if you're growing plants in your potting shed.
Do you have a unique shed design in mind but you're not a skilled builder? Use our 3D building tool to custom design and order a metal garden shed from start to finish.
Get an instant price for your new carport or metal garage.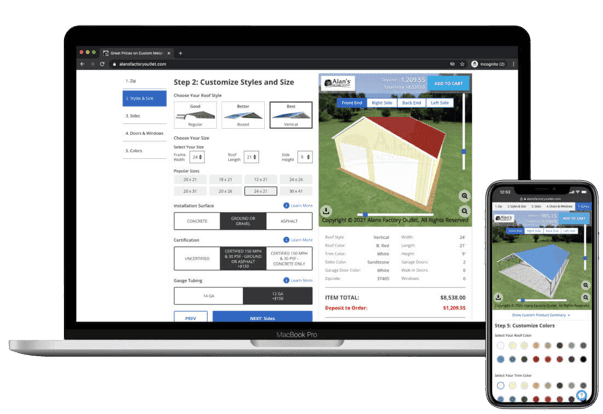 Price and Buy Online with Our 3D Builder Plus Free Shipping and Installation!
Select a size to meet your needs
Choose roof, side, and trim colors
Add garage doors, windows, and walk-in doors
Customize additional options
Customize Now