Get your custom garage and get our best prices plus Free Shipping and Installation!
Metal Buildings & Garages – Georgia
Alan's Factory Outlet is the #1 seller of custom, prefabricated metal garages in Georgia. Our 3D Metal Building and Garage Builder allows you to design your own metal building or garage, and instantly see how much it will cost.
Sizes
We sell buildings up to 60 feet wide and 300 feet long. Here are some popular sizes of steel buildings we sell (click for details and pricing):
Here are some popular garage sizes:
If you need help figuring out what what size of garage you need, our Ultimate Garage Buyer's Guide will show you how to plan the perfect garage.
Pricing: How Much Does a Metal Building Cost in Georgia?
Use our 3D Building Designer to get instant pricing for your custom metal building or garage.
Make a Great Decision with Our Garage Buyer's Guide
Get our free Garage Buyer's Guide and find out everything you need to know before you buy a metal garage.
Thank You!
Your guide should arrive in your inbox in about 5 minutes.

Alan Bernau Jr., Owner
More than 75,000 Satisfied Customers
"The crew that constructed our building was very professional and did an excellent job."

weldon P., Georgia, October, 2017
"Alan's staff was helpful and professional. Arrived very quickly and installers did an outstanding job"

Wesley T., Georgia, July 2017
"This will be my third building from Alan's. They are great. It may take two months to get your building but it's worth the wait when necessary. Very good quality, installed exactly as desired."

Donna R., Georgia, July 2017
See our estimated delivery times to see how long delivery might take in your area.
"Seems to be a well built structure."

jason, Georgia, March 2017
"It was a breeze. The color was not what I expected. I needed a gray but the grey looked brown on the web site."

Flint T., Georgia, December 2016
You can use our color visualizer on a color-accurate screen to get an accurate preview of color options.
"Customer Service outstanding."

Cindy L., Georgia, June 2016
"Shelter was delivered on schedule. The installers knew what they were doing and did a professional job of erecting the building. The building is made of strong, high quality materials. There are many building out there, but I would not buy from anyone except Alan's Factory Outlet. I am really proud I did."

Emory F., Georgia, March 2016
Does Alan's Factory Outlet Deliver Metal Buildings Near Me?
Yes! We deliver metal buildings and garages in all parts of Georgia, including Albany, Alpharetta, Athens, Atlanta, Augusta, Brookhaven, Canton, Chamblee, Columbus, Dalton, Douglasville, Dunwoody, East Point, Evans, Gainesville, Hinesville, Johns Creek, Kennesaw, LaGrange, Lawrenceville, Mableton, Macon, Marietta, Martinez, Milton, Newnan, Peachtree City, Peachtree Corners, Pooler, Redan, Rome, Roswell, Sandy Springs, Savannah, Smyrna, South Fulton, Statesboro, Stockbridge, Stonecrest, Tucker, Valdosta, Warner Robins, Woodstock, GA, and more.
About Alan's Factory Outlet
When you need to find high-quality storage buildings for sale in Georgia, you need Alan's Factory Outlet. We offer metal buildings for sale in Georgia including the areas of Atlanta, Augusta, and Columbus that you can customize to create just what you're looking for! Our metal garage prices are competitive, and as an added bonus, our Georgia metal garages can be delivered and set up for free anywhere in the state on your level land.
This metal building is an 18-by-21-foot boxed-eave garage shown with a 9-by-8-foot garage door and an optional 36-inch walk-in door. This customer also put in a vent on the end after the metal garage was set up. The colors on this structure are a red roof, red trim, and white sides and ends.
All metal sheds for sale in GA should be installed on a level surface to ensure quality and durability. The property owner is responsible for preparing the land for the installation of metal garages. Georgia has local permit requirements that must be met; when you buy one of our sheds, please keep in mind that you are also responsible for acquiring the necessary paperwork from your municipality. But once all of the preparatory work is done for our metal storage sheds, Georgia residents can take a step back and let us deliver and set up their garage.
Customize Your Steel Garage
Take a look at the images on this page to get an idea of our different styles of metal sheds for sale in GA to explore some of your design options. Our experienced garage-builders in Georgia make sure that each and every metal building is custom-built for you, so each building can be as unique as the person buying it. Browse through the types of durable steel structures in Georgia and you can select and order exactly what you need online. We offer multiple models for sale and work hard to save our customers money!
These styles come in a range of standard sizes, but if you need custom-sized metal buildings in GA, contact our customer service department: Our trained professional staff will do everything they can to get you what you want. Once you have chosen the size and style of metal garage to purchase, browse our available color palette. Our storage buildings for sale in GA come in your choice of 13 different colors, and you can customize the walls, trim, and roof of our steel storage structures. Georgia property owners can match their new metal building to their home or other outbuildings with ease!
Each garage comes standard with steel garage bay doors. Our storage sheds in Georgia also have a 36-inch walk-in door for your convenience. You can choose the placement of the doors to make your garage most suitable for the needs of you and your family.
Our steel garages in Georgia are built with 14-gauge tubing and 29-gauge sheeting. Optional thicker 12-gauge tubing is available for metal buildings; this has a 20-year rust-through warranty.
This Georgia metal garage is a 22-by-26-by-9-foot, boxed-eave, fully enclosed metal building with two 9-by-8-foot garage doors on the side of the building. It is also shown with a 36-inch walk-in door. This steel building has a black roof, black sides and ends, and red trim. The garage doors and walk-in doors are always white. When looking at metal buildings, GA residents should take the current color scheme of any structures on the property into consideration before making their selection.
This 12-by-26-foot boxed-eave metal garage in Georgia has a 9-by-8-foot garage door, a 36-inch walk-in door, and two 30-by-30-inch windows. The roof color on this metal garage is burgundy, and it has clay sides and white trim.
We pride ourselves on making the process of getting a metal shed or garage easy for our customers. Our metal sheds for sale in Georgia can be delivered and installed all over the state, including Atlanta, Augusta, Columbus, Mansfield, Savannah, and Athens. Order one of our high-quality metal garages in GA today to get a durable structure at a great price!
Georgia Metal Garage Color Options
Popular Cities We Serve
Alan's Factory Outlet has a wide selection of carports and metal buildings for sale. We deliver to many different areas in the U.S. Some of our popular delivery locations outside of Georgia include:
Customize, Preview, and Order Your Metal Building Online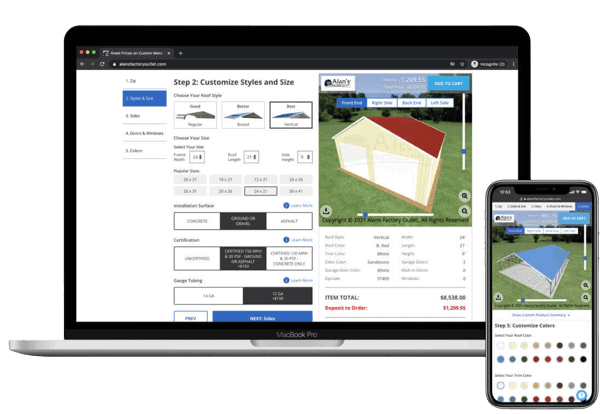 Price and Buy Online with Our 3D Builder, Plus Get Free Shipping and Installation!
Select a size to meet your needs
Choose roof, side, and trim colors
Add garage doors, windows, and walk-in doors
Customize additional options