Alan's Factory Outlet is a leading seller of custom, prefabricated metal garages and metal buildings in South Carolina. Our 3D Metal Building Designer allows you to quickly design your own metal building, pole barn, storage building, or metal garage, and instantly see how much it will cost.
Sizes
We sell buildings up to 60 feet wide and 300 feet long. Here are some popular sizes of steel buildings we sell (click for details and pricing):
If you plan to get a metal garage, our Ultimate Garage Buyer's Guide will show you how to calculate the perfect size of garage for your needs.
Pricing: How Much Does a Metal Building Cost in South Carolina?
Use our 3D Building Designer to get instant pricing for your custom metal building or garage.
75,000 Satisfied Customers and Counting
"Easy to navigate. Simple customization. Great experience from purchase to installation. Excellent customer service."

Nicole E., South Carolina
"We are very satisfied with the product we ordered. The team that set our building up was fast, friendly, and very professional."

Hannah S., South Carolina
"Loved the easy system you have for ordering , liked all the options with pricing showing .I am very happy with my garage . All my friends love it ."

Robert P., South Carolina
Do You Install Metal Buildings Near Me?
Yes! We can install your metal building anywhere in South Carolina.
The towns, cities, and rural areas we deliver to include Aiken, Anderson, Beaufort, Berea, Bluffton, Carolina Forest, Cayce, Charleston, Clemson, Columbia, Conway, Dentsville, Easley, Five Forks, Florence, Fort Mill, Gaffney, Gantt, Goose Creek, Greenville, Greenwood, Greer, Hanahan, Hilton Head Island, Irmo, James Island, Ladson, Lake Wylie, Lexington, Mauldin, Mount Pleasant, Myrtle Beach, Oak Grove, Orangeburg, Parker, Port Royal, Red Hill, Rock Hill, Seven Oaks, Simpsonville, Socastee, Spartanburg, St. Andrews, Summerville, Sumter, Taylors, Wade Hampton, and more.
Avoid Buyer's Remorse!
Get a free buyer's guide to help you plan the perfect garage for your needs.
Find out:
How to save a lot of money
If a metal garage is right for you
How to choose the right size
What you need to know about foundations
And much more...
About Alan's Factory Outlet
Alan's Factory Outlet is owned and operated by Alan Bernau Jr and wife Julie Bernau. When you buy from Alan's you are supporting a small, family-run business, and you get the excellent customer service you expect from a family-operated business.
We are pleased to provide metal garages for customers throughout South Carolina with free delivery and setup. We serve customers in Columbia, Charleston, and more.
Metal garages South Carolina homeowners can purchase from Alan's Factory Outlet are built in many different sizes and styles. From 1-car garages and 2-car garages to a metal 3 car garage in SC.
Free delivery and setup on all the different sizes and styles of metal buildings in South Carolina.
The steel garages in South Carolina are built with 14ga tubing and 29ga sheeting. An optional thicker 12ga tubing is available which has a 20-year rust through warranty. In South Carolina, garages need to be able to stand up to a variety of weather conditions throughout the year.
The metal garages in SC are anchored to the ground for free with rebar or to your concrete pad with concrete anchor bolts. Mobile home anchors are also available. The steel buildings come with center braces. Fully braced with braces on both sides of the garage is another option. With the help of metal buildings South Carolina residents have a chance to create usable space for a variety of different purposes.
Alan's Factory Outlet's metal buildings in South Carolina are all built on-site and finished within the same day the installation crew arrives to set up your metal building. From Carolina garages to steel buildings, South Carolina depends on Alan's to help the residents enhance their property.
Certified South Carolina metal garages are also another option. What the "certified" means is that blueprint drawings are faxed to your local building inspector as some locations require blueprint drawings and others don't. This also means your metal garage is rated for 130mph wind and 30psf snow load. The certified package also makes your garage fully braced and comes with mobile home anchors or additional concrete anchor bolts to give it the 130mph wind rating. There is also one other additional cost that needs to be done if you need to order a metal garage certified, and that consists of adding additional tubing on both the front and back ends.
If you don't need a fully enclosed metal garage, metal carports that South Carolina residents purchase are also delivered and set up for free in all of SC. You could also get a carport and partially close it by either closing the sides or the sides and back end. Carports and garages can be built with taller legs up to 12′ tall legs for an RV carport or fully enclosed RV metal garage. In addition to garages and carports, there are other steel buildings South Carolina residents can benefit from.
Metal Garages South Carolina sizes
12′, 18′, 20′, 22′ and 24′ Wide
21′, 26′, 31′, 36′, 41′, 46′, 51′ Long
South Carolina metal garages come in three different roof styles called regular style, boxed eave style, and vertical style. You also get your choice of 13 different colors on your metal building. When it comes to metal buildings South Carolina residents depend on Alan's Factory Outlet.
Alan's Factory Outlet is proud to serve all areas of South Carolina, including Charleston and Columbia.
Beyond South Carolina, Other Popular Locations
Alan's Factory Outlet provides prefab metal buildings and quality carports in many cities across the U.S., including these locations:
Price and Design Your Metal Building or Garage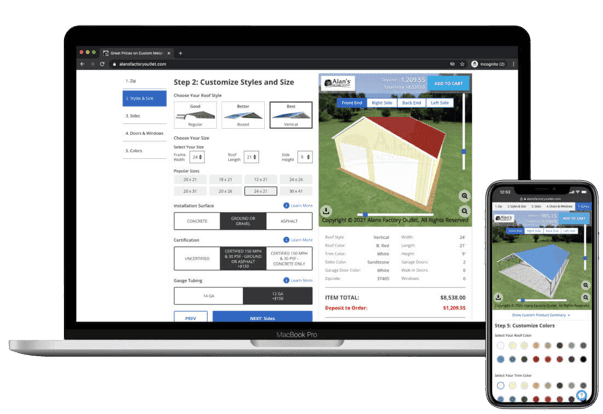 Customize Now