Get your custom garage and get our best prices plus Free Shipping and Installation!
Metal Buildings – Louisiana – Great Prices
Use our 3D Building Designer to get instant pricing for your custom metal building or garage.
Sizes
We sell buildings up to 60 feet wide and 300 feet long. Here are some popular sizes of steel buildings we sell (click for details and pricing):
More than 75,000 Satisfied Customers
"I looked at and spoke to dozens of manufacturers before I found Alan's. He had the fairest price by far,the building I was looking for, and made it easy buy. Thanks"

Alan B., Georgia
"I would order from you again in the future. I already have (3) of your buildings."

Bud, Texas
Do You Install Metal Buildings Near Me?
Yes! We install metal buildings in all parts of Louisiana.
The towns, cities, and rural areas we deliver to include Abbeville, Alexandria, Baker, Bastrop, Baton Rouge, Bayou Blue, Bayou Cane, Belle Chasse, Bogalusa, Bossier City, Broussard, Central, Chalmette, Claiborne, Covington, Crowley, DeRidder, Destrehan, Estelle, Gardere, Gonzales, Gretna, Hammond, Harvey, Houma, Jefferson, Kenner, Lafayette, Lake Charles, Laplace, Luling, Mandeville, Marrero, Metairie, Minden, Monroe, Morgan City, Moss Bluff, Natchitoches, New Iberia, New Orleans, Opelousas, Pineville, Prairieville, Raceland, River Ridge, Ruston, Shenandoah, Shreveport, Slidell, Sulphur, Terrytown, Thibodaux, Timberlane, Waggaman, West Monroe, Woodmere, Youngsville, Zachary, and more.
Make a Great Decision with Our Garage Buyer's Guide
Get our free Garage Buyer's Guide and find out everything you need to know before you buy a metal garage.
Thank You!
Your guide should arrive in your inbox in about 5 minutes.

Alan Bernau Jr., Owner
Alan's Factory Outlet
Metal garages Louisiana are delivered and set up for free in all of Louisiana including New Orleans, Baton Rouge, Shreveport, Lafayette, Lake Charles, Metairie, Kenner, Bossier City, Monroe and Slidell.
The steel garage in Louisiana is built in many different sizes and styles of 1 car garages, 2 car garages and a metal 3 car garage in LA.
Free delivery and set up on all the different sizes and styles of metal buildings in Louisiana.
The steel garages in Louisiana are built with 14 ga tubing and 29 ga sheeting. Optional thicker 12 ga tubing is available with a 20 year rust through warranty.
Metal garages are anchored to the ground for free with rebar or to your concrete pad with concrete anchor bolts. Mobile home anchors are also available. The steel buildings come with center braces. Fully braced on both sides of the garage is another option.
Alan's Factory Outlet metal garages are all built on-site and finished within the same day the installation crew arrives to set up your metal building.
Certified metal garages are another option. To have a certified garage, blue print drawings are faxed to your local building inspector. Some locations require blue print drawings and others don't. Certification also means your metal garage is rated for 130 mph wind and 30 psf snow load. The certified package ensures that your metal garages are fully braced. A certified package also comes with mobile home anchors or additional concrete anchor bolts to give it the 130 mph wind rating. There is some additional cost with a certified garage. This is a result of the extra tubing needed on both the front and back ends.
If you don't need a fully enclosed metal garage, metal carports Louisiana are also delivered and setup for free in all of LA. You could also get a carport and partially close it by either closing the sides or the sides and back end. Carports and garages can be built with taller legs up to 12′ tall legs for an RV carport or fully enclosed RV metal garage.
Louisiana metal garages come in three different roof styles called regular style, boxed eave style and vertical style. You also get your choice of 13 different colors on your metal building.
Many shoppers admire our selection of metal garages. Louisiana residents like the durable construction of our structures. They feel confident about putting their valuables in one of our metal garages. Louisiana residents want to know that their cars, farm equipment, and other expensive vehicles have protection from harmful weather conditions. Take a look at some other reasons why Louisiana shoppers appreciate our selection of metal garages.
When it comes to our metal garages, Louisiana shoppers have an abundance of options. They can choose the width, length, and height of their metal garage. In short, our customers can look at the items they have to store, and then choose a metal garage that fits their needs perfectly. Of course, the storage needs of our shoppers can change. They may need more space in the future or have space to spare. We can help our customers determine which of our metal garages would suit them best.
A customer can also choose the type of roof he or she wants on a metal garage. We have illustrations of all of them on our website. A customer may have a practical reason for choosing a particular style of roof or select one for aesthetic reasons. Either way, our customer representatives can assist a customer in determining the best roof for his or her metal garage.
Another thing that shoppers appreciate about Alan's Factory Outlet is our efficient service. Our metal garages are set up the same day that your delivery arrives. This allows our customers to begin utilizing their metal garage right away! Our courteous, trained crew assembles your metal garage in an efficient, organized fashion.
Many people admire the attractive appearance of our metal garages. Louisiana residents may be under the impression that metal garages are plain and colorless. Fortunately, at Alan's Factory Outlet, our selection proves that metal garages can be colorful and attractive! Our Louisiana customers get to choose from a selection of 13 colors for their metal garages. They can choose a color that matches other buildings on the property or simply go with their favorite color. If a customer needs assistance in deciding on a color, the experts at Alan's Factory Outlet are here to help!
Customize, Preview, and Order Your Metal Building Online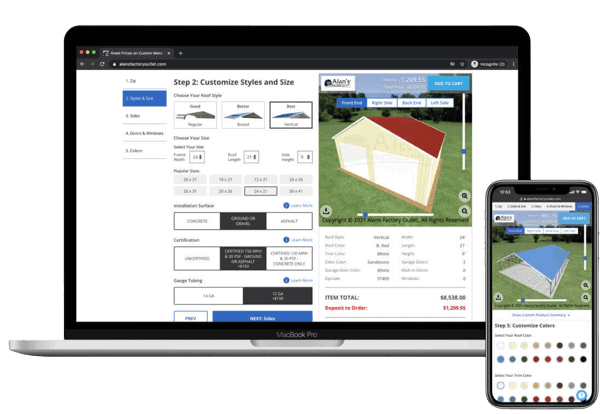 Price and Buy Online with Our 3D Builder, Plus Get Free Shipping and Installation!
Select a size to meet your needs
Choose roof, side, and trim colors
Add garage doors, windows, and walk-in doors
Customize additional options