Get your custom garage and get our best prices plus Free Shipping and Installation!
Metal Garage Buildings from $4,190 in Missouri
Alan's Factory Outlet is the #1 seller of custom, prefabricated metal garages in Missouri. Use our 3D Garage Builder to design your own garage, and instantly see how much it will cost.
How Much Does a Metal Garage Cost?
The price of a one-car metal garage starts at around $4,190. Use our 3D Garage Builder to get instant pricing for your dream garage.
Sizes
Here are some popular sizes of garages and buildings we sell (click for details and pricing):
If you need help figuring out what what size of garage you need, our Ultimate Garage Buyer's Guide will show you how to plan the perfect size of garage for your needs.
We sell metal buildings up to 60 feet wide and 300 feet long. Here are some popular sizes:
75,000 Satisfied Customers and Counting
We enjoyed being able to build our building the way we wanted. Liked knowing how much it was going to cost, no hidden fees. We liked that we could build this in the privacy of our home. It was delivered in the time that they allowed for delivery. Our overall experience was great.

Matt, Missouri, 30×40 Vertical Triple Wide Metal Garage
For everything to be customized to exactly what I wanted, delivered and installed at the amazing price I got is phenomenal! We are so excited for our new garage!

Misty T., Missouri, 24×20 Regular Style Metal Garage
This was the best deal and installed in no time at all. Everything is as I hoped it would be. How rare is that? Everyone says the garage looks great.

I am glad to have selected this company. They were very helpful when I was having the concrete poured. I had a question which they answered right away. This was the best experience I have had in many years. I wish all purchases had such positive results. Thank you.

T. F., Missouri, 20×25 Regular Style Metal Garage
Do You Install Metal Garages Near Me?
Yes! We install metal garages and buildings in all parts of Missouri.
The towns, cities, and rural areas we deliver to include Affton, Arnold, Ballwin, Belton, Blue Springs, Cape Girardeau, Chesterfield, Clayton, Columbia, Concord, Creve Coeur, Farmington, Ferguson, Florissant, Gladstone, Grandview, Hannibal, Hazelwood, Independence, Jefferson City, Joplin, Kansas City, Kirksville, Kirkwood, Lee's Summit, Lemay, Liberty, Manchester, Maryland Heights, Mehlville, Nixa, Oakville, O'Fallon, Old Jamestown, Ozark, Poplar Bluff, Raymore, Raytown, Republic, Rolla, Sedalia, Sikeston, Spanish Lake, Springfield, St. Charles, St. Joseph, St. Louis, St. Peters, University City, Warrensburg, Webster Groves, Wentzville, Wildwood, and more.
Make a Great Decision with Our Garage Buyer's Guide
Get our free Garage Buyer's Guide and find out everything you need to know before you buy a metal garage.
Thank You!
Your guide should arrive in your inbox in about 5 minutes.

Alan Bernau Jr., Owner
About Alan's Factory Outlet
Alan's Factory Outlet is owned and operated by Alan Bernau Jr and wife Julie Bernau. When you buy a carport from Alan's you are supporting a small, family-run business, and you get the excellent customer service you expect from a family-operated business.
When purchasing metal garages, Missouri residents in Kansas City, Saint Louis, and Springfield who buy with us can choose from many different sizes and styles of 1-car garages, 2-car garages, or even metal 3-car garages. In MO, we offer a wide range of customization options, and on top of that, all orders of metal garages in Missouri are delivered and set up for free!
Whether you're shopping for metal buildings in Kansas City, St. Louis, or Poplar Bluff, we have the best steel building kits for sale to meet your needs, thanks to our wide variety of custom options. Choose small Missouri steel buildings in a style that matches your house, or buy a vast metal garage to house heavy equipment. Opt for a regular roof, or choose vertical style so the snow slides right off in the winter. It's up to you!
Once you've chosen and customized your metal buildings, Missouri orders will be sent to your property promptly, along with an installation crew to provide a professional setup. We have a wide service area, so whether you order steel buildings in Kansas City, Springfield, Independence, Columbia, Jefferson City, or Lee's Summit, we'll be there to set them up for you.
Reliable Metal Buildings You Can Count On
Our steel garages in Missouri are built with 14-gauge tubing and 29-gauge sheeting. Optional thicker 12-gauge tubing is available as an option when you buy metal buildings in Missouri, and this comes with a 20-year rust-through warranty. Each of our metal garages in MO can be anchored to the ground for free with rebar or to your concrete pad with concrete anchor bolts; mobile home anchors are also available. And our steel buildings come standard with center braces, but fully braced construction is also an option.
Certified Missouri metal garages are also an option. What "certified" means is that blueprint drawings are faxed to your local building inspector; some locations require blueprint drawings, and others don't. A certified metal garage is rated for 130 mph wind and 30 psf snow load. The certified package for steel building kits for sale also makes your garage fully braced and comes with mobile home anchors or additional concrete anchor bolts to give it the 130 mph wind rating. When a metal garage is certified, additional tubing will also be added to the front and back ends.
If you don't need a fully enclosed metal garage, Missouri steel buildings may not be the best choice, but thankfully, we also have sturdy metal carports, which are also delivered and set up for free. You can also get a carport that's partially enclosed for a happy medium between a regular carport and a garage.
Metal Building Prices in Missouri
The prices of our buildings will vary greatly depending on the dimensions. We work hard to make our prices as affordable as possible, though some market factors may be beyond our control.
When you're ready to buy a metal garage in Missouri, especially Kansas City, Saint Louis, and Springfield, make the right choice: Choose Alan's Factory Outlet!
Beyond Missouri, Popular Locations We Proudly Serve
We are excited to provide quality carports and metal buildings for delivery in different areas of the U.S. Some of our popular delivery locations include:
Customize, Preview, and Order Your Metal Building Online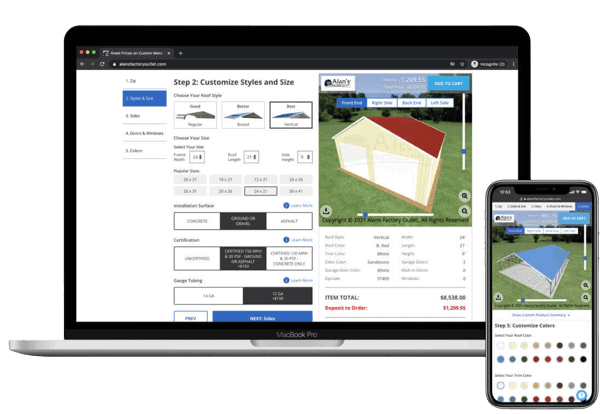 Price and Buy Online with Our 3D Builder, Plus Get Free Shipping and Installation!
Select a size to meet your needs
Choose roof, side, and trim colors
Add garage doors, windows, and walk-in doors
Customize additional options