Our sturdy metal carports can be customized in a variety of ways, including this 20×20 carport with a vertical-style roof. The vertical roof style allows rain and snow to slide right off. Feel free to adjust the height, color, and other design features of this metal carport to get just what you're looking for. You can even partially or fully enclose the sides and/or ends! Just use our simple design tool to get started creating an affordable custom carport that fits your needs.
Alan's Factory Outlet 20×20 vertical roof carport is 20' wide by 20' long and has 400 square feet of covered storage space.  Please feel free to call a customer service representative today at 1-800-488-6903 with any questions about the carports.
When you buy a 20×20 vertical-roof carport, you'll get 400 square feet of covered storage space to use in any way you'd like. These carports come standard with 6-foot legs, but you can increase the height in 1-foot increments up to 16 feet to create a structure big enough to use as an RV carport. You can also partially or fully enclose the gables, sides, and/or ends. And you can choose between 16 different colors for the roof and trim (as well as the sides, if you add them).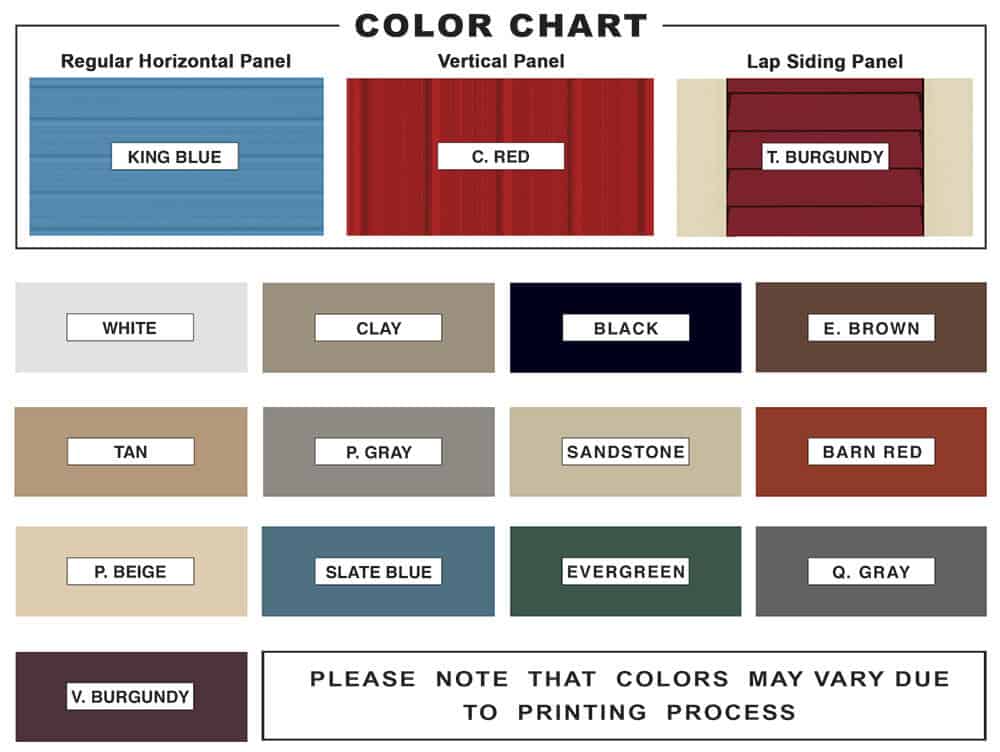 When you order your new 20 by 20 metal carport, you'll need to pay a deposit of between 10% and 17% of the purchase price by either credit card or a mailed check. The balance won't be due until we deliver and install your new 20 x 20 carport. We'll also email you a copy of your order so you can look it over and make sure that it's exactly right before we start building your carport. We can also email you generic blueprint drawings if you need them to secure a building permit; we'll send them within about 4 business days of when you request them.
All of our metal carports include free delivery and setup in Alabama, Arkansas, Georgia, Indiana, Kentucky, Kansas, Louisiana, Maryland, Missouri, Mississippi, North Carolina, Ohio, Oklahoma, Pennsylvania, South Carolina, Tennessee, Texas, Virginia, and West Virginia. We'll anchor the carport to the ground with rebar and mobile home anchors or asphalt with rebar or anchor it to the cement with concrete anchor bolts. But keep in mind that the location for your carport must be within 3 inches of level or we will not be able to install it.
Our 20×20 metal carports come certified for 140 mph winds and 35 psf of snow. To achieve this rating, the structure will have a tighter screw pattern and be anchored to support the 140 mph wind rating. The metal tubing on our steel carports is 14-gauge, 2 1/2″ by 2 1/2″ square tubing, but you can upgrade to 12-gauge, 2 1/4″ by 2 1/4″ tubing if you prefer. This upgraded tubing comes with a 20-year rust-through warranty
Ready to buy your 20×20 metal carport? Order online today, or contact us by phone at 1-800-488-6903 and let us assist you.