Alan's Factory Outlet is the #1 seller of custom metal carports in West Virginia. Our 3D Carport Builder allows you to design your own carport, and instantly see how much it will cost.
How Much Does a Metal Carport Cost?
The price of a metal carport in West Virginia starts at around $1,554. Use our 3D Carport Builder to get instant pricing for your own custom carport.
Carport Sizes
Here are some popular carport sizes we sell (click for details and pricing):
Do You Install Metal Carports Near Me?
Yes! We install metal carports in all parts of West Virginia.
The cities, towns, and rural areas we deliver and install in include Barboursville, Beckley, Bluefield, Bridgeport, Brookhaven, Buckhannon, Charles Town, Charleston, Cheat Lake, Clarksburg, Cross Lanes, Dunbar, Elkins, Fairmont, Grafton, Huntington, Hurricane, Keyser, Martinsburg, Morgantown, Moundsville, New Martinsville, Nitro, Oak Hill, Parkersburg, Pea Ridge, Point Pleasant, Princeton, Ranson, South Charleston, St. Albans, Teays Valley, Vienna, Weirton, Westover, Wheeling, and more.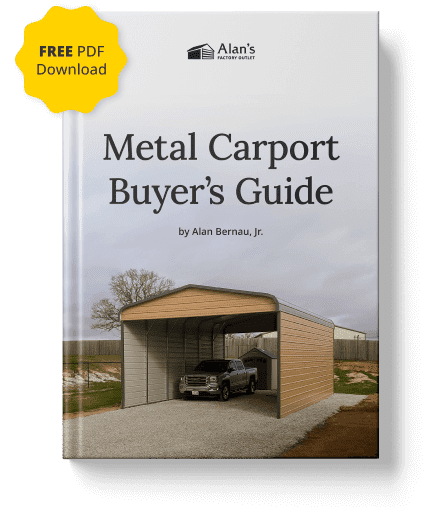 Avoid Buyer's Remorse!
Get a free buyer's guide to help you plan the perfect carport for your needs.
Find out:
How to save a lot of money
If a metal carport is right for you
How to choose the right size
What you need to know about foundations
And much more...
75,000 Satisfied Customers and Counting
"Very quick to deliver, Faster than the other guys online. Cheaper than the other guys and included the anchors. Best deal without a doubt!!! Recommend to anyone looking for a carport or easy garage."

Ben A., West Virginia, August 2019, 18×25 Boxed Eave Carport
"GREAT RV CARPORT and EXCELLENT INSTALLATION CREW
At 7:30 am the crew of three arrived and did a fantastic job, working very efficiently. At 12 noon they were done, had the work site cleaned up of all scrap and were heading out of the driveway. Many thanks."

Charles T., West Virginia, December 2020, 18×35 Vertical Roof Metal Carport
"Even with covid 19 the guys got out to my house in a timely manner.the 2 guys did a great job.it was up under two hours.left everything perfect.would recommend."

kelly K., West Virginia, August 2020, 12×20 Boxed Eave Carport
"The installation team was very professional and did a great job. The structure itself was exactly as expected…good quality, reasonably priced."

Gary, West Virginia, November 2019
"Having bought or ordered several carports already I expected a long drawn out process only to be disappointed by another refund. That did not happen, I had my carport installed within 29 days of my signing the contract! First the carport looks fantastic, it is spacious and tall enough that overhead lighting will be easy to install. The website was easy to use and really helped to decide on style and colors especially in decidinding trim colors. Communication was great every step of the way at least on the corporate side but here in West Virginia, the installing crews rarely know where to find a place to eat let alone get a cell signal; so I was not surprised when the crew didn't show up on the first day. That happens. That aside; the crew was great fast friendly courteous friendly and did I say friendly. The guys were in and out before the dew was dry on the grass. They did not leave one screw on the ground, they were really good about picking up the screws and cut off pieces and didn't leave a spec after they left."

Russell, West Virginia, November 2019
Our carports don't always arrive that fast. See our estimated delivery times to see how long delivery might take in your area.
"As expected , erected in 3 hours by 3 great guys in a challenging location ."

vittorio, West Virginia, December 2018, 12×25 Regular Carport
"Wonderful experience!"

Lannie P., West Virginia, August 2017
"Everything was just as expected. The buildings look great. The installation crew were very fast and efficent in there assembly and were nice. Very pleased with the entire experience."

Frank E., West Virginia, July 2017
"I talked to a sales representative, she was very helpful and polite. Also the installers where fast and did a great job, very satisfied!!"

Bryan G., West Virginia, December 2016
"easy to use website and prices suit my wallet"

derek T., West Virginia, August 2016
"My carport arrived 3 days early. Three good men installed it in a couple hours. I got 3′ extra sides and after seeing it, I wish I would have gotten both sides completely covered. Nice to have ends open so I could back my trailer in with no worry about hitting the rear. I added another 3′ each side, which basically cost as much as if I would have ordered it and didn't match as well. All in all I really like how it looks and very satisfied."

David R., West Virginia, December 2015
"checked lots of places but Alan's prices beat the rest"

Nelda N., West Virginia, August 2015
"Alan's is a good company great customer service"

andrew H., West Virginia, June 2015
About Alan's Factory Outlet
Alan's Factory Outlet is owned and operated by Alan Bernau Jr and wife, Julie Bernau. When you buy a carport from Alan's, you are supporting a small, family-run business, and you get the excellent customer service you expect from a family-operated business.
To shelter your vehicles and other possessions that you store outdoors from the damaging effects of the elements, the best inexpensive solution is to order a quality metal carport. Alan's Factory Outlet, in turn, is the best place online to find the metal carports that you need if you live in West Virginia. No matter where you live in the state, we have the greatest selection of sturdy carports that will keep your vehicles and other belongings safe and dry. Our steel buildings and metal carports give your car, truck, boat, RV, farm equipment, and other valuables the perfect protection from the rain, hail, ice, snow, wind, and sun.
Metal Carports West Virginia Prices
As we have noted, protecting your vehicles and other possessions from the elements is the primary reason why anyone would buy one of our carports. West Virginia residents, therefore, do not often think about the other things that they can do with one of our carport structures. Yet there are many other uses that you can enjoy with one of our metal carports. West Virginia parents, for example, are often glad to have a carport on the hottest days of the year. After all, people can get the benefits of a carport's shade just as well as their vehicles can. So the kids can find a place to get out of the sun under a carport, or parents can sit there in the shade while they watch their kids play out in the sun.
Many people think of only the one-car storage option of traditional carports. West Virginia shoppers should understand, however, that carports can hold more than just one car or other vehicle. In fact, our carports and garages are available in many different sizes and styles, with many different heights to meet your needs. And because of our convenient shipping options, you get an approximate time for delivery and setup on the metal carports in West Virginia of 6– 8 weeks when you order products from us.
Alan's Factory Outlet steel carports in WV are available in several different sizes, starting in a single carport or single garage at 12×21, with other widths of 18', 20', 22' and 24' also available in our catalog. The next longer lengths after 21' are 26', 31', 36', and 41', and we can even make the metal carports and metal garages longer in 5' increments to the length that best suits you. So, no matter how long your vehicle happens to be, you will be able to find what you need in our inventory, or you can custom order the right size for your property.
Looking for a metal building wider than 24'? We've got you covered there also with our triple wide carports, which come in 26', 28', and 30' wide.
The newest-style metal carport we have is the metal barn lean-to carport, which comes in widths of 36', 42', 44', 46,' and 48', with lengths starting at 21' long and available in 5' increments longer to the size you need.
**Free Delivery and Setup in West Virginia on all Metal Carports and Metal Garages**
Triple Wide Carports West Virginia Prices
Metal Barn Lean To Buildings West Virginia Prices
40 Wide Metal Garages WV Prices
**As With Our Carports, You Get Free Delivery and Setup in West Virginia on all Metal Garages and Metal Lean-To Barn Buildings**
Metal carports and garages come in three different styles:
Finally, a frequently asked question about carports: West Virginia residents often want to know the difference between the boxed-eave and the vertical roof style? On the boxed-eave roof, the sheeting on the roof goes lengthwise, and on the vertical, the sheeting is side to side or, you could say, up and down, which helps snow slide off of your roof.