Alan's Factory Outlet is the #1 seller of custom metal carports in Alabama. Our 3D Carport Builder allows you to design your own carport, and instantly see how much it will cost.
How Much Does a Metal Carport Cost?
The price of a metal carport starts at around $1,425. Use our 3D Carport Builder to get instant pricing for your own custom carport.
Carport Sizes
Here are some popular carport sizes we sell (click for details and pricing):
Do You Install Metal Carports Near Me?
Yes! We install metal carports in all parts of Alabama.
The cities we deliver and install in include Alabaster, Albertville, Anniston, Athens, Auburn, Bessemer, Birmingham, Cullman, Daphne, Decatur, Dothan, Enterprise, Fairhope, Florence, Foley, Gadsden, Helena, Homewood, Hoover, Huntsville, Madison, Millbrook, Mobile, Montgomery, Mountain Brook, Northport, Opelika, Oxford, Pelham, Phenix City, Prattville, Prichard, Selma, Tillmans Corner, Troy, Trussville, Tuscaloosa, Vestavia Hills, and more.
Make a Great Decision with Our Carport Buyer's Guide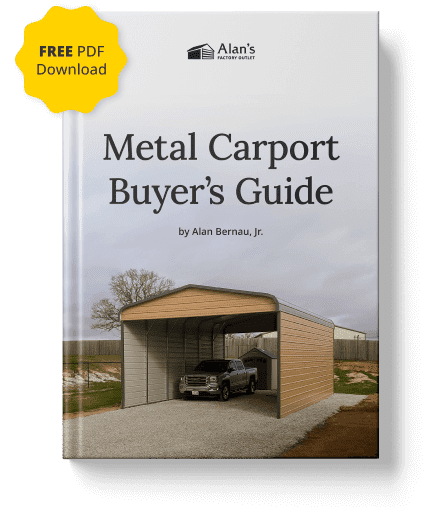 Get our free Carport Buyer's Guide and find out everything you need to know before you buy a metal carport.
Thank You!
Your guide should arrive in your inbox in about 5 minutes.
Alan Bernau Jr., Owner
Continue Shopping
More than 75,000 Satisfied Customers
"Our second carport purchase but 1st from Alan's… wish I'd found Alan's sooner. Although other manufacturers carport appears the same there are differences. The construction of Alan's has many more support brackets and is a full foot higher on sides making it better for opening truck/van doors without hitting roof overhang. The waiting period from order to delivery/assembly was 2 months quicker. When comparing prices to other manufacturers, Alan's beats them. Quality, price and installation is superior with Alan's."

Diane D., Alabama, July 2019, 12×20 Regular Style Carport
"Excellent website and customer service so far, I really look forward to getting my carport. My only complaint is the time lag from order to delivery and installation but I totally get it so don't take it too seriously! Just excited for my carport to get here :)"

Aaron F., Alabama, February 2021, 12×35 Vertical Carport
See our estimated delivery times to see how long delivery might take in your area.
"Excellent"

Forrest P., Alabama, December 2019
"Great experience. Delivered on time, installed in a few hours."

Jim B., Alabama, November 2019, 12×20 Regular Style Carport
"Very nice carport and great price. Purchased for my boat. Love it! Thanks."

Richard F., Alabama, September 2019, 12×20 Regular Style Carport
"I had a great experience. I am sure to buy from them again in the future. I was very satisfied with the carport. Should have done it years ago."

Blake B., Alabama, January 2019, 22×25 Regular Carport
"I had problems on the website when I originally tried to order, but received an email from Alan himself asking if "there was anything we could do to make the process easier." Wow, personalized service like no other. Anyway, I didn't check my email until late, so the next morning I received a phone call from a very nice representative to make sure I didn't have any problems when I next tried to order. My order went through with no problems this time, and I look forward to my new purchase."

"My new "car port", or in my case "puppy shed" looks great, and has been just what we need to help keep the sun and rain away. Great buy."

Kristi P., Alabama, August 2018, 24×35 Regular Style Carport
"I had great service on my last purchase and decided to purchase another carport from this company!"

George P., Alabama, July 2018, 12×20 Regular Style Carport
"Very good experience, install team was great."

Jeff R., Alabama, September 2017
"We are extremely pleased with the carport installation. They were a day later then they had said because of a delay, but did show up early the next morning to begin the installation. It did not take them long at all to complete the installation. The structure is exactly as we ordered and very sturdy. My one and only complaint is that the installation crew left some screws and metal shavings on the ground around the carport and I worried that my grandchildren might step on them. I think it would be a great idea if the crew would carry one of those large rolling magnets like construction crews use to pick up any nails or metal fragments once they are done. Top notch product though at a great price!"

GinaJ, Alabama, September 2017
We are sorry to hear about the mess from that crew!
"Great, installation was great and fast and they did an awesome job"

George L., Alabama, August 2017
"Great job with the install, guys were quick. They did a really good job. Great carport that will last."

Jeff T., Alabama, July 2017
"Exactly what I ordered and arrived in less than 3 weeks and the installation was completed in less than 3 hours. Thanks Alan."

H. W., Alabama, June 2017
"Everything was great had a great bunch of guys that put up the car port in less than 2 hours"

Paul I., Alabama, June 2017
"ALANS FACTORY OUTLET WAS A PLEASURE TO DO BUSINESS. THEY WORK HARD TO ENSURE YOU ARE COMPLETLY SATISFIED AS A CUSTOMER. THANKS HIGHLY RECOMMENDED."

LARRY G., Alabama, September 2015
"I am very pleased how easy it is to select options. Also, you provide a better selection of options then your competitors. At this moment I am very pleased, if installed and appearance is the same as described, I will be very happy. Thank You"

Robin S., Alabama, July 2015
Alan's Factory Outlet
Alan's Factory Outlet carries carports in many styles, sizes, and height options. We have an inventory of carports in Alabama that can satisfy the unique needs of any customer, whether you want a metal carport to protect farm equipment from the rain or shield your boat from a surprise snowfall. By purchasing one of our carports in Alabama, you'll be able to keep your vehicles and equipment from rusting or freezing during the colder months!
Our carports in Alabama give your car, truck, boat, RV, farm equipment, and other valuables the perfect protection from the rain, hail, ice, snow, wind, and sun. Because we work hard to make sure that all of our customers are happy with the quality of their carports, Alabama residents who purchase our metal carports can have peace of mind, knowing that their costly vehicles will be well-protected. Our metal carports are manufactured to withstand the unpredictable weather conditions that can happen in AL. In addition to quality products, our customers appreciate the reasonable prices of our carports. Alabama residents know that an investment in one of our carports can help them to save money now and save on vehicle repair bills in the future. For instance, by purchasing one of our metal carports, Alabama residents can avoid a repair bill brought on by hail damage to a car or truck. With our carports, Alabama residents can protect their farm equipment and other vehicles from damage that is avoidable.
Alan's Factory Outlet steel carports in Alabama are available in many different sizes, starting in a single carport or single garage at 12 by 21 feet. Widths of 18, 20, 22, and 24 feet are available, as are lengths of 26, 31, 36, 41 feet. We can also make metal carports and metal garages longer in 5-foot increments to suit your needs.
Looking for a metal building wider than 24 feet? We've got you covered with our triple-wide carports in Alabama, available in widths of 26, 28, and 30 feet.
Our newest style of metal building is a metal barn lean-to building, which can be 36, 42, 44, 46, or 48 feet wide with lengths starting at 21 feet. We also offer length extensions in 5-foot increments to satisfy your building needs.
The metal carports come with three different roof styles: regular, boxed-eave, and vertical.
Triple wide carports for Alabama
Metal barn lean to buildings AL
RV steel carports in Alabama
What Is the Difference Between the Boxed-Eave and Vertical Roof Styles?

On the boxed-eave roof, the sheeting on the roof goes lengthwise, and the vertical roof sheeting is up-and-down. This design helps snow to slide off of your roof.
Beyond Alabama, We Serve These Popular Locations
Alan's Factory Outlet proudly provides quality carports and metal buildings for delivery to cities in many different areas within the U.S. Some of our popular delivery locations include:
Price and Design Your Carport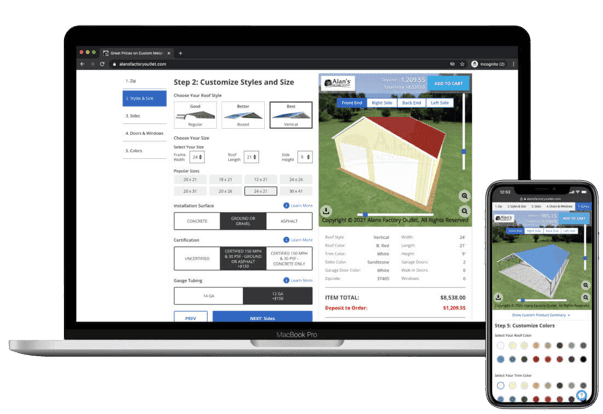 Customize Now