Alan's Factory Outlet is the #1 seller of custom metal carports in Arkansas. Our 3D Carport Builder allows you to design your own carport, and instantly see how much it will cost.
How Much Does a Metal Carport Cost?
The price of a metal carport starts at around $1,295. Use our 3D Carport Builder to get instant pricing for your own custom carport.
Carport Sizes
Here are some popular carport sizes we sell (click for details and pricing):
Do You Install Metal Carports Near Me?
Yes! We install metal carports in all parts of Arkansas.
The cities, towns, and rural areas we deliver and install in include Arkadelphia, Batesville, Bella Vista, Benton, Bentonville, Blytheville, Bryant, Cabot, Camden, Centerton, Conway, El Dorado, Fayetteville, Forrest City, Fort Smith, Harrison, Hot Springs, Hot Springs Village, Jacksonville, Jonesboro, Little Rock, Magnolia, Malvern, Marion, Maumelle, Mountain Home, North Little Rock, Paragould, Pine Bluff, Rogers, Russellville, Searcy, Sherwood, Siloam Springs, Springdale, Texarkana, Van Buren, West Memphis, and more.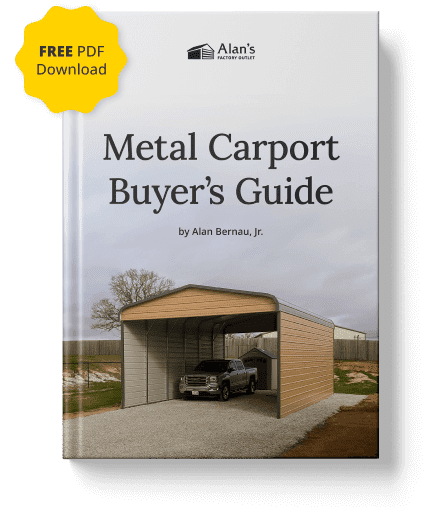 Avoid Buyer's Remorse!
Get a free buyer's guide to help you plan the perfect carport for your needs.
Find out:
How to save a lot of money
If a metal carport is right for you
How to choose the right size
What you need to know about foundations
And much more...
More than 75,000 Satisfied Customers
"Great product, Great price, Great delivery and installation!"

Kevin V., Arkansas, March 2020, 24×20 Regular Style Carport
"Sturdy, dry and shady for my camper and Suzuki. Keeping natures harsh element of my investments will keep them protected and lasting many more years than if left unprotected. Well pleased with quality and design."

Lynn, Arkansas, October 2020, 18×25 Regular Carport
"So far so good. Everything was as expected delivery on time the gentleman who installed were very courteous and cleaned up the mess that they made. Very satisfied"

Randy M., Arkansas, December 2016
"Easy instructions to order only problem is the wait time on installation"

Calvin H., Arkansas, November 2021
Sometimes delivery can take a while. Read how the scheduling process works, and see our estimated delivery times to see how long delivery might take in your area.
"Customer service was amazing. I placed order incorrectly online, & when I called about it, was promptly answered and my issue corrected to 100% satisfaction. Delivery was on-time, installers were professional, & I wouldn't hesitate to do business with Alan's again & will happily refer if any friend asks for a recommendation. Five stars on price, delivery, customer service and quality!"

Joe B., Arkansas, July 2017
"I love the shop and the carport I ordered from Alan's. The buildings were delivered and erected in 2 hours by a very professional and friendly crew. If you are looking for buildings like these you should definitely order from this company. You will be glad you did! Pictures of the pavilion are on Mutt Ranch lake home VRBO 968606 Best regards, Judy D. Mutt Ranch Lake Home"

Judy D., Arkansas, January 2019, 18×20 Regular Style Carport
Your carport pavilion looks fabulous. Thanks for sharing!
"Everyone I dealt with was very courteous and helpful. The set-up crew was professional and efficient and the finished product was very attractive and well built. I purchased a cover for my RV that was 22 'X 41 'X 14' and it was erected in less than 5 hours. I intend to acquire another carport to house several of my cars and will certainly purchase from Alan's."

Loren W., Arkansas, October 2017
"Good website, fairly thorough . I would recommend more close up pictures of the framing and bracing under the carports . I'm pleased with the carport materials and fit and finish .The crew that installed my carport were professional and surprisingly fast and did an excellent job . I may be ordering a 2nd carport soon and hope I get the same installers , they really were that good . Thanks"

Randy C., Arkansas, June 2017
"The installation crew was very courteous and efficient. I purchased an 18′ x 21′ x7′ carport with both sides closed. The crew arrived at 8 am and was cleaned up and gone in three hours. I purchased another unit just like this one about 9 years ago from another company. Your price for this one was the same as the one then. Can't say that about much these days. Thanks"

Gary B., Arkansas, April 2017
"dealing with this company was easy. ordering was a breeze. anytime I had a question I called got a REAL LIVE person every time who knowledgeably answered my questions. the crew that came and set the carport up were fast, polite, and made sure I was happy with the work before they left. I am very happy with the company and the carport. defiantly would recommend them to anyone."

debi, Arkansas, December 2016
"Easy to navigate site, prices are right on. Great experience buying. This carport was better than I expected. It is the sturdiest one I have seen on the market."

Keith N., Arkansas, November 2016
"The delivery team was great! They were in and out in very little time. We purchased 2 carports, one for an RV and one to go beside the house. I think it took less than 2 hours and they were done. The carports themselves are great. We are very happy."

Joe W., Arkansas, October 2016
"Ordering was easy and the prices seemed competitive. However, I really didn't check local prices beforehand. Delivery and installation time was much longer than I expected for mid summer– 88 days. Installation was quick and done well. Overall, I am pleased with the product."

Louis B., Arkansas, October 2016
"Very smooth and efficient order process. Also, I was impressed with the customer service I received when I called with a technical question before ordering. Carport was assembled very quickly. Very impressed with the carport materials and workmanship. Overall I'm very satisfied!"

Kirby B., Arkansas, August 2016
Alan's Factory Outlet
Do you live in Arkansas and need a carport or other protective metal buildings? Arkansas residents in Little Rock, Fort Smith, Fayetteville, and people across the state can find just what they're looking for here! With our wide variety of metal carports, Arkansas residents can keep their vehicles safe from the elements. Severe weather is no match for the year-round protection provided by these dependable carports, which are constructed of sturdy, long-lasting steel. Our metal carports give your car, truck, boat, RV, farm equipment, and other valuables the perfect protection from rain, hail, ice, snow, wind, and sun. No matter what the weather brings, your property will be kept safe when you purchase one of our metal buildings. Little Rock residents and those who live elsewhere in the state can find affordable, durable carports of any size at Alan's Factory Outlet!
The steel carports we carry come in many different sizes and styles, and we can even customize the height of our metal carports. Arkansas customers can also order these products with three different roof styles. Residents of parts of the state that get more ice or snow in the winter should consider our vertical roof metal carports: Arkansas snow will melt and run off more quickly from a vertical roof than on other styles of metal buildings. We also offer the boxed-eave and regular roof styles on our metal carports. Arkansas residents can also take advantage of fast shipping: Call us today for delivery details on a custom order of metal carports in Arkansas!
If you're looking to buy carports in Arkansas for a single vehicle, start with our single carport at 12 by 21 feet. Other available widths are 18 feet, 20 feet, 22 feet, and 24 feet, and we offer lengths including 26 feet, 31 feet, 36 feet, and 41 feet. What's more, we can even make our metal carports longer in 5-foot increments to create the length that best suits you. Need a wider carport? In AR, we also sell triple-wide carports, which come in 26-, 28-, and 30-foot widths.
The newest style of metal building we have is a metal barn lean-to. These structures are available in widths of 36, 42, 44, 46, and 48 feet wide, with the lengths starting at 21 feet. Like with our metal carports, we can customize the size of a metal barn lean-to to suit your needs.
Metal Garages Arkansas
Triple Wide Carport in AR
Arkansas Metal Barn Lean To Buildings
RV carports installed in Arkansas
Metal carports are custom built in 3 different styles:
In Arkansas, metal carports from Alan's Factory Outlet are available for delivery across the state, including Little Rock, Fort Smith, Fayetteville, and Springdale. Still have questions about the features and styles of our metal carports? Arkansas customers can find the answers they need thanks to our great customer service team. Call us today with your questions about metal carports in Arkansas or to place your order. You can also buy the durable outdoor storage structures you need online anytime, 24/7. Let us help you protect your vehicles and equipment today!
Popular Service Locations
We are excited to offer metal buildings and prefab carports for delivery and installation in many cities and popular areas across the U.S.