Got an expensive car that's under the weather? We've got you covered.
Alan's Factory Outlet sells metal carports everywhere in Mississippi. Use our cost calculator to get an instant price for the carport you need to shelter your prized possessions.
If you also have other stuff you need to protect, take a look at our carports with attached storage sheds.
How Much Does a Metal Carport Cost?
The price of a metal carport starts at around $1,535 in Mississippi. Use our cost calculator to get instant pricing for your own custom carport.
Carport Sizes
Here are some popular carport sizes we sell (click for details and pricing):
Do You Install Metal Carports Near Me?
Yes! We install metal carports in all parts of Mississippi.
The cities, towns, and rural areas we deliver and install in include Bay St. Louis, Biloxi, Booneville, Brandon, Brookhaven, Byram, Canton, Clarksdale, Cleveland, Clinton, Columbus, Corinth, Diamondhead, D'Iberville, Flowood, Gautier, Greenville, Greenwood, Grenada, Gulf Hills, Gulfport, Hattiesburg, Hernando, Horn Lake, Indianola, Jackson, Laurel, Long Beach, Madison, McComb, Meridian, Moss Point, Natchez, New Albany, Ocean Springs, Olive Branch, Oxford, Pascagoula, Pearl, Petal, Picayune, Ridgeland, Southaven, St. Martin, Starkville, Tupelo, Vicksburg, West Point, Yazoo City, and more.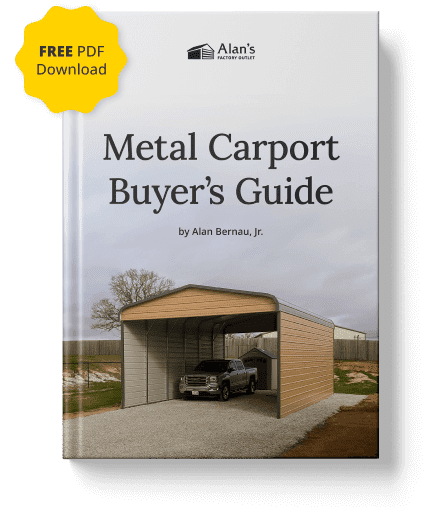 Avoid Buyer's Remorse!
Get a free buyer's guide to help you plan the perfect carport for your needs.
Find out:
How to save a lot of money
If a metal carport is right for you
How to choose the right size
What you need to know about foundations
And much more...
75,000 Satisfied Customers and Counting
"I compared your metal carport to others and no one comes close in price or quality. Completely satisfied customer. Thank you very much."

Carl C.
"Great service and availability to answer questions"

Alice B., Mississippi, September 2018, 20×30 Vertical Roof Metal Carport
"If you want a great deal on a high-quality product and don't mind waiting 2-3 months for a company to manufacture and install; than don't look no further. This company produces a high-quality product with fast professional installation at a great price. A professional team of three men showed up in the middle of the summer (90 + degrees) and install our 20′ x 31′ carport on an existing concrete pad in a little over two hours. This company provides great customer service; which is seldom seen or heard of these days. We are truly impressed with this company's products and customer service that we would highly recommend them to anyone looking for a carport or shed."

Curtis, Mississippi, August 2018
"built in just a few hours. Very well built and they made sure it was level and square when building it."

John F., Mississippi, June 2018, 12×35 Regular Style Carport
"The carport arrived on time,the crew did a professional job assembling it,the price was very competitive ad if we need another building we know who to call"

Clinton H., Mississippi, August 2017
About Alan's Factory Outlet
Alan's Factory Outlet is owned and operated by Alan Bernau Jr and wife Julie Bernau. When you buy a carport from Alan's you are supporting a small, family-run business, and you get the excellent customer service you expect from a family-operated business.
The deep South is known for its Southern Hospitality and the intense rays of the hot noonday sun during the summer. These rays, in particular, can inflict damage on your vehicle over time, fading the paint and causing other cosmetic flaws. In turn, this makes it easy for the rain and other elements to cause more extensive damage to your car, boat, RV, motorcycle, or other vehicles. There is one surefire way to protect your vehicle, and that is through the use of metal carports. Mississippi residents in Jackson, Gulfport, and Southaven who need shelter for their vehicles have come to the right place, for Alan's Factory Outlet offers the very best in carport structures at an affordable price.
The basic structure of most carports, Mississippi buyers should understand, make them low-cost options for vehicle protection. But the advantage of good carports is that they can be used not only for car and truck protection but also as a basic shelter for storing other items outdoors. On occasion, some people even use them when they host an outdoor party because they can provide temporary shelter for guests or a place to keep food out of the sun. Thus, for other persons and items, you can get the same perfect protection that carports give your car, truck, boat, RV, farm equipment, and other valuables from the rain, hail, ice, snow, wind, and sun.
In any case, there are many advantages to using Alan's Factory Outlet as your source for metal carports. Mississippi buyers enjoy convenient setup and delivery on all of the carport products that they order from us. If you need these structures quickly, then we are the only supplier you should consider for your carports. So, it is easy to get the carport you need before the damaging winter and summer seasons really start up.
As far as the other advantages of our carports, Mississippi buyers should also know that Alan's Factory Outlet carports, garages, and other steel buildings in MS are available in many different styles, heights, and sizes, starting in a single carport or single garage at 12×21 with other widths of 18′, 20′, 22′, and 24′ also possible. The next longer lengths after 21′ are 26′, 31′, 36′, and 41′, and we can even make the metal carports and metal garages longer in 5′ increments to the length that best suits you if any of these standard lengths will not meet your needs.
If you are looking for a metal building wider than 24′, then we've also got you covered with our triple-wide carports which come in widths of 26′, 28′, and 30′. If you have more than one vehicle to shelter, then these are the ideal metal carports. Mississippi car owners with many vehicles routinely choose them when they are buying their shelters.
The newest-style metal building we have is the metal barn lean-to building, which comes in widths of 36′, 42′, 44′, 46′ and 48′, with the lengths starting at 21′ long and available in 5′ increments longer until you reach the size you need.
Finally, unlike many of our competitors, we deliver our metal carports throughout the state. This delivery guarantee includes Jackson, Gulfport, Hattiesburg, Southaven, Biloxi, and Meridian MS. This delivery is incredibly affordable, as we offer free delivery and setup in Mississippi on all metal carports and metal garages in the Jackson, Gulfport, and Southaven areas and beyond.
In addition to our free shipping on metal carports and garages, we also offer free shipping on our triple-wide carports and metal lean-to barn buildings.
Our metal carports and garages come in 3 different styles:
A Frequently Asked Question: What is the difference between the boxed eave and the vertical roof style of our metal carports? Mississippi residents should know that on the boxed-eave roof, the sheeting on the roof goes lengthwise, and on the vertical roof, the sheeting is side to side or, you could, say up and down which helps snow slide off of your roof.