Alan's Factory Outlet offers two sizes of metal buildings that are approximately 40×50 in size:
Our 40×52 buildings can be modified to be exactly 40×50
Our 40×48 buildings are almost as big as a 40×50 metal building and cost a little less
We know that setting up a large metal building requires specific experience to do right, so we offer free delivery and installation instead of metal building kits. A 40×50 building is usually installed in 2-3 days.
40×50 Metal Building Price
The base price of a 40×50 building depends on your location and the height of the building. A 40x50x10 metal building starts at about $30,000. A 40x50x20 building starts at about $45,000, but may be more in your area.
In addition to the base price of the building you need to consider the cost of add-ons such as doors, windows, and insulation. For example, windows are about $200 each, walk in doors are about $300 each, and 12×12 roll-up doors are about $1,400 each.
Use our online building designer to see all of the options available and get instant pricing for your location.
Your total cost will also include the cost of a concrete slab big enough for the 2000-square foot building. The cost of concrete work varies considerably between locations, but in most areas you can expect to pay at least $13,000 to have a slab poured for a 40×50 metal building.
Metal Building Pictures
You can use our metal building designer to visualize your 40×50 metal building, but there are a few pictures to give you some ideas of what is possible.
Inside Views
Our 40-foot wide metal buildings are supported by strong steel trusses that are welded to the roof bows.
Legs are spaced four feet apart. The roof is reinforced with pieces of steel hat channel that run from the front of the building to the back.
Metal Building Features and Options
Doors and Windows
Garage doors come in a variety of sizes, from 6×6 up to 16×16. A 12×10 door is shown in the photo above. All garage doors are of the roll-up style, and chain hoists can be added if needed. If you prefer a different style of door, we can have it framed, and you can have a local garage door company install it after the garage is installed.
We don't have automatic garage doors, but you can add garage door openers (like LiftMaster) after the building is installed.
Walk-in doors are 36″x80″. There are two sizes of windows available: 30″x30″ and 30″x36″. If you want any custom doors or windows, we can frame them for you, and you can install them later.
Insulation
We have two types of insulation available. Double-bubble insulation works well for moisture control. Our woven R-17 insulation also helps regulate the temperature inside the building. Insulation can be added to the roof only, or to the roof and sides. Use our metal building designer to calculate the cost of insulation for your building.
Colors
The color of your sides, roof, and trim can be customized without any additional cost. Light colors are recommended for maximum energy efficiency.
For other upgrade options, see our metal building designer.
Reviews
We know that a 40×50 metal building is a major purchase, so we invite you to read our customer reviews to give you peace of mind before placing your purchase. Even better yet, give our awesome customer support staff a call and find out for yourself just how helpful they are. If you have any questions or custom requests, we we be glad to help.
Price and Design Your Metal Building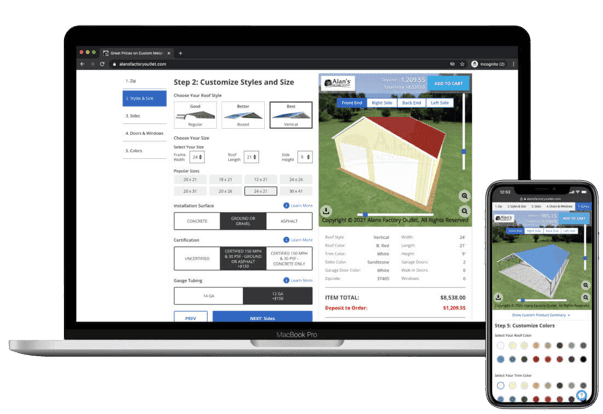 Customize Now