Get your custom garage and get our best prices plus Free Shipping and Installation!
Affordable Metal Buildings – Texas
At Alan's Factory Outlet, we have great prices on custom prefab metal buildings and garages.
Low Cost, High-Quality Steel Buildings and Garages
Alan's Factory Outlet sells high-quality, structurally sound steel buildings from 12 to 60 feet wide and up to 300 feet long. Our buildings can be used as garages, workshops, barns, storage buildings, warehouses, and more.
All of our metal buildings are built with 14-gauge tubing and 29-gauge sheeting. Thicker 12-gauge tubing is also available, and it has a 20-year rust-through warranty. Center braces are used to support all of our steel buildings for sale.
Pricing: How Much Does a Metal Building Cost in Texas?
Use our 3D Building Designer to get instant pricing for your custom metal building or garage.
Service Area & Locations
Alan's Factory Outlet serves all major cities and rural areas throughout West, Central, and East Texas.
Cities we deliver and install in include Abilene, Allen, Amarillo, Arlington, Austin, Beaumont, Brownsville, Carrollton, College Station, Corpus Christi, Dallas, Denton, El Paso, Fort Worth, Frisco, Garland, Grand Prairie, Irving, Killeen, Laredo, League City, Lewisville, Lubbock, McAllen, McKinney, Mesquite City, Midland, Odessa, Pasadena, Pearland, Plano, Richardson, Round Rock, San Angelo, San Antonio, Sugar Land, The Woodlands, Tyler, Waco, Wichita Falls, and more.
The main area we can't deliver to is the southern Big Bend area around Terlingua.
Metal Building Sizes
Here are some of our popular sizes:
Metal Garage Sizes
More than 75,000 Satisfied Customers
"I would order from you again in the future. I already have (3) of your buildings."

Bud, Texas
"Service was straightforward and I got exactly what I wanted. I love my new garage. I am insulating it now so I can work on my cars in any weather. Thanks again, Alan's"

Jad, Texas, 20×40 Vertical Roof Metal Garage
"The ladies at customer support center are very knowledgeable and courteous."

Mehdi I., Texas, 20×30 Vertical Roof Metal Garage
"great! I had fun with it. Plenty of room for atmosphere work place."

Donald C., Texas
"I am very happy with my garage"

Deborah R., Texas
Make a Great Decision with Our Garage Buyer's Guide
Get our free Garage Buyer's Guide and find out everything you need to know before you buy a metal garage.
Thank You!
Your guide should arrive in your inbox in about 5 minutes.

Alan Bernau Jr., Owner
About Our Buildings
Texas customers can be confident in our industry know-how and our ability to secure their building. We offer free anchoring on all of our metal buildings. Texas homeowners can choose from the following options:
Secured to the ground with rebar
Attached to a concrete pad with concrete anchor bolts
Stabilized with mobile home anchors
We also offer certified metal garages for sale in Texas. Certified metal garages offer the following benefits:
Customize Your Own Garage
Texas metal garages from Alan's Factory Outlet can be purchased in many sizes, colors, and roof styles. Choose the structure that's best for the size of what you need to store, and pick out a design that looks great standing next to your house!
Homeowners also can choose from 13 different colors for their metal garages. Dallas, Texas, residents and those all over the Lone Star State can easily match new metal buildings with existing structures on the property.
Don't want to fully enclose your storage or workspace with one of our steel buildings? Texas residents can also opt for a custom carport, which can be partially enclosed or open-sided. With a few modifications to our metal garages, Texas property owners can also choose to use them as barns, or customers can purchase a metal barn lean-to from us if they prefer. And if you're the DIY type, we have an option for you, too: With our metal building kits, Texas residents can put together a sturdy steel garage and have the pride of assembling it with their own two hands.
Fast, Free Delivery & Setup Included in All Custom Metal Buildings
When you order one of our custom metal buildings in Texas, you're sure to get a structure that meets all of your storage needs, and you'll also find that our metal garages' prices are some of the best around. We also include free delivery and installation of our steel buildings in Texas no matter where you live, so you'll save even more money, whether you're ordering metal buildings in Houston, Corpus Christi, Sherman, Beaumont, Austin, Tyler, Waco, Arlington, Lubbock, Dallas, or San Antonio. From East Texas to the Panhandle to North and Central Texas, metal buildings from Alan's Factory Outlet are an affordable storage solution you can count on!
With our low prices on prefab steel buildings, Houston residents and those in suburbs like Conroe or Huffman as well as people in more rural parts of Texas can get the perfect storage buildings for their property. Whether you need a garage for your tractor, a shed to store your pool supplies, or a workshop for your hot rod, you can count on our steel buildings in Texas. Place your order today!
Customize, Preview, and Order Your Metal Building Online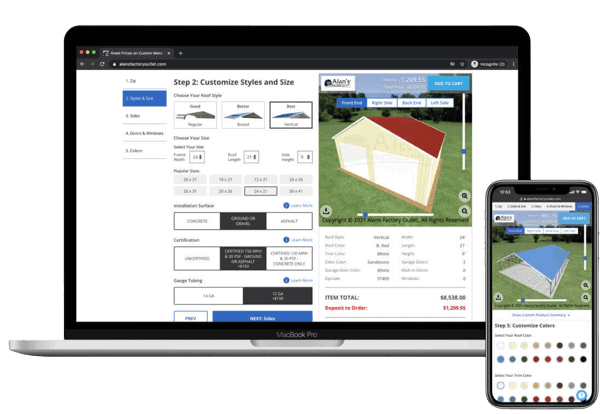 Price and Buy Online with Our 3D Builder, Plus Get Free Shipping and Installation!
Select a size to meet your needs
Choose roof, side, and trim colors
Add garage doors, windows, and walk-in doors
Customize additional options