Barns and condominiums don't share much in common besides having walls, doors, and a ceiling. So then, what is a barndominium? A barndominium, also called a barndo, is a large metal building that pairs a working area with a living space. They can be simple structures or complex spaces with luxurious finishes.
These hybrid buildings embrace an open-concept feel and rustic designs to stand out from typical houses. They're trendy dwellings that make it possible for you to combine where you work with where you live without sacrificing style in the name of function.
In this article, we'll explore four different examples of barndos, what their floor plans could look like, and what alternatives exist. We'll also cover all the pros and cons of living in a barndominium to explore whether this housing type could be right for you.
4 Barndo Examples With Layouts
Real estate developer Karl Nilsen coined the term "barndominium" in 1989, kicking off a trend of barn-style living. Nowadays, barndominiums can look like nearly anything, and you can design them to be uniquely suited to your tastes.
Check out these hypothetical layouts based on the most common steel building sizes. These structures can be customized almost endlessly, but the examples below show just how different living in a barn-type property can be.
Open-Concept Barndominium With Workshop
One upside of a barndo is its customizability; even if square footage is limited, you can create a space that feels cozy yet purpose-driven to suit your needs. Plus, the smaller your structure, the less concrete you need to pour a foundation underneath it, meaning less money out of your pocket.
This 20×30 metal building layout makes it small enough to be a guesthouse with enough basic necessities to be a fully functioning one-bedroom barndominium. And its smaller footprint makes it ideal for less substantial tracts of land or tight, wooded spaces.
Two-Bedroom Getaway Cabin
Not all barndos are bachelor pads. For a versatile choice with a little extra room for friends, family, or Fido, you can opt to configure the building differently while making sure it has plenty of work space.
This layout is a larger 30×40 building design that includes two bedrooms and a workshop garage. You can use one bedroom as an office or as extra sleeping or storage space. If you're looking to start a company in your garage and need room for extra parking, you can add a carport off the side of the building to create a ventilated outdoor space.
Rustic Retreat for the Whole Family
Bringing the kids to work is easier when there's no commute. The whole family can join in on the fun with an expanded barndominium that houses two large bedrooms and a dining room for mealtime. Plus, with immediate access to the workshop, you'll always have somewhere to step away for some peace and quiet.
Make sure to insulate the metal building well, especially if your area sees high or low temperature extremes. With so much open space, barndominiums can take considerable time and energy to heat or cool.
Recreational Hangout
Of course, you might want to build a barndominium for the sole purpose of creating a party palace. Whether you opt to use the space yourself or rent it out on a home-sharing platform, barndominiums can be large enough for more people to eat, sleep, and hang out.
Upping the size to 80×100, or 8,000 square feet, creates an extra-large barndo that can accommodate ten or more people. In case that's a little too much for your needs, you can still opt for a design that's comfortable for large groups with a 60×100 building.
Barndominiums: Reliable Choice or Fleeting Trend?
Life in a barndominium might be a no-brainer for some. If you operate a farm, tend livestock, or use a workshop space for your work or hobbies, barndos offer the convenience of not having to leave home to get work done.
However, these structures aren't for everyone. Living in a barn can have some drawbacks depending on your location, budget, lifestyle, and future plans.
Here are the main pros and cons of barndominiums:
Pros
Affordability: Barndos typically cost less than a traditional home.
Durability: Structures can withstand high winds and last 50 years or longer.
Reliability: Barndominiums don't require frequent expensive repairs.
Cons
Financing: Most lenders will not finance a barndo as a primary residence.
Resale factor: Barndos are niche-market homes that can be tough to resell.
Zoning: Cities and towns may restrict barndominiums from being built.
3 Alternatives to Barndominiums
If the practicality and rustic feel of barndo living appeals to you but you'd prefer something slightly different, check out these popular alternatives.
1. Pole Barn House
A pole barn house is an open-concept dwelling that uses post-frame construction. It's true that some barndominiums are pole barn houses, but not all pole barn houses are barndominiums. Pole barn houses can be one or two stories, and can even have basements.
2. Container Home
Container homes are novel because they already exist in form—they just need to be fitted for residential use. To do so, a shipping container is refurbished and outfitted with modern touches like plumbing and electricity. These homes are often moveable but are usually on the smaller side unless you have several containers combined.
3. Tiny House
Tiny houses are trendy, niche housing alternatives just like barndominiums. Unlike barndos, however, tiny houses are not suitable for workshops, parking vehicles or equipment, or bringing the whole family along. These barndo alternatives are fun, but they're not practical for people with families.
FAQs
Here are some of the most frequently asked questions about barndominiums.
How much does a barndominium cost?
The cost of a barndo varies by location and is subject to change based on the price of construction materials and labor. The cost of a steel building about the size of a typical barndominium is between $8,000 and $40,000, depending on the exact dimensions and the additional cost of a foundation. Of course, adding luxurious finishes to a project can dramatically raise the cost.
Is a barndominium less expensive than a traditional home?
Yes, barndominiums cost less than traditional homes because they use fewer materials and are much simpler to construct. Building a barndo may cost as little as half the price of a traditional home, or even less depending on where you live.
How long does it take to build a barndo?
Typical barndos take between three and six months to build. Details like pricey building materials or heavy electrical or plumbing work can extend the timeline by weeks or months. If you don't plan to live in it, you can have a barn built much faster with no installation fees.
Barn-do or Barn-don't? Construct a Building That Fits All of Your Needs
Barndominiums are unique, inexpensive residential structures that offer an exciting alternative to traditional homes. However, they won't mesh with everyone's lifestyle.
Alan's Factory Outlet does not manufacture barndominiums, but we do sell large metal buildings that fit all kinds of different needs.
Explore building your own metal building with our 3D design tool and start envisioning what your own barn will look like.
Note: The metal buildings that we sell at Alan's Factory Outlet are not designed to be used as homes.
Get an instant price for your new carport or metal garage.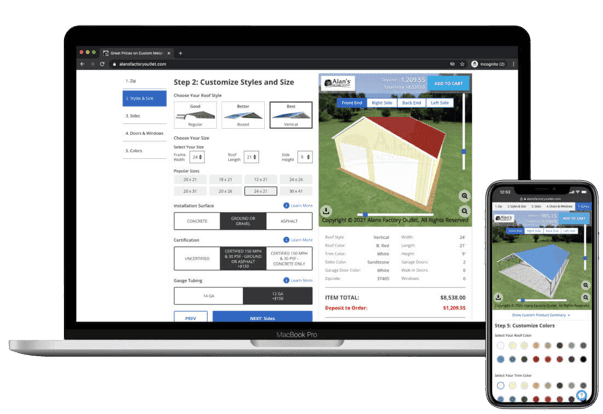 Price and Buy Online with Our 3D Builder Plus Free Shipping and Installation!
Select a size to meet your needs
Choose roof, side, and trim colors
Add garage doors, windows, and walk-in doors
Customize additional options
Customize Now