If you have some property and want to build a house, you might have been surprised at the cost and time it will take to build a home using stick-frame construction. Luckily, there is a way that you can build an affordable, beautiful, and long-lasting home that you'll love: a pole barn house (sometimes called a barndominium). Keep reading to learn more about these buildings, including their costs and other important factors.
Pole Barn House vs. Traditional Homes
There are some distinct advantages to building modern pole barns as a home when compared to traditional homes. Pole barn homes have more interior room, lower costs, and strong weather resistance. They take much less building time than stick-built homes because you don't need to frame out each interior wall to support the weight of the roof.
Upright posts are connected by beams (usually made of wood or metal). These beams help hold up the walls and the roof, which are then covered using materials like sheet metal, wood, or other materials.
Once the shell of the building is up, you have a great degree of freedom in how you design the inside. You can make it look like a traditional home or a very modern space, complete with a loft. Insulating a pole barn home is easier and more energy-efficient because the outer walls do a better job of stopping heat transfer.
What Is Post-Frame Construction?
Post-frame construction has been used for thousands of years because of its simplicity. It uses square or rectangular posts secured to the ground with concrete columns or mounted on a concrete slab. It's nearly identical to pole-frame construction, which uses round poles.
Post-frame houses require a foundation, but they don't require a basement or crawlspace foundation. That makes these structures more affordable and a lot easier to build.
Pole Barn House Construction Costs
How much will a pole barn house cost you? The answer varies based on the pole barn house plans and prices of materials and whether you will complete most of the work on your own or if you hire professionals.
DIY
Prefab pole barn houses are one of the best ways for a DIYer to build their own home. You can purchase these kits from a supplier, and they include all of the building materials (minus concrete) necessary for erecting the structure. If a kit or prefab house isn't right for you, you also can order customized materials.
For many small- to medium-sized homes, a DIYer with some basic construction experience can handle a lot of the work themselves, though there are certain parts of the process where help is a good idea.
Cost: Average cost of $72,000 for 1,600 sq. ft. home
Professional Builder
Having an experienced, professional builder erect a pole barn will raise the cost of your project significantly. It's a good idea to consider the benefits of having a contractor or construction crew handle the work. Professionals can do the job more quickly than a DIYer, and they are less likely to make some of the mistakes that a novice would make. Most, if not all, contractors are insured in case of damages and many of them warranty their work.
Cost: $100,000-$300,000 for a larger home with high-end finishes
Should You Live in a Pole Barn? 7 Pros and Cons to Consider Before Building
Here are a few pros and cons to consider before building a barn home. If you want to learn more about the specifics of constructing a pole barn, reach out to a professional builder or supplier.
Pro: Pole Barn Homes Are Made To Last.
When maintained well, pole barns can last for more than 100 years. Because the poles used to anchor these buildings are made from specially treated wood and the rest of the building is made from other strong materials like steel and aluminum, they are much less likely to be damaged by environmental factors like wind and precipitation than homes made from less-tough materials.
Con: It Can Be Difficult To Get Financing For A Pole Barn Home.
Some banks and credit unions won't finance the cost of a pole barn home or metal building. Many loans for these kinds of buildings are denied because they're seen as a risk due to lower resale values. Some manufacturers of prefabricated metal buildings and kits do offer financing, however.
Pro: Maintenance Costs Are Lower.
You'll pay lower maintenance costs if you choose to build a pole barn as your home. The exterior coloring of the panels is usually baked on using a process that is stronger than paint and more color-fast, meaning you won't need to repaint the siding nearly as often as you would with other kinds of siding.
When you choose a metal roof for your building, you're saving even more on maintenance. Metal roofs can last for up to 50 years, even if you live in an area with extreme weather. Compare that to the lifespan of an asphalt shingle roof (15-20 years), and the savings can be tremendous.
Con: Barndominiums May Not Appraise Well.
Because metal barndos are a relatively new kind of home, and because they are not yet commonplace, appraisers have a difficult time determining value. This might mean that you may not see much of a return on your investment.
Pro: It Is Less Expensive To Build A Pole Barn Than Other Kinds Of Homes.
Many pole barns are made using a kit from prefabricated materials. That saves time and money, as does the simplified foundation required to build one of these homes. Labor costs are much lower thanks to the nature of these structures.
Con: Additional Features Can Add Up.
It's true that the cost of a basic barndominium is lower than a comparable stick-built home, but added features like lofts, second stories, and interior features increase the price.
Pro: These Homes Are More Energy Efficient.
Thanks to the larger spaces between poles, more insulation can be added to a pole barn home. Fewer gaps in insulation translate to less heat transfer, which keeps heating and cooling costs down.
5 Creative Pole Barn Home Styles
Modern pole shed homes are as varied and beautiful as any other type of home. There is a wide range of color options for the exterior panels that include extra-strong baked-on colors or they can be primed and painted using metal paint. Pole barn homes can have a metal roof or you can install a shingle roof. As you'll see in the examples below, there are a lot of great choices that can make one of these homes look and function great.
Slat-Siding Barn Home
This pole barn home calls to mind classic homes with its small slat siding and shingle roof. The courtyard patio provides a great communal space for get-togethers and family meals.
Contemporary Style Home
The clean lines of a pole barn are the perfect basis for a contemporary-style metal home. The larger space between supports allows for larger windows and sliding glass doors.
New England Style Home
This traditional New England style merges classic looks with affordable materials. Pole barn homes can have multiple stories to give your family the room it needs and to give your home a unique look compared to a more simple pole barn house.
Classic Barn House Styles
Few other styles of homes fit on an open piece of land like a classic barn house. Whether you want a single-story home or several stories, the barn house look is flexible enough to look great.
Pole Barn Ranch Home
A ranch-style home looks great on any property. And with a pole barn, you get even more space inside compared to a stick-built ranch home.
Customize Your Metal Building Today
With Alan's Factory Outlet 3D designer, you can customize the perfect metal building or carport for your needs. With a range of sizes, styles, and weather ratings, your affordable dream building is just a few clicks away. Our metal buildings have many uses, and they function well as garages, workshops, and agricultural buildings.
Note: The metal buildings that we sell at Alan's Factory Outlet are not designed to be used as homes.
Get an instant price for your new metal building.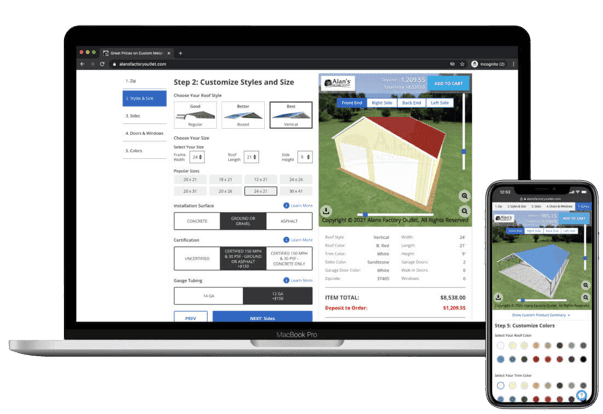 Price and Buy Online with Our 3D Builder Plus Free Shipping and Installation!
Select a size to meet your needs
Choose roof, side, and trim colors
Add garage doors, windows, and walk-in doors
Customize additional options
Customize Now