If you're in the market for some extra storage space on your property, you've got several choices to pick from. Two of the best options, sheds and garages, might seem similar at first, but actually have quite a few differences.
In your choice between a shed vs. garage, it's important to consider all the factors, like what you'll be storing inside your new building as well as your budget and restrictions on what you can build on your property.
Whether you go with a garage or a shed to solve your storage needs, it's going to be an investment. If you're unsure which one is the better choice for your current situation, consider the differences between the two before you make your final decision.
Top Differences Between Sheds and Garages
A shed and garage are similar, but the main difference is size. If the building fits more than one vehicle, it's considered a garage. But you can store vehicles in sheds, too, especially if you have a large shed.
You might think of garages as places to park your car and sheds as storage for garden tools. You'd be partially right—but even the average homeowner can get much more out of a building that fits their lifestyle. Consider these differences while you make up your mind about the best choice for your property.
Space
Sheds and garages are often sized differently. Garages can accommodate one or more vehicles. Sheds, especially large ones, might be able to fit a vehicle, but usually no more than one. Regardless, there are many ways to switch up your storage space and use it however you want to.
Since sheds are often smaller buildings, they make convenient spots to keep smaller items and miscellaneous tools organized for quick and easy access.
Use
Sheds and garages can serve many of the same functions, but they're often used differently depending on a few factors.
A garage is usually a space to park vehicles and store tools. With its larger, flat surface area, a garage can also be a great flex space to hang out in or to use for working out.
Sheds aren't limited when it comes to ways to use them. Try imagining yourself with a new potting shed or a chicken coop for a steady supply of fresh eggs. If chickens aren't for you, maybe a convertible backyard office would do the trick.
Both types of buildings can be used in many different ways, so don't be afraid to get creative.
Cost
Sheds and garages are different sizes, and will therefore cost different amounts based on the building materials involved. Many of your choices, down to which type of roof you select, can affect the total cost.
Sheds can range in price from $200 to tens of thousands of dollars. However, the average shed costs $2,500.
Garages are typically larger and more expensive than sheds. The average cost of a garage nationwide is about $28,000 but can be thousands more or less than that.
Some factors that can up the cost of a shed and a garage are:
Security measures
Type and number of doors
Addition of windows
Insulation
Foundation
Building terrain
Whether it's a shed or a garage, a prefabricated metal building will cost much less than a custom one.
Durability
Both types of buildings are investments, and it's important to think about protecting your purchase in the long term. Sheds are smaller and more likely to be damaged in bad weather, while garages will likely stand up to weather a bit better.
No matter what you choose, metal is more durable than wood. A metal shed is likely to outlast a wooden one by withstanding weather conditions, termite damage,  and more—the same is true with a metal garage.
Convenience
Convenience is a personal decision—you're the only one who can decide what's more convenient for you given the property you want to build on, your budget, and your needs.
Generally, garages are easier to enter and exit and can have automatic doors that allow quick in and out for multiple vehicles. You can install an automatic opener on a shed with a roller door, too. Sheds are also often smaller, meaning you might be able to find what you're looking for more quickly if you store lots of things inside.
Doors
A garage door is a key visual factor that identifies a garage. These doors are usually bigger, so larger objects and vehicles can fit through them. However, some garage doors are pricey and might add more to the total cost. Garages also usually have secondary entrances for access in the event the overhead garage door is locked from the inside.
Sheds can have many different types of doors. Like a garage, a shed can have multiple entrance and exit points, but it's more common for sheds to just have one door. This is often a double door or an extra-wide single door, but it can also be a roller door.
Floors
What lies beneath? Well, the answer is: it depends. The underpinnings of garages and sheds will vary based on whether they're prefabricated and what type of land they'll be built on.
Garages often have concrete or stone foundations to support the weight of vehicles that might be parked inside. You might also be able to customize your garage flooring or add tiles on top after installation.
Sheds might also have foundations, especially a metal shed that will store any kind of vehicle or heavier equipment. But sheds might not need them, especially wooden ones. These sheds are usually built atop a gravel foundation that supports less weight.
How to Choose
Garages can range from single-car all the way to 60 feet wide. They're customizable, including dimensions, doors, windows, roof style, and color scheme, and they're great for:
Parking vehicles, especially in larger garages
Storing numerous boxes and large items
Housing lawn equipment and seasonal decorations
However, a bigger garage means more materials to accommodate its size, which increases the cost. Garages with multiple bays require multiple doors, raising the cost further. Still, even at a higher cost, a garage is a worthwhile investment. Most homes are likely to see an increase in their property value with the addition of a garage.
While garages are a surefire way to fix any storage problems, they can end up being a bit more than you actually need, especially if you're not thinking about storing a vehicle. In these cases, it's better to opt for a shed instead of a garage. Sheds are ideal for:
Keeping tools and toolboxes handy and easily accessible
Storing smaller vehicles and non-motorized ones like bikes
Potting plants and storing various gardening tools
If you have the space on your property, sheds can also serve as overflow space to help you clear the clutter out of your garage. Just be sure to buy a shed made of durable material to ensure it will stand the test of time.
Customize Your Next Metal Shed or Garage
Whether your needs are big or small, sheds and garages both have the potential to solve your storage problem. If a larger structure is all that will fit your items, you'll likely want to opt for a garage rather than a shed. If you don't have as much to store and won't be using heavier vehicles, you may want to consider a shed instead.
One thing is for sure—if you're looking for a garage or a shed, a custom metal building is a high-quality way to store equipment, vehicles, and much more. Use our 3D customization tool to build and order your metal building, and Alan's Factory Outlet will deliver and install the structure for free.
Get an instant price for your new carport or metal garage.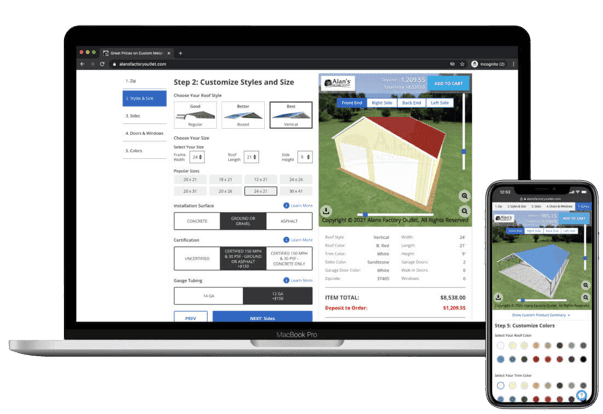 Price and Buy Online with Our 3D Builder Plus Free Shipping and Installation!
Select a size to meet your needs
Choose roof, side, and trim colors
Add garage doors, windows, and walk-in doors
Customize additional options
Customize Now