Alan's Factory Outlet is one of the top metal carport sellers in Texas. Our 3D Carport Builder allows you to design your own carport, and instantly see how much it will cost.
Do You Sell Metal Carports Near Me?
Alan's Factory Outlet serves all major cities and rural areas in Texas.
The cities we deliver and install in include Abilene, Allen, Amarillo, Arlington, Austin, Beaumont, Brownsville, Carrollton, College Station, Corpus Christi, Dallas, Denton, El Paso, Fort Worth, Frisco, Garland, Grand Prairie, Irving, Killeen, Laredo, League City, Lewisville, Lubbock, McAllen, McKinney, Mesquite City, Midland, Odessa, Pasadena, Pearland, Plano, Richardson, Round Rock, San Angelo, San Antonio, Sugar Land, The Woodlands, Tyler, Waco, Wichita Falls, and more.
The main area we can't deliver to is the southern Big Bend area around Terlingua.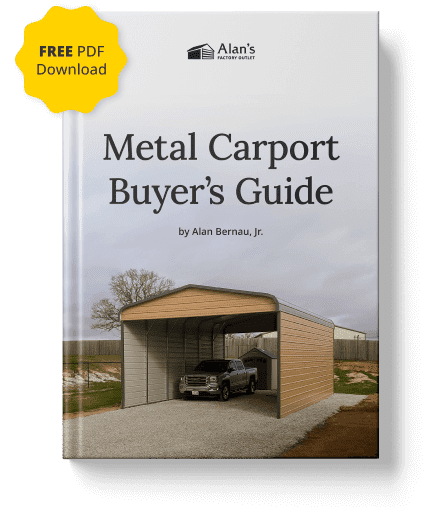 Avoid Buyer's Remorse!
Get a free buyer's guide to help you plan the perfect carport for your needs.
Find out:
How to save a lot of money
If a metal carport is right for you
How to choose the right size
What you need to know about foundations
And much more...
Popular Carport Sizes
Not sure what size you need? Use our Carport Size Guide to find out.
Here are some popular carport sizes we sell (click for details and pricing):
Need a 'Texas-Sized' Carport? Our triple-wide carports come in sizes up to 30×40 feet.
No matter which type of carport you're looking for, we're sure to have it, and if we don't, we'll gladly customize one for you!
Carport Cost
Use our 3D Carport Builder to get instant pricing for your custom carport.
More than 75,000 Satisfied Customers
"One of the best investments I have made in the past decade. Using Alan's Factory Outlet's online design tool, I was able to construct a design that fit me perfectly. About 40 days later, the installers arrived and had the building up within the hour. Definitely recommend this method of getting a car port or garage or other metal building."

Peter E., Texas, January 2020, 18×20 Regular Style Carport
"Very easy to place order. The whole experience was wonderful. Installed quickly and well done. Look couldn't be better. Neighbors were impressed. Local inspector was pleased with look and construction. Cost was very reasonable. Benefits have been the protection from future hail storms, and from the heat here in Texas. I have a black car and it upon entering it during the day we don't get the oven effect."

James S., Texas, July 2017
"Easy To order. This crew was great they did a great job very pleased heavy duty carport very nice thank you very much."

Terry L., Texas, November 2021
"Fast build and great product."

Ronald B., October 2020, Texas
"The crew that installed the carport were very professional. They installed the carport very quickly, and did a very good job cleaning up all scrap pieces."

Mickey J, Texas, July 2020, 20×20 Vertical Metal Carport
"Great carport, very roomy for rv and truck. Extra room for mowers, etc."

Taylor A., Texas, April 2020, 20×30 Regular Style Carport
"Very please with the carport. Will definitely use Allen's Factory Outlet again."

Mike, Texas, November 2019, 20×30 Regular Style Carport
"Best features and options I have come across. the online ordering is well setup too.

"Great customization and quality material and install. Was able to get design what I wanted."

Bryan, Texas, October 2019, 24×25 Vertical Roof Metal Carport
"Super sturdy carport"
"Well pleased with my new carport. It has support braces on the side as well as top braces. It appears to be very sturdy is very attractive. Installation was accomplished in a little over an hour. Well done!"

Paul H., Texas, September 2019, 12×21 Boxed Eave Style Carport
"Very nice carport"
"Our RV carport looks great and finally our RV roof has protection from the hot Texas sun. Crew was prompt, efficient, and polite."

Sara B., Texas, August 2018, 20×36 Regular Style Carport
"Arrived sooner than expected. :)"

Sara, Texas, January 2018
"My patience was wearing thin waiting for this to arrive, but when it did I was thrilled with the quality of the carport. It is strong and well designed and Daniel Perez and his crew were friendly and professional. They had it up in less than 2 hours after they arrived. A great buy if you're not in a hurry."

Deryl H., Texas, July 2018
People love our carports, but sometimes delivery can take a while. Read how the scheduling process works to find out why, and see our estimated delivery times to see how long delivery might take in your area.
"Carport was delivered in the usual described timeframe (60+- days). It was installed in about an hour and payment options for the unit was made very easy.
"I have recommended your product to several people and one person has already ordered one."

Danny G., Texas, July 2017
"Waited way too long for the delivery. I purchased the carport too high. When the they did come and set it up, it was quick and fast. Overall good product."

Pamela F., Texas, August 2018, 18×26 Regular Carport
My Carport Buyer's Guide explains how to calculate the right height for your carport.
"We were very pleased with how easy the purchase process, as well as completion process went. More than satisfied, and would highly recommend."

Anthony A., Texas, Jun 2018
"Found what I needed very easily and ordering process was simple"

Jeff F., Texas, December 2017
"Delivery was delayed a little because of priority effort to repair hurricane damage to existing structures. If I am ever in that situation, I would appreciate being given priority over new installations too. I was not, at all, put off by the delay.
"I was stunned at how quickly your staff were able to put up the carport. The biggest problem was the removal of tree limbs in the way where I wanted to put it. Not-to-worry! Your crew not only sawed them off, they toted them away from the site to allow traffic to flow past. The carport was exactly what I had expected it to be. I am satisfied in every respect. GOOD JOB!"

Hal H., Texas, October 2017
Our Texas carports are usually certified for 140 mph winds, but a 170 mph certification is also available to provide extra protection against hurricane-force winds.
"the delivery was on time and communication was great, and the workers did an excellent job, kudos"

Wes B., Texas, August 2017
"Extremely pleased with my new metal carport.
"Installation crew completed assembly in just a few hours, cover looks great and I am very pleased with the look and design of the product. I'd definitely recommend to anyone looking for a quality metal carport."

Brian D., Texas, July 2017
"good product at fair price. Installers were knowledgeable and very fast. Done in hour, amazing. Great overall experience!"

Jon B., Texas, June 2017
"Installed and looks great. Installers did a great job.. Thanks for a fantastic product!"

Donald S., Texas, June 2017
"Good so far. I got the product I expected at a reasonable price, before I expected it, and it was properly installed on the site provided."

Thomas V., Texas, March 2017
"Simple and easy. The installation team had the unit up in just a few hours. Looks great. Very stable. Alan's was the right choice."

Gerald E., Texas, January 2017
"online site is great. called into customer service today, she called back …VERY professional.
delivery & setup was fantastic. I was away on vacation when they came to install, installation was cleaned & lookin great when I arrived home. gate was closed & locked like I asked.
overall very satisfied."

Robert T., Texas, August 2016
"These guys rocked it. A whole month early with delivery too! Extremely satisfied."

Margot B., Texas, August 2016
"Order process was easy. Installation was performed in a timely manner. Installers were very professional and efficient. Overall great experience from the sales process to the installation."

Rudolph R., Texas, July 2016
"Actually the guys delivered a day earlier, did a great job."

Mark H., Texas, May 2016
"installers were well organized, efficient, and fast. I was very impressed with the team."

Roger G., Texas, November 2015
"Ordering was very simple with the choices given.
"We were very happy with the carport, exactly like we thought it would be. Very professional installers. Couldn't be happier"

Gordon A., Texas, September 2015
"Good quality carport at a fair price."

Trina S., Texas, May 2015
"the experience was very easy, very happy with the product and the installation was very well taken care of. thanks for the good service"

james P., Texas, March 2015
"My family and I have been planning this purchase for some time and I couldn't believe how simple your website made the ordering process. Thank you. Looking forward to delivery and installation so we can begin work on our ranch in Teague, TX."

James R., Texas, November 2014
Why Buy from Alan's Factory Outlet?
Alan's Factory Outlet is owned and operated by Alan Bernau Jr and wife Julie Bernau. When you buy a carport from Alan's you are supporting a small, family-run business, and you get the excellent customer service you expect from a family-operated business.
When you buy a metal carport in Texas, you get free delivery and installation. Our carports are affordable, customizable, and durable. Whether you're looking to protect your property in the Panhandle or add some shade in South Texas, a carport from Alan's Factory Outlet will fit the bill. We provide professional installation of carports in El Paso, Austin, Abilene, San Antonio, and the rest of the Lone Star State.
One reason why so many people turn to us when they need a carport is that we have a huge variety of options. You can get exactly the right size and style for your needs, whether you need a building tall enough for an RV, wide enough to hold your tractors, or with a color and roof style that matches your house.
Order online now, or call us to speak with our knowledgeable staff about your options. We'd be glad to serve you!
Price and Design Your Carport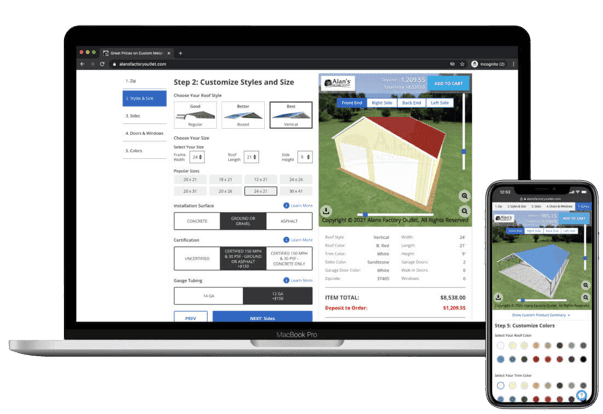 Customize Now