Get your custom carport and get our best prices plus Free Shipping and Installation!
Metal Carports – Tennessee – from $1,425
Alan's Factory Outlet is the #1 seller of custom metal carports in Tennessee. Our 3D Carport Builder allows you to design your own carport, and instantly see how much it will cost.
How Much Does a Metal Carport Cost?
The price of a metal carport in Tennessee starts at around $1,425. Use our 3D Carport Builder to get instant pricing for your own custom carport.
Carport Sizes
Here are some popular carport sizes we sell (click for details and pricing):
Do You Install Metal Carports Near Me?
Yes! We install metal carports in all parts of Tennessee.
The towns, cities, and rural areas we deliver to include Arlington, Athens, Bartlett, Brentwood, Bristol, Chattanooga, Clarksville, Cleveland, Clinton, Collegedale, Collierville, Columbia, Cookeville, Crossville, Dickson, Dyersburg, East Ridge, Elizabethton, Farragut, Franklin, Gallatin, Germantown, Goodlettsville, Greeneville, Hartsville, Hendersonville, Jackson, Johnson City, Kingsport, Knoxville, La Vergne, Lakeland, Lawrenceburg, Lebanon, Lewisburg, Manchester, Martin, Maryville, McMinnville, Memphis, Middle Valley, Millington, Morristown, Mount Juliet, Murfreesboro, Nashville-Davidson, Oak Ridge, Paris, Portland, Powell, Red Bank, Sevierville, Seymour, Shelbyville, Smyrna, Soddy-Daisy, Spring Hill, Springfield, Tullahoma, Union City, White House, and more.
Make a Great Decision with Our Carport Buyer's Guide
Get our free Carport Buyer's Guide and find out everything you need to know before you buy a metal carport.
Thank You!
Your guide should arrive in your inbox in about 5 minutes.

Alan Bernau Jr., Owner
75,000 Satisfied Customers and Counting
"best price best product. Could not be more satisfied. You will not be sorry with any product you buy from this company."

Gregory K., Tennessee, November 2016
"Compared to other metal carports, alansfactoryoutlet has the best product and customer service I found. After researching quality and price, you can't beat alansfactoryoutlet."

James R., Tennessee, March 2019, 24×20 Boxed Eave Style Carport
"We love the new Camper Cover. I am sure it will help our new camper last and hold its value much better than just a canvas cover. The only small issue was that the crew left several (around 30) metal screws scattered on the ground when they left. Luckily we saw them and used a rolling magnet to find them."

Dave M., Tennessee, November 2020, 18×35 Regular Style Carport
We're sorry to hear about the mess the crew left behind! Thanks for letting us know about it.
"Exactly as I envisioned. Installer did a great job. Neat, efficient and quick. Very sturdy and good looking. I would buy from Alan's all over again."

Mike, Tennessee, July 2020, 24×25 Boxed Eave Style Carport
"Easy to place order on line. I did call to change the color and the person I talked with on the phone was very friendly and there was no problem with the changes. Very good company to deal with! I would recommend them to anyone."

Charles S., Tennessee, November 2019
"GREAT! GREAT! GREAT ! Couldn't be better! The install crew were AMAZING! Great bunch of young men. Very professional new exactly what and how to work together"

David E., Tennessee, November 2019, 12×30 Regular Style Carport
"took longer to get than I was hoping but was within the three mo. they told me it would take"

jerry M., Tennessee, November 2018, 12×20 Regular Style Carport
Some orders take longer than others to deliver. See our estimated delivery times to see how long delivery might take in your area.
"Completely & Utterly Satisfied Customers in Powell,Tennessee

"Love my carport ! It keep my car cleaner when the pollen is on everything in the summer and it was great to keep the snow off my car in the winter. I'm so happy I found Alan's Factory Outlet on my google search, they had just what I wanted."

Carolyn C., Tennessee, May 2018, 12×20 Regular Style Carport
"This carport is a great deal. Looks good and keeps this pesky birds from doing "it" on my 4-Runner."

Matthew R., Tennessee, May 2018, 12×20 Regular Style Carport
"26×12 carport covers my 20ft pontoon boat well. Carport looks good. Will protect my boat for years to come."

paul O., Tennessee, December 2017
"Would have liked to get it a lil quicker, but overall I am pleased and have already recommended you all to others."

rodney A., Tennessee, December 2017
"I found what I was looking for at a lower prices than others."

Patsy R., Tennessee, December 2017
"Carport looks great! The guys installing it did a fantastic job!"

Chad B., Tennessee, October 2017
"Everything went very smoothly. The installers were punctual and wasted no time at getting the RV Port erected. The quality of the materials was very good and the RV Port should last many, many years."

Larry I., Tennessee, October 2017
"Our shopping experience was indeed, pleasant, timely, received as described. service was excellent. Installation was done quickly, efficiently. Crew was professional. We will definitely purchase from Alan's again in the future."

Almondo F., Tennessee, August 2017
"was very easy to use the site, the carport is very nice for the price and the service was good and install was fast and nice"

Richard F., Tennessee, May 2017
"It was great. Fast delivery, and very good customer service!"

Payton H., Tennessee, November 2016
"Easy navigation, great prices, great options"

Brennan M., Tennessee, July 2016
"Process to buy was easy, delivery took a few weeks but with the weather we had it was understandable. The quality of the carport is excellent and the installers were fast and professional. We will definitely buy from Alan's again."

Mr. K., Tennessee, April 2016
"Ordering process was easy and price was good. Delivered in the time frame stated. Very positive experience and I would definitely recommend!"

T E., Tennessee, December 2015
"Exactly what I was looking for at a great price. Will buy from again when the time comes."

Tony, Tennessee, September 2015
"Quality built products, made to order and delivered & installed by professionals! All around fabulous experience and I have already recommended Alans Factory Outlet to a few of my business associates!"

Stacey N., Tennessee, July 2015
About Alan's Factory Outlet
Alan's Factory Outlet is owned and operated by Alan Bernau Jr and wife Julie Bernau. When you buy a carport from Alan's you are supporting a small, family-run business, and you get the excellent customer service you expect from a family-operated business.
Alan's Factory Outlet is proud to be a top choice when Tennessee residents need protection for their vehicles and other possessions. When looking to buy carports, Knoxville, TN, residents, and people from Murfreesboro, Cleveland, Kingsport, Chattanooga, Athens, Morristown, Dixon, Memphis, and beyond come to us for the most affordable and durable carports. TN residents' needs may vary, but our quality does not!
Metal Carports Tennessee Prices
Protection is the main advantage you can get from a quality carport supplier. We know the carports Tennessee residents buy must be sturdy enough to keep their vehicles safe from Mother Nature, and we make sure to deliver just that resilience in the metal carports TN clients order from us so they can shield their possessions from the weather. A carport gives your car, truck, boat, RV, or farm equipment the perfect protection from rain, hail, ice, snow, wind, and sun. Thanks to the protective features of our metal carports, TN buyers also trust them to keep other outdoor belongings safe from the elements, like gardening supplies or outside toys. When sides are added to one of our carports, Tennessee residents can enjoy even further protection from the wind and the rain.
When using our metal carports, TN residents have discovered many other benefits. For one, buyers gain a great place to enjoy some shade from the sun with our metal carports for sale in Tennessee. This shade element is an attractive feature of owning carports. Nashville, TN, buyers need no reminders about the heat that bears down on the city in the summer! Carports provide a great place for kids to get out of the sun without having to play inside. After purchasing one of our carports, TN parents can use it for shade while keeping an eye on their kids playing outside.
Triple Wide Carports Tennessee Prices
Need custom carports? TN residents can get carports and garages in many different sizes, styles, and heights to meet their needs. Alan's Factory Outlet steel buildings are available in a wide range of different sizes, from a single carport or garage starting at 12 by 21 feet all the way up to a 30-foot triple-wide carport. Our carports come in the following sizes to accommodate a variety of vehicles:
Width options: 12, 18, 20, 22, 24, 26, 28, or 30 feet
Length options: 21, 26, 31, 36, or 41 feet, with the ability for greater length with extensions in 5-foot increments
Choose from several different colors and styles of carports, including boxed-eave and vertical roof styles. On the boxed-eave roof, the sheeting on the roof runs lengthwise; on the vertical roof, the sheeting runs vertically to help rain and snow slide off of your roof. When deciding between the boxed-eave and vertical roofs for metal carports, Knoxville, TN, customers would do best to consider the latter, considering the above-average annual rainfall the city receives.
We also offer a diverse catalog of metal buildings beyond carports. Nashville, TN, homeowners might appreciate our heavy-duty garages, which provide extra space to store vehicles and other belongings in the crowded largest city in the state. Our full range of products includes barns, sheds, garages, and more. The metal barn lean-to is our newest building style; it comes in 36-, 42-, 44-, 46-, and 48-foot widths and lengths starting at 21 feet and increasing in 5-foot increments.
From barns to carports, TN residents know that Alan's Factory Outlet offers the best in metal buildings!
Like our metal carports, we also offer free delivery and setup in Tennessee on all metal garages and metal lean-to barn buildings.
Take advantage of our easy 24/7 online ordering or order by phone by calling 1-800-488-6903 between 9 a.m. and 5 p.m. Eastern time Monday through Friday. Our knowledgeable staff will help meet your needs with great prices, fast delivery, and hassle-free installation of metal carports. TN residents should settle for nothing less than the excellent service of Alan's Factory Outlet!
As an added bonus, in all of Tennessee's cities and towns, we offer free delivery and installation of our custom metal carports, Knoxville, TN, Nashville, Memphis, Chattanooga, Cleveland, Dixon, Morristown, Athens, Murfreesboro and others included. Each order is handled by our knowledgeable staff, who can help you choose the best carport kit or prefab option to meet your needs.
Beyond Tennessee, Other Delivery Locations
Alan's Factory Outlet offers metal buildings and custom carports for delivery and installation in many different areas of the U.S. Popular service locations we deliver to include:
Popular Carport Sizes
Here are some popular carport sizes we sell (click for details and pricing):
Build Your Own Metal Garage or Carport With Our 3D Builder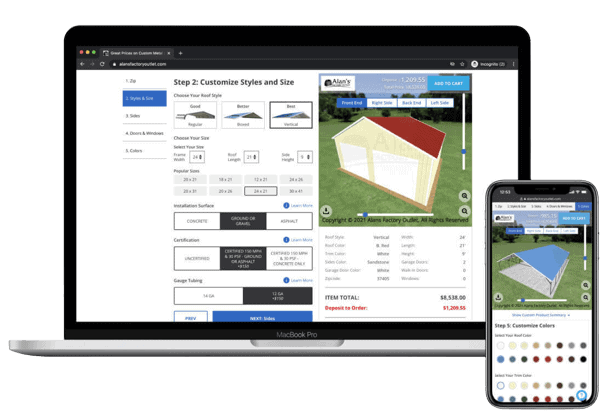 Price and Buy Online with Our 3D Builder Plus Free Shipping and Installation!
Select a size to meet your needs
Choose roof, side, and trim colors
Add garage doors, windows, and walk-in doors
Customize additional options