Alan's Factory Outlet is the #1 seller of custom metal carports in South Carolina. Our 3D Carport Builder allows you to design your own carport, and instantly see how much it will cost.
How Much Does a Metal Carport Cost?
The price of a metal carport starts at around $1,425. Use our 3D Carport Builder to get instant pricing for your own custom carport.
Carport Sizes
Here are some popular carport sizes we sell (click for details and pricing):
Do You Install Metal Carports Near Me?
Yes! We install metal carports in all parts of South Carolina.
The towns, cities, and rural areas we deliver to include Aiken, Anderson, Beaufort, Berea, Bluffton, Carolina Forest, Cayce, Charleston, Clemson, Columbia, Conway, Dentsville, Easley, Five Forks, Florence, Fort Mill, Gaffney, Gantt, Goose Creek, Greenville, Greenwood, Greer, Hanahan, Hilton Head Island, Irmo, James Island, Ladson, Lake Wylie, Lexington, Mauldin, Mount Pleasant, Myrtle Beach, Oak Grove, Orangeburg, Parker, Port Royal, Red Hill, Rock Hill, Seven Oaks, Simpsonville, Socastee, Spartanburg, St. Andrews, Summerville, Sumter, Taylors, Wade Hampton, and more.
Avoid Buyer's Remorse!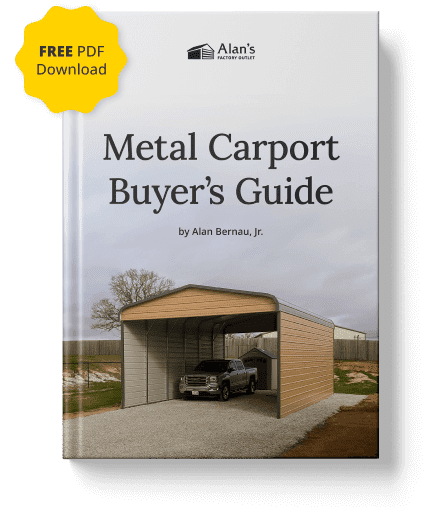 Get a free buyer's guide to help you plan the perfect carport for your needs.
Find out:
How to save a lot of money
If a metal carport is right for you
How to choose the right size
What you need to know about foundations
And much more...
75,000 Satisfied Customers and Counting
"Great website! Very easy to use. I like being able to see each custom option loaded into the 3D window."

KC, South Carolina, October 2019
"Alan's Factory Build what we want….Perfect Deal. Carport got arrived after 6 weeks ordering time , perfect condition and super friendly contact person and also great deal from the guys who build it up.We are very pleasure and very happy with that Deal….Thanks to Alan Factory Outlet…"

Jens K., South Carolina, September 2019, 18×25 Regular Carport
"Fantastic keeps us out of the rain, looks good,very satisfied."

PAUL F., South Carolina, April 2018, 20×20 Vertical Metal Carport
"The process was very smooth! Fantastic prices and great communication!"

Crystal D., South Carolina, March 2018
"I was very impressed with the quality and the professional installation of my carport."

Gary B., South Carolina, November 2017
"The delivery personnel were courteous and professional. Complete installation only lasted two and a half hours. The dimensions where spot on. The color great. Thank you."

Herbert C., South Carolina, October 2017
"I have no real complaints. It just took about a month or so for it to be delivered. I am beyond satisfied with the awning. The men that brought it and set it up were very nice and worked very hard on it. They didn't take no time to put it up. I'm very happy."

Chelsie, South Carolina, August 2017
"Very easy to find and order what you need. I received it in the timeline that they gave. They kept in touch with me as well. The men did a quick and excellent job in setting up my carport."

Graceful3, South Carolina, July 2017
"I was very satisfied with price,product and assembly."

Ralph M., South Carolina, June 2017
"AWESOME !!!!!! QUICK AND EASY !!!!!!!!!!! 😀 SUPER DEAL !!!!! THANKS Y'ALL !!!!! :)"

Danny T., South Carolina, December 2016
"Prompt responses and accurate information. Overall, an excellent experience."

Ron, South Carolina, January 2015
About Alan's Factory Outlet
Alan's Factory Outlet is owned and operated by Alan Bernau Jr and wife Julie Bernau. When you buy a carport from Alan's you are supporting a small, family-run business, and you get the excellent customer service you expect from a family-operated business.
We are proud to serve Spartanburg, Greenville, Columbia, Anderson, Lexington, and Greer, South Carolina.
South Carolinians enjoy the warm weather of South Carolina, but it can also wreak havoc on vehicles. The sun's hot rays are necessary for life, but they can cause damage to the paint on your car, truck, boat, RV, or other vehicles. Rain, snow, and other weather concerns can also harm your vehicles and other possessions. If you are looking for something to help keep your vehicles safe from all of the elements, then you've come to the right place. It's easy to protect your possessions with metal carports. SC residents will get the best deal on these carports when they buy from Alan's Factory Outlet.
Metal Carports South Carolina Prices
South Carolina carports are great shelters that can protect your vehicles and anything else you decide to place under them. They are also handy outdoor shelters that can keep the kids shaded when they are playing outside. In fact, the only limit to what your metal carports can be used for is your imagination. When they order our carports, South Carolina residents have used them for many different purposes and to meet diverse needs. There just isn't a ceiling to how you can use our carports. South Carolina residents enjoy the unbeatable protection that our inventory gives them every day.
One of the best characteristics of our selection of South Carolina carports is the sheer variety evident in our catalog of carports. Greenville, SC residents — and those who live elsewhere in the state – can surely find the right carport for their needs from the many different options in our inventory. Our carports and garages are available in several sizes, styles, and heights to meet your preference for carports. SC residents routinely turn to us for carports because of this variety. Providing excellent customer service is just one of the ways we serve our customers in South Carolina.
As noted above, carports give your car, truck, boat, RV, farm equipment, and other valuables the perfect protection from rain, hail, ice, snow, wind and sun. These South Carolina carports are sound investments because when customers invest in one of our quality carports, Greenville, SC residents — and those who live in other cities within the state – save money over time on the upkeep of their property. If you want to invest in lower maintenance costs, purchase one of our metal carports. Greenville, SC residents aren't the only ones who can save on repair bills – customers from around the state buy our carports. Columbia, SC residents, for example, have been known to inquire about our carports for sale, and immediately order online when they find that we have what they're looking for.
Alan's Factory Outlet steel buildings in SC are available starting with a single carport or single garage at 12'x20′, with other widths of 18′, 20′, 22′, and 24′ also available in our metal carports. SC buyers should know that the next longer lengths after 20′ are 25′, 30′, 35′, and 40′. We can even make the metal carports and metal garages longer in 5′ increments, for a length that best suits you and your particular need for carports. SC residents can have the perfect length for nonstandard vehicle lengths with these available adjustments for carports. South Carolina cars and vehicles across the state can be protected by garages that fit them like gloves.
Looking for a metal building wider than 24′? We've got you covered almost as well as metal carports. Greenville, SC townspeople, as well as others, might love our triple-wide carports, which come in 26′, 28′, and 30′ wide lengths. When they need wide carports, Greenville, SC buyers will surely be able to get a carport wide enough to shelter their possessions, if they order from us.
We have other metal buildings available in addition to our carports. South Carolina residents can get our newest style metal building, which is the metal barn lean-to building, available in widths of 36′, 42′, 44′, 46′, and 48′, with lengths starting at 20′ long and available in 5′ increments longer than any model, if you prefer lean-tos to one of our carports. SC residents, then, have many other metal building options in addition to metal carports. Greenville, SC is a town with stylish building options, especially when it comes to carports! Columbia, SC is, too!
**Free Delivery and Setup in South Carolina on All Metal Carports**
As with our metal carports, Aiken, Anderson, Columbia, Greenville, Greer, Laurens, Lexington, and Spartanburg residents get free delivery and setup in South Carolina on all metal garages and metal lean-to barn buildings.
Metal carports and garages come in three different styles.
Triple Wide Carports South Carolina Prices
Metal Barn Lean To Buildings South Carolina Prices
32 to 40 Wide Metal Carports SC Prices
Beyond South Carolina, Popular Locations We Serve
We are proud to provide quality metal buildings and carports for sale, delivery, and installation. Some of the popular cities we deliver to include: