Alan's Factory Outlet is the #1 seller of custom metal carports in Oklahoma. Our 3D Carport Builder allows you to design your own carport, and instantly see how much it will cost.
How Much Does a Metal Carport Cost?
The price of a metal carport in Oklahoma starts at around $1,295. Use our 3D Carport Builder to get instant pricing for your own custom carport.
Carport Sizes
Here are some popular carport sizes we sell (click for details and pricing):
Do You Install Metal Carports Near Me?
Yes! We install metal carports in all parts of Oklahoma except the panhandle.
The cities, towns, and rural areas we deliver and install in include Ada, Altus, Ardmore, Bartlesville, Bethany, Bixby, Broken Arrow, Chickasha, Choctaw, Claremore, Del City, Duncan, Durant, Edmond, El Reno, Elk City, Enid, Glenpool, Guthrie, Jenks, Lawton, McAlester, Miami, Midwest City, Moore, Muskogee, Mustang, Newcastle, Norman, Oklahoma City, Okmulgee, Owasso, Ponca City, Sand Springs, Sapulpa, Shawnee, Stillwater, Tahlequah, Tulsa, Warr Acres, Weatherford, Woodward, Yukon, and more.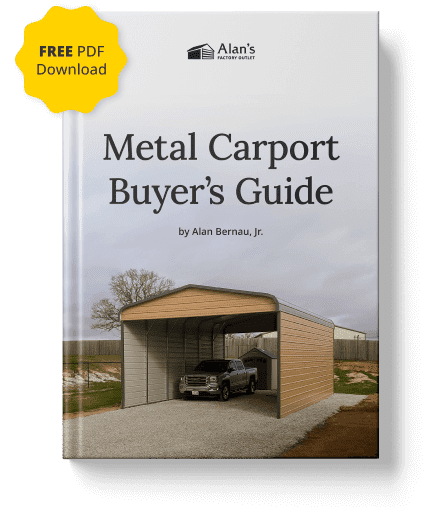 Avoid Buyer's Remorse!
Get a free buyer's guide to help you plan the perfect carport for your needs.
Find out:
How to save a lot of money
If a metal carport is right for you
How to choose the right size
What you need to know about foundations
And much more...
75,000 Satisfied Customers and Counting
"I compared your metal carport to others and no one comes close in price or quality. Completely satisfied customer. Thank you very much." – Carl C.
About Alan's Factory Outlet
Alan's Factory Outlet is owned and operated by Alan Bernau Jr and wife Julie Bernau. When you buy a carport from Alan's you are supporting a small, family-run business, and you get the excellent customer service you expect from a family-operated business.
As everyone who owns a vehicle understands, the weather can truly wreak havoc on a car, truck, motorcycle, or other motor vehicle. That is why it is essential to have a place where you can keep your vehicle or vehicles safe from Mother Nature. This is particularly true in Oklahoma, which is subject to severe weather on a regular basis. For affordable protection for your vehicles, you just cannot beat Oklahoma carports from Alan's Factory Outlet.
When it comes to metal carports, Oklahoma residents enjoy shaded cover for their vehicles and other possessions. Throughout the state we deliver fine carports, Oklahoma City included, and many turn to us every year for the carports and metal garages they need. Erecting one of our carports for sale in Oklahoma is easy, an d you always get quality protection for a great price.
Vehicle storage is not the only use for carports. Oklahoma residents can also use them to shelter other belongings that they would normally keep outside. Furthermore, Oklahoma carports are excellent shelters from the hot sun for adults or kids who are playing outside. In fact, when it comes to metal carports, Oklahoma residents have almost no limits in determining the best uses for these structures.
As noted, carports and garages give your car, truck, boat , RV, farm equipment, and other valuables the perfect protection from rain, hail, ice, snow, wind, and sun. Such protection is the main reason why people buy carports. Oklahoma residents should not underestimate the damaging effects of these elements, so they should seriously consider one of our Oklahoma carports, especially if they experience a lot of damaging weather in their area.
One of the many advantages of ordering carports for sale in Oklahoma from Alan's Factory Outlet is the sheer variety of structures that are available. Our carports and garages come in in many different sizes and styles with many different heights to meet your needs. Get protection for your vehicles and possessions quickly when you order from us.
Alan's Factory Outlet steel buildings in OK are available in many different sizes, starting in a single carport or single garage at 12×21 with other widths of 18', 20', 22' and 24' also possible. The next longer lengths after 21' are 26', 31', 36', 41', and we can even make the metal carports and metal garages longer in 5' increments to the length that best suits you.
Looking for a metal building wider than 24' If so, than we've got you covered there also with our triple-wide carports, which come in widths of 26', 28' and 30'.
Triple Wide Carports Oklahoma Prices
Even the Building of Our Carports for Sale in Oklahoma on Your Property Is Affordable, as We Offer Free Delivery and Setup in Oklahoma on all Metal Carports Oklahoma and Metal Garages
If instead of carports, Oklahoma City residents and others who live in the state choose a metal garage option, they also get free delivery and setup in Oklahoma on metal garages and metal lean-to barn buildings. So whether they choose metal garages or carports, Oklahoma City residents will be protected from the elements.
Finally, when it comes to metal carports, Oklahoma residents can get metal carports and garages in three different styles:
A Frequently Asked Question: What is the difference between the boxed eave and the vertical roof style? On the boxed-eave roof, the sheeting on the roof goes lengthwise, and on the vertical, the sheeting is side to side or, you could say, up and down, which helps snow slide off of your roof.
When you need to find metal carports for sale in Norman, Tulsa, or Oklahoma City, Oklahoma, look no further than Alan's Factory Outlet.
Beyond Oklahoma, Other Popular Service Areas & Locations
Alan's Factory Outlet provides quality metal buildings and carports to customers in many cities across the country, including those in these popular locations:
Popular Carport Sizes
Here are some popular carport sizes we sell (click for details and pricing):