Get your custom carport and get our best prices plus Free Shipping and Installation!
Metal Carports – North Carolina – from $1425
Alan's Factory Outlet is the #1 seller of custom metal carports in North Carolina. Why? Our 3D Carport Builder allows you to design your own carport, and instantly see how much it will cost.
How Much Does a Metal Carport Cost?
The price of a metal carport starts at around $1,425. Use our 3D Carport Builder to get instant pricing for your own custom carport.
Carport Sizes
Here are some popular carport sizes we sell (click for details and pricing):
Do You Deliver Metal Carports Near Me in NC?
Yes! We deliver metal carports all over Western, Central, and Eastern North Carolina, including Albemarle, Asheboro, Asheville, Boone, Burlington, Cary, Charlotte, Clayton, Clinton, Concord, Dobson, Durham, Dunn, Eden, Elizabeth City, Fayetteville, Franklin, Gastonia, Greensboro, Hendersonville, Hickory, High Point, Jacksonville, Kernersville, Lenoir, Lexington, Lillington, Lincolnton, Lumberton, Monroe, Mooresville, Morganton, Mount Airy, Murphy, Newport, Raleigh, Reidsville, Roxboro, Rutherfordton, Salisbury, Sanford, Shelby, Smithfield, Statesville, Washington, Waynesville, Wilmington, Wilkesboro, Winston-Salem, and Youngsville.
Make a Great Decision with Our Carport Buyer's Guide
Get our free Carport Buyer's Guide and find out everything you need to know before you buy a metal carport.
Thank You!
Your guide should arrive in your inbox in about 5 minutes.

Alan Bernau Jr., Owner
More than 75,000 Satisfied Customers
"My carport look great and is very sturdy. It adds more value to my home than I paid for it. I'm looking forward to many years of service. I recommend one for everyone that needs one."

David M. North Carolina, March 2021, 22×20 Regular Style Carport
"Exceptional value! Well made carport delivered in a about 2 months. Price was unbeatable locally and on line. Very happy with Alan's!"

Steve H., North Carolina, August 2020, 20×20 Vertical Metal Carport
"I am very satisfied with my carport. I'm glad I got the side extensions to give that extra protection. Great price as well."

Linda B., North Carolina, June 2020, 12×20 Regular Style Carport
"I had pictured in my head what my new chicken coop would look like. Finding Alan's Factory Outlet made my dream come true! The crew was friendly, was amazing to watch them erect my carport so quickly, price was beyond reasonable"

Melissa M., North Carolina, April 2020, 20×25 Regular Carport
Are carports aren't certified for chickens…but they certainly be used in creative ways.
"I Really Like My New Car Cover. The Crew That Came Out An Put It Up Done A Really Good Job. You Never Knew They Were Here Except I Have A New Cover. Thanks A Lot."

Raymond H., North Carolina, February 2020
"We absolutely love our new carport. The ordering process was easy and the price was great. We received in about 30 days and setup went smoothly. Highly recommend."

Ronnie M. North Carolina, December 2019, 20×20 Boxed Eave Style Carport
"The product was very nice and I am well satisfied. Would definitely order from you all again."

Cathy Y., North Carolina, February 2019
"Excellent product..professionly installed in a timely manner. Very pleased with my new carport. Everything I expected. Well done, thanks."

Chuck B., North Carolina, June 2019, 18×20 Boxed Eave Steel Carport
"The site explain things well and the price is the lowest on the web."

Joseph S., North Carolina, October 2018, 18×20 Boxed Eave Steel Carport
"Exactly what I wanted"

David W., North Carolina, August 2018, 20×45 Vertical Roof Metal Carport
"Very nice does the job to protect the cars. Only thing being new to the property we didn't realized the actual slope of the driveway and found out it was not as level as it appeared. Well the bricks do the job, but may be a problem in the winter with snow but we will see."

Sherry B. North Carolina, July 2018, 18×20 Vertical Roof Metal Carport
"Delivery was quick and the guys set up the carport very quickly"

Rich C., North Carolina, December 2017
"I am very pleased with the carport. I am equally as impressed with the installation crew. That process was amazing. My only complaint is that it took much too long for delivery. Overall, I am very pleased."

Beth, North Carolina, November 2017
People love our carports, but sometimes delivery takes longer than expected. Read how the scheduling process works, and see our estimated delivery times to see how long delivery might take in your area.
"The service I received was great! The Men we're professional and curtious. Although it was a rainy day, they were happy at work and even singing! It went up very fast for the size of it. I highly recommend!!"

Bobbie D., North Carolina, November 2017
"Ordering was easy. Felt the carport could have been delivered faster. Delivery was pushed by one day because of rain. Installers had to work in mud but still where able to set up the carport very fast."

Steve W., North Carolina, May 2017
"I was completely satisfied. The carport is very sturdy and looks even better than I thought it would. It was delivered a day early and set up in record time. I definitely would order again and have recommended to several people."

Judy B., North Carolina, February 2017
"Thank you for this opportunity, the building is amazing! My husband was surprised and very pleased."

Ramona W., North Carolina, February 2017
"I've had carport for a couple months now.. Very pleased with carport and quality but wish I had either ordered a slightly higher one (I got 7′ legs) or hadn't closed the front so I could put my suv in it with kayak on the roof. That was my mistake and carport is exactly how I ordered it and looks great"

Roz H., North Carolina, October 2016
See our Carport Buyer's Guide to find out how to calculate the right height for your carport.
"Got my carport earlier than projected. Workers were great. Installed exactly where I wanted. Love it!!!"

LB D., North Carolina, March 2016
"My order was great and del. was great and the men that brought out the carport was very nice and respectiful. I left while they were putting carport together and they followed my instruction to the point. Thank you for letting me be a customer."

EDWARD G., North Carolina, March 2015
Why Buy From Alan's Factory Outlet?
For more than a decade, Alan's Factory Outlet has been helping customers find the high-quality carports they need. We understand that many homes today don't have garages and that garages may sometimes be needed for purposes apart from sheltering the car. In these cases, carports are a viable and affordable alternative to a traditional garage. We are proud to offer a wide selection of carports for sale in NC; with our broad range of sizes, styles, and colors, it's easy for anyone to customize and buy the best metal carports! NC residents across the state in Hickory, Raleigh, Wilmington, Hendersonville, Murphy, Asheville, Winston-Salem, and more can trust us to provide affordable carports that will hold up for a long time, even in the most difficult weather conditions.
Imagine the Possibilities for Your New Prefab Carport
Thanks to their high-quality construction, our custom carports can be counted on to protect your vehicles in North Carolina. Our carports give your car, truck, boat, RV, farm equipment, and other valuables the perfect protection from the weather. Hail, rain, and other weather conditions can damage your car's exterior or harm equipment and property that you have to store outside, but by using our metal carports in NC, you can shelter your belongings from the destruction wrought by these natural elements.
Even though protection is the number one benefit of carports, North Carolina steel carports have other uses, too. Many a host or hostess has relied on a metal carport to provide shade for guests during an outdoor event in North Carolina. Carports create a comfortable place to sit and enjoy the weather, especially if you don't have a porch. Plus, kids like to play under carports! Think back to the days when you were a child and imagine how much fun it could be to play under a metal carport. Children can use carports as clubhouses or other kinds of imaginary places when the cars are gone for the day.
Create Your Own Custom Metal Carports in NC
Since our products are customizable, it's easy to find metal carports for sale in NC that perfectly fit your space and your aesthetic. Our sturdy metal carports start at 12 feet by 21 feet, but you can choose one that's up to 24 feet wide and up to 41 feet long. We can also build longer metal carports and garages in 5-foot increments. And we have extra-wide structures, too; our triple-wide North Carolina metal carports come in 26, 28, or 30 feet wide. We even sell a metal barn lean-to carport, a unique style choice that's available in 36-, 42-, 44-, 46-, and 48-foot widths and lengths starting at 21 feet long. As with our regular metal carport kits, NC customers can extend the length of a metal barn lean-to carport in 5-foot increments.
You can also choose which roof style you prefer when you order metal carport kits. NC orders can be made with a regular-style roof, which is curved for a barn-like look, or a straight-sided boxed-eave roof. If you live in the western part of the state, where snowy winters are more likely, you might also want to give the vertical-style roof a look. This style looks like a boxed-eave roof, but the sheeting runs vertically instead of horizontally, so if you happen to get a snowstorm, the snow will slide right off.
Order a Top-Quality Metal Carport and Get Free Delivery and Setup
Wherever you live in North Carolina, steel carports are just a few clicks away thanks to Alan's Factory Outlet, and once you pick out the perfect carport online, you won't even have to worry about setting it up: We deliver and install metal carports in NC for free! We'll send professional installers to your property in Charlotte, Raleigh, Greensboro, Winston-Salem, Durham, Fayetteville, Cary, Wilmington, High Point, or anywhere else in North Carolina to ensure that your new carport is set up quickly and correctly. When you shop our carports for sale in NC, the hardest thing about the whole process might just be choosing the color! Give us a call today and see how easy it can be to get a high-quality storage structure from the best metal carport manufacturers in North Carolina at an affordable price.
Common Questions About North Carolina Carports
What Is the Best Metal Carport?
The best carport for you will depend on what your tastes are and the sizes of the vehicles you want to store, but whatever your needs may be, we're here to help. Contact us and we'll help you pick out the best metal carport for your property!
Metal Carport Prices in North Carolina
Regular Style
Boxed Eave Style
Vertical Roof Style
| | 12' wide | 18' wide | 20' wide | 22' wide | 24' wide |
| --- | --- | --- | --- | --- | --- |
| 20' long | $1,295 | $1,395 | $1,695 | $1,895 | $1,995 |
| 25' long | $1,595 | $1,695 | $1,995 | $2,295 | $2,495 |
| 30' long | $1,795 | $1,895 | $2,395 | $2,695 | $2,995 |
| 35' long | $1,995 | $2,195 | $2,795 | $3,095 | $3,395 |
| 40' long | — | — | — | — | — |
| | 12' wide | 18' wide | 20' wide | 22' wide | 24' wide |
| --- | --- | --- | --- | --- | --- |
| 20' long | $1,395 | $1,595 | $1,795 | $1,995 | $2,295 |
| 25' long | $1,795 | $1,895 | $2,195 | $2,495 | $2,795 |
| 30' long | $2,195 | $2,295 | $2,695 | $3,095 | $3,395 |
| 35' long | $2,495 | $2,695 | $3,095 | $3,595 | $3,995 |
| 40' long | — | — | — | — | — |
| | 12' wide | 18' wide | 20' wide | 22' wide | 24' wide |
| --- | --- | --- | --- | --- | --- |
| 20' long | $1,695 | $1,795 | $2,395 | $2,395 | $2,495 |
| 25' long | $2,095 | $2,195 | $2,495 | $2,995 | $3,095 |
| 30' long | $2,495 | $2,695 | $3,095 | $3,595 | $3,795 |
| 35' long | $2,895 | $3,095 | $3,595 | $4,195 | $4,395 |
| 40' long | $3,395 | $3,595 | $4,095 | $4,795 | $4,995 |
Are Carports Worth It?
A prefab carport is worth the price for anyone with a car, truck, boat, or RV that needs shelter. A portable metal carport is the perfect solution for protecting vehicles against rain, wind, heat, snow, falling branches, and other debris. Our portable carports for sale can prevent your car from getting too hot in the summer and keep you from having to clean any snow off of your car in the winter.
Can You Put a Metal Carport on Gravel?
Yes, gravel is an ideal base for our carports. They can also rest on cement, but if you might want to move your carport later on, gravel makes the move much easier.
Is a Metal Carport Considered a Permanent Structure?
No; most carports can be moved, so they aren't considered permanent structures. However, if you're concerned about permit or zoning requirements, you'll want to contact your local building department for guidance, as rules can vary from one municipality to the next.
RV Carports in NC
Popular Service Locations
We are excited to offer custom metal garages and carports for delivery in areas of the U.S. Popular service areas outside of North Carolina we deliver to include:
Build Your Own Metal Garage or Carport With Our 3D Builder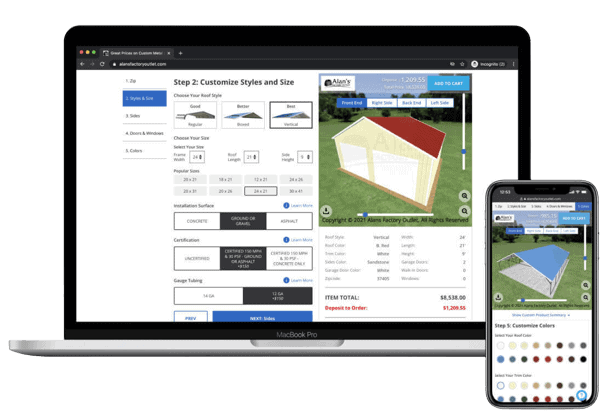 Price and Buy Online with Our 3D Builder Plus Free Shipping and Installation!
Select a size to meet your needs
Choose roof, side, and trim colors
Add garage doors, windows, and walk-in doors
Customize additional options