Alan's Factory Outlet is the #1 seller of custom metal carports in Missouri. Our 3D Carport Builder allows you to design your own carport, and instantly see how much it will cost.
How Much Does a Metal Carport Cost?
The price of a metal carport in Missouri starts at around $1,295. Use our 3D Carport Builder to get instant pricing for your own custom carport.
Carport Sizes
Here are some popular carport sizes we sell (click for details and pricing):
Do You Install Metal Carports Near Me?
Yes! We install metal carports in all parts of Missouri.
The towns, cities, and rural areas we deliver to include Affton, Arnold, Ballwin, Belton, Blue Springs, Cape Girardeau, Chesterfield, Clayton, Columbia, Concord, Creve Coeur, Farmington, Ferguson, Florissant, Gladstone, Grandview, Hannibal, Hazelwood, Independence, Jefferson City, Joplin, Kansas City, Kirksville, Kirkwood, Lee's Summit, Lemay, Liberty, Manchester, Maryland Heights, Mehlville, Nixa, Oakville, O'Fallon, Old Jamestown, Ozark, Poplar Bluff, Raymore, Raytown, Republic, Rolla, Sedalia, Sikeston, Spanish Lake, Springfield, St. Charles, St. Joseph, St. Louis, St. Peters, University City, Warrensburg, Webster Groves, Wentzville, Wildwood, and more.
Make a Great Decision with Our Carport Buyer's Guide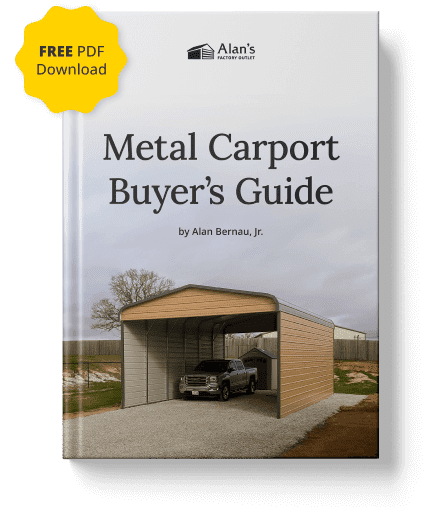 Get our free Carport Buyer's Guide and find out everything you need to know before you buy a metal carport.
Thank You!
Your guide should arrive in your inbox in about 5 minutes.
Alan Bernau Jr., Owner
Continue Shopping
75,000 Satisfied Customers and Counting
"Excellent carport, excellent price, excellent work. I am very happy with the purchase of this carport. I use it as a pavilion, I had it made extra tall to help with smoke from the fireplace. It is all steel and was a great price. They had it put up in a single day. I have recommended Alan's Factory Outlet to quite a few friends."

Michael O., Missouri, July 2020, 22×25 Regular Carport
"Our carport looks GREAT! The crew that installed it was very professional and extremely organized! They put up our carport in less than three hours! And left our site spotless!"

Don K., Missouri, August 2020, 22×30 Regular Style Carport
"Wife has wonted a carport for a long time. This tax return went to getting one. I love the carport."

Eddie L., Missouri, September 2020, 20×20 Vertical Metal Carport
"It arrived sooner than expected and the guys that installed it were top notch. Will buy from Alan's Carports again in a heartbeat. Great people to work with"

ALAN W., Missouri, July 2020, 30×20 Vertical Triple Wide Metal Carport
"Took a little longer than I expected to ship but worth the wait. The crew that installed the carport were polite and very fast. Wish I would have bought this years ago!"

Jack W., Missouri, May 2020, 24×30 Regular Style Carport
"The installation crew and the product was as advertised. On time, efficient and an eye pleasing, good product. If I would have had more space I would have ordered a bigger one. The only down side was that Alan's doesn't offer guttering or at least gutter hanger brackets that fit the carport. I was able to fabricate my own out of hangers that I purchased at Menard's but it was quite a bit of trouble."

Dale, Missouri, December 2018
"It took 4 to 5 weeks to get here after I ordered. Couldn't hardly wait. When they delivered it, only took them an hour or so to set up. I could tell they had been doing this awhile. Love the dark brown top and beige sides. But there are many colors to choose from."

Sharon M., Missouri, November 2018, 18×20 Regular Style Carport
"Generally everything was great, delivered as expected. The only negative was that the installers showed up with a generator that didn't work and had to use ours all day."

Laurie N., Missouri, July 2017
We are sorry for the inconvenience!
"Everything with my order went very well. I would reccommend Alan's Carport to anyone."

Keith T., Missouri, June 2017
"Easy to understand. Questions answered on the site!
Fast delivery & installment.
Have recommended Alan's 3 times since ours was put up!
Absolutely satisfied!"

Stephanie, Missouri, May 2017
"Easy to order, informative videos. The carport looks fantastic! Very happy!"

Bob A., Missouri, November 2016
"cheapest price and they install ..when we got it. installers did a quick and good job.very happy with them."

Donald, Missouri, March 2016
"Website pretty informative and easy. Very satisfied with the carport and service. I highly recommend this company. Only thing they could improve upon is the time between ordering and installation."

Gary G., Missouri, October 2015
Some orders take longer than others to deliver. See our estimated delivery times to see how long delivery might take in your area.
"Order the produce I needed was very easy on this website. We're very satisfied with our order."

Allan C., Missouri, October 2015
"Very good prices. Delivery time was longer than expected, but not the retailers fault. Retailer made every effort to answer questions and help me."

chris E., Missouri, September 2015
About Alan's Factory Outlet
Alan's Factory Outlet is owned and operated by Alan Bernau Jr and wife Julie Bernau. When you buy a carport from Alan's you are supporting a small, family-run business, and you get the excellent customer service you expect from a family-operated business.
Free Delivery and Setup in St. Louis, Springfield, and Kansas City, Missouri on all Metal Carports and Metal Garages.
Carports and Garages are available in many different sizes and styles. Also, by choosing one of our carports, Missouri residents can select the perfect height dimensions to meet their storage needs.
Carports give your car, truck, boat, RV, farm equipment, and other valuables the perfect protection from the rain, hail, ice, snow, wind, and sun.
Alan's Factory Outlet steel carports in MO are available in many different sizes starting in a single carport or single garage at 12×21 with other widths of 18′, 20′, 22′, and 24′ Wide. The next longer size in length after 21′ is 26′, 31′, 36′, 41′ and we can even make the metal carports and metal garages longer in 5′ increments to the length that best suits you.
Looking for a metal building wider than 24′ we've got you covered there also with our triple wide carports which come in widths of 26′, 28′ and 30′.
The metal carports are also available in a lean-to carport.
Free Delivery and Setup in Missouri on all Metal Carports, Metal Garages, Triple Wide Carports, and Metal Lean-To Barn Buildings.
As a note regarding our selection of carports, Missouri residents in Kansas City, Saint Louis, Springfield, Independence, Columbia, Jefferson City, and Lee's Summit receive free delivery.
Metal Carports and Garages come in 3 different styles:
A Frequently Asked Question: What is the difference between the Boxed Eave and the Vertical Roof Style? On the Boxed Eave Roof the sheeting on the roof goes lengthwise and on the Vertical the sheeting is side to side or you could say up and down which helps snow slide off of your roof.
By purchasing one of our carports, Missouri residents can protect their vehicles from damaging weather conditions. But, there are other benefits of owning one of our carports. Missouri residents who don't have the space on their property for a full garage often prefer to install a carport. A carport on a slab gives a vehicle or vehicles protection while taking up less space than a standard garage. By purchasing one of our carports, Missouri residents allow themselves more room for other structures on their property.
Another benefit of buying one of our carports is the speed of the transaction. This would be a benefit for a Missouri resident who is anxious to get a carport set up to protect a new vehicle. Also, the quick delivery time and setup would benefit a farmer with a collection of new farm equipment he wants to protect from harsh weather. At Alan's Factory Outlet, we understand that many customers have unique needs for their carports. Missouri residents enjoy free delivery and setup.
Metal Barn Lean To Buildings Missouri Prices


Alan's Factory Outlet proudly serves customers in St. Louis, Springfield, and Kansas City, Missouri
Beyond Missouri, Other Popular Service Locations
We deliver quality metal buildings and metal carports in popular cities across the U.S., including these locations:
Price and Design Your Carport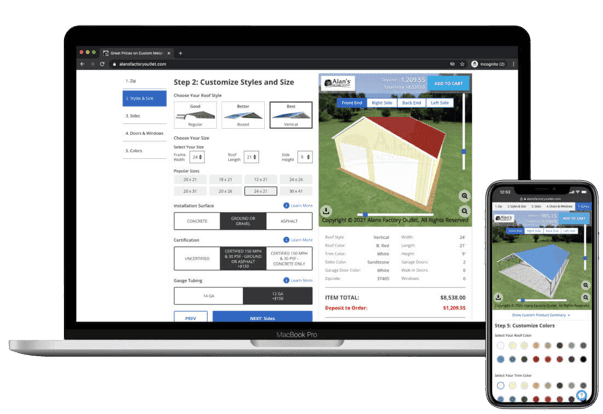 Customize Now