Alan's Factory Outlet is the #1 seller of custom metal carports in Louisiana. Our 3D Carport Builder allows you to design your own carport, and instantly see how much it will cost.
How Much Does a Metal Carport Cost?
The price of a metal carport starts at around $1,395. Use our 3D Carport Builder to get instant pricing for your own custom carport.
Carport Sizes
Here are some popular carport sizes we sell (click for details and pricing):
Do You Install Metal Carports Near Me?
Yes! We install metal carports in all parts of Louisiana.
The towns, cities, and rural areas we deliver to include Abbeville, Alexandria, Baker, Bastrop, Baton Rouge, Bayou Blue, Bayou Cane, Belle Chasse, Bogalusa, Bossier City, Broussard, Central, Chalmette, Claiborne, Covington, Crowley, DeRidder, Destrehan, Estelle, Gardere, Gonzales, Gretna, Hammond, Harvey, Houma, Jefferson, Kenner, Lafayette, Lake Charles, Laplace, Luling, Mandeville, Marrero, Metairie, Minden, Monroe, Morgan City, Moss Bluff, Natchitoches, New Iberia, New Orleans, Opelousas, Pineville, Prairieville, Raceland, River Ridge, Ruston, Shenandoah, Shreveport, Slidell, Sulphur, Terrytown, Thibodaux, Timberlane, Waggaman, West Monroe, Woodmere, Youngsville, Zachary, and more.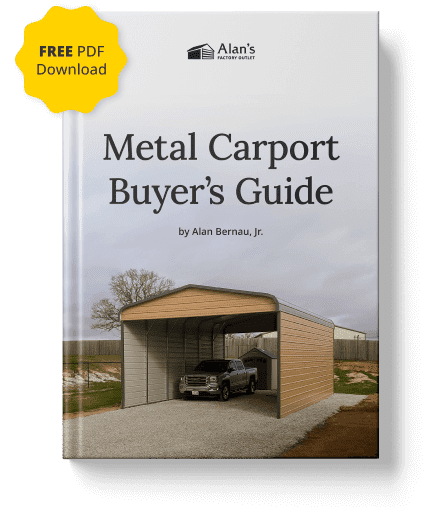 Avoid Buyer's Remorse!
Get a free buyer's guide to help you plan the perfect carport for your needs.
Find out:
How to save a lot of money
If a metal carport is right for you
How to choose the right size
What you need to know about foundations
And much more...
75,000 Satisfied Customers and Counting
"Highly recommended. Easy process from beginning to end. Solid material and quick installation. Great purchase"

Randy L., Louisiana, August 2020, 22×20 Boxed Eave Style Carport
"Everything here, you make it, you see it, and you buy it. Arrived on time and worked till it was done. Polite and courteous. Looks awesome."

Debbie, Louisiana, August 2020, 12×20 Vertical Roof Metal Carport
"Very satisfied and recommend to others. Great price, shipment and setup."

Robert M., Louisiana, May 2018
"Installers worked quickly and also, like a fi e tuned Machine. Installation only took an hour and 50 minutes – start to finish."

LOUIS M., Louisiana, September 2017
"HAD A COUPLE DELAYS BECAUSE OF WEATHER BUT STILL LESS THAN 30 DAYS TO INSTALL AND THE CREW DID A GREAT JOB AND FAST"

Brian L., Louisiana, July 2017
"The installers were quick and professional. The carport was stronger than I expected. Thanks again."

Koran W., Louisiana, July 2017
"Best price and free delivery and installation!"

Dominik H., Louisiana, May 2017
"These guys were great. Honest help with the order process. Quick professional installation."

Dennis T., Louisiana, May 2017
"Looks good and sturdy."

Jason M., Louisiana, September 2016
"2nd order very satisfied"

newton, Louisiana, August 2016
"I am very pleased with my product. Wsa delivered early in the mourning and had it put up in 2 hours."

Gerald W., Louisiana, April 2016
About Alan's Factory Outlet
Alan's Factory Outlet is owned and operated by Alan Bernau Jr and wife Julie Bernau. When you buy a carport from Alan's you are supporting a small, family-run business, and you get the excellent customer service you expect from a family-operated business.
Free Delivery and Setup on metal carports in Baton Rouge, New Orleans, and Shreveport, Louisiana on All the Metal Carports We Offer.
Many people ask us this question: What are the advantages of metal carports in Louisiana? The answer is simple: carports give your car, truck, boat, RV, farm equipment, and other valuables the perfect protection from the rain, hail, ice, snow, wind, and sun. You have made a significant investment in your vehicles and other equipment, and you don't want Mother Nature to damage what you have worked so hard to obtain. Carports minimize the risk that natural elements pose to your possessions, and they provide a convenient place to store your equipment.
But there are other advantages to metal carports. Louisiana residents understand quite well how the hot sun can make a car unbearably warm during the summer. You don't want to walk out your front door and enter an intolerably hot vehicle, especially if you have to take your children or pets somewhere. When they buy one of our carports, Louisiana residents no longer have to worry about such things. The shade that these carports provide keeps your vehicle from getting too warm during the summer months as it sits outside. In turn, the car is far more comfortable when you get in, and it does not take nearly as long for your air conditioner to get the temperature down to a bearable level.
Metal carports in Louisiana can also offer some extra space for outdoor entertaining. If you plan on holding a large outdoor picnic or cookout and do not have much shade in your yard, it is easy to use a carport to expand the shaded area. Your guests will appreciate being out of the sun or the rain, and you will find it much easier to host a great party.
Alan's Factory Outlet's steel carports in LA are available in many different sizes starting in a single carport or single garage at 12×21 with other widths of 18′, 20′, 22′, and 24′ also available. The next longer lengths after 21′ are 26′, 31′, 36′, 41′, and we can even make the metal carports and metal garages longer in 5′ increments up to the length that best suits your needs. Because of this customizing option for metal carports, Louisiana residents return to us again and again for their needs, and they also recommend us to their friends and family.
If you are looking for a metal building wider than 24′, we've got you covered there as well. Our triple wide carports come in widths of 26′, 28′, and 30′. When it comes to these carports, Louisiana residents who own more than one vehicle will most likely show the strongest interest in these structures because they can easily accommodate several cars, boats, or any number of other vehicle combinations.
The newest style metal carport in Louisiana is the metal barn lean-to carport, which is available in widths of 36′, 42′, 44′, 46′, and 48′. The lengths of these metal carports in Louisiana start at 21′, and we can lengthen them in 5′ increments until we achieve the size that you need for the length of one of our carports. Louisiana residents with longer vehicles will definitely want to take advantage of this option because it makes it easy for their property to accommodate all of their cars, trucks, and other equipment.
We install metal carports throughout the entire state of Louisiana, including New Orleans, Baton Rouge, Shreveport, Lafayette, Lake Charles, Metairie, Kenner, Bossier City, Monroe, and Slidell, LA.
As noted, our carports and garages are available in many different sizes and styles with many different heights to meet your needs. This delivery and set up in Louisiana is free for all metal carports, metal garages, triple wide carports, and metal lean-to barn buildings.
Triple Wide Carports in Louisiana
Metal Barn Lean To Carport Louisiana
RV Carports LA

Metal carports and garages come in 3 different styles:
A Frequently Asked Question: What is the difference between the boxed eave and the vertical roof style? As far as metal carports, Louisiana residents should know that on the boxed-eave roof, the sheeting on the roof goes lengthwise and on the vertical side, the sheeting is side to side or up and down, which helps snow slide off of the roof of your metal carport. If you live in an area that gets a great deal of precipitation, you will definitely want to select a carport with the vertical roof style, as it will do a better job of keeping the snow and rain off of your vehicle as well as prevent it from accumulating on the roof of the carport.
Servicing Louisiana including New Orleans, Baton Rouge, Shreveport, LA.
Beyond Louisiana, Other Popular Locations We Serve
Alan's Factory Outlet delivers metal buildings and carports to many cities across the country, including to these popular locations: