Alan's Factory Outlet is the #1 seller of custom metal carports in Georgia. Use our cost calculator to get the price of the carport you need.
How Much Does a Metal Carport Cost?
The price of a metal carport starts at around $1,425. Use our 3D Carport Builder to get instant pricing for your own custom carport.
Carport Sizes
Here are some popular carport sizes we sell (click for details and pricing):
Do You Install Metal Carports Near Me?
Yes! We install metal carports in all parts of Georgia, including Albany, Alpharetta, Athens, Atlanta, Augusta, Brookhaven, Canton, Chamblee, Columbus, Dalton, Douglasville, Dunwoody, East Point, Evans, Gainesville, Hinesville, Johns Creek, Kennesaw, LaGrange, Lawrenceville, Mableton, Macon, Marietta, Martinez, Milton, Newnan, Peachtree City, Peachtree Corners, Pooler, Redan, Rome, Roswell, Sandy Springs, Savannah, Smyrna, South Fulton, Statesboro, Stockbridge, Stonecrest, Tucker, Valdosta, Warner Robins, Woodstock, GA, and more.
Make a Great Decision with Our Carport Buyer's Guide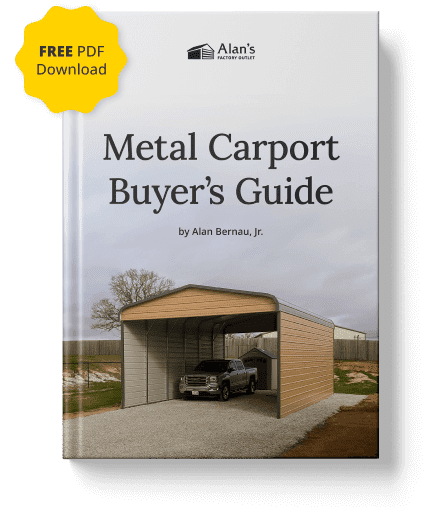 Get our free Carport Buyer's Guide and find out everything you need to know before you buy a metal carport.
Thank You!
Your guide should arrive in your inbox in about 5 minutes.
Alan Bernau Jr., Owner
Continue Shopping
More than 75,000 Satisfied Customers
"The two installers did a nice job putting up my new carport. It looks great and is made of very sturdy materials."

Stan C., Georgia, November 2020, 12×20 Regular Style Carport
"Very pleased with the carport. Insallation crew was great and got through fast. Highly recommend this. Thanks"

Tim W., Georgia, August 2020, 24×20 Regular Style Carport
"Fast delivery. Excellent Installation. Very pleased with the purchase of our RV carport from Allens Factory Outlet."

Justin B., Georgia, January 2020, 18×35 Regular Style Carport
"I love my new building but took a little too long for it to be delivered and built."

brad, Georgia, November 2020
People love our carports, but sometimes delivery takes a while. Read how the scheduling process works, and see our estimated delivery times to see how long delivery might take in your area.
"Could not have asked for a smoother process from start to finish, great product.

"Excellent quality installers very professional, installed in 90 minutes. I needed somewhere to place my boat and this fit the bill. I do not think I have to worry about inclement weather, this is a very strong well built boat port."

David D., Georgia, July 2020, 12×20 Regular Style Carport
"Totally satisfied and impressed with every aspect of the job. If I hear of anyone wanting any type of structure, I will whole heartedly recommend this company"

DOROTHY C., Georgia, May 2020, 12×20 Boxed Eave Style Carport
"This carport exceeded my expectations for quality. I am confident that it will last for decades. Alan's online carport builder is easy to use, and makes it easy to truly compare prices and understand the price structure for each add-on. Apples to apples, the price was at least 20% less than competitors. I was less impressed with Carolina carports, who arrange the installation service. I took 6 dates to get someone out here, but when they finally did come, they sent the A team. My carport is level, sturdy, and well constructed from quality materials."

Clifton E., Georgia, April 2020, 18×35 Vertical Roof Metal Carport
"We love our carport! Preserves our RV so it's ready to go for our weekend camping trips! Makes a great setup if we stay local and do a staycation!"

Anthony M., Georgia, March 2020, 18×30 Regular Style Carport
"For 3 years we have been in need of this and finally we have got what we need to keep our car and truck protected from weather. Thanks"

Eddie D., Georgia, October 2019
"I really enjoy knowing my camper is safe from the elements under my new carport, it will pay for it self from just holding the value of my camper, it looks good too."

Patrick M., Georgia, September 2019, 12×30 Regular Style Carport
"I liked it so much, I've already told a cooworker about your site!"

James G., Georgia, January 2019, 12×20 Boxed Eave Style Carport
"Well worth the wait. Only took 45 minutes to install."

Michael R, Georgia, November 2018
"I am very proud of the Carport and the installers did a great job and took great care to make sure i was pleased with the product and the installation."

K. Y., Georgia, August 2018, 30×25 Vertical Triple Wide Metal Carport
"Purchase was as advertised. Quality built,looks great. Recommend highly."

Harry P., Georgia, November 2017
"Nice selection, quick and easy. Didn't get it tall enough. Corner brace prevents pulling in."

Ed H., Georgia, October 2017
See our Carport Buyer's Guide to find out how to calculate the right height for your carport.
"Delivery/installation was approximately 45 days after I placed the order, install crew was proficient and professional. Very satisfied!"

Matt A., Georgia, October 2017
"I was highly pleased with the men work. They were very polite. The carport is very sturdy. They did a great professional job."

Christina H., Georgia, September 2017
"Hey guys, this was way too easy. The installers were very polite and courteous. They knew exactly what they were doing. Each one had his part to do and they were very fast with no messing around. Only took them about 1 hour and 15 min. My carport/shed was 18 x 21 with both sides and 7 feet high. The only thing I did not like was the long wait to get it. About 8-weeks because of the July 4 week they were on vacation."

James B., Georgia, August 2017
"Superb job these guys do. This is my second carport….they are great. Best prices around and superior quality."

Anthony A., Georgia, August 2017
"After being contacted with delivery time, was caught off guard, wasn't expecting it that soon.
Rushed to get slab poured and dryed in time, but all good. Your workers arrived, and from the time they started to finished it only took 53 minutes. I was very impressed."

William M., Georgia, June 2017
"I was pleased with the service and impressed with the short time of installation! My 24′ X 30′ carport was installed in one afternoon and one morning. The three guys were finished before 10:00 AM."

Gary P., Georgia, June 2017
"The delivery and install delay was the only downside. Everything else was great."

Curtis W., Georgia, January 2017
"Very satisfied. Great service and installation was fast!"

Joe S., Georgia, March 2016
"great, excellent installation, very sturdy. just took a little longer for delivery than I expected, guess that's what happens when you live in Georgia.

"Thanks for a nice looking job."

Ray J., Georgia, February 2016
See our estimated delivery times to see how long delivery might take in your area.
"everything went smooth the men that delivered and installed were great they built very quickly and did an excellent job"

ken C., Georgia, January 2016
"Ordering online is easy. No questions very straight forward. 3 person delivery and set up team. They knew exactly how to setup and install the car port. Took 70 minutes from their arrival to the time they were pulling away, very professional everything was cleaned up when they left, you would never have known they were here."

John P., Georgian, December 2015
"Very user friendly web site and ordering process. I'm very happy with my carport. Delivery was delayed twice, though. I was told they had vehicle problems. Once the delivery arrived it only took them 4 hours to set it up with a good cleanup when they finished."

Robert W., Georgia, September 2015
"I looked at and spoke to dozens of manufacturers before I found Alan's. He had the fairest price by far,the building I was looking for, and made it easy buy. Thanks"

Alan B., Georgia, 2015
"A very easy and efficient ordering experience."

Jeff C., Georgia, April 2015
"The crew that delivered and installed the carport was one of the best teams I've seen in a while! Outstanding job, in and out in about 2.5 hours or so. Very nice job! I am very satisfied."

Alan G., Georgia, February 2015
Metal Carports For Sale in Georgia
If you are looking for quality structures to protect your car or other vehicles in the state of Georgia, you have come to the right place. Since our prices are extremely competitive on our carports, Georgians from Macon, Augusta, Dalton, Savannah, Cartersville, Griffin, and beyond have been coming to us for years to get a great deal on our carport shelters and structures. Here at Alan's Factory Outlet, we have a full catalog of Georgia carports to meet your needs. Our metal carports are available in many different sizes and styles with many different heights to meet your needs. So, whether you need to shelter a motorcycle, compact car, or RV, one of our GA carports will surely fit your car, truck, boat, or other vehicles.
When it comes to metal carports, Georgia residents can trust Alan's Factory Outlet for both the lowest prices and convenient service. We offer incredible savings on all our Georgia carports whether you need one carport or several, so you may confidently buy from us if you need one simple carport for your home or many for your business.
Furthermore, we offer great service on all of our carports. Georgia car owners and buyers will get their carport delivered promptly so that they may quickly get their vehicle out of the elements that may be harming the finish on their automobile. In any case, we can offer you solid recommendations and help you pick out the best car shelters for your needs when you order from us.
The main reason you would want one of our Georgia carports is that carports give your car, truck, boat, RV, farm equipment, and other valuables the perfect protection from the rain, hail, ice, snow, wind, and sun. Certainly, the best carports available are metal carports. Georgia residents can be confident that all of our carports because they are made of the sturdiest metals, will hold up well over time and keep your car protected for many years.
As noted above, Alan's Factory Outlet steel carports in GAand other metal GA carports are available in many different sizes, starting in a single carport or single garage at 12×21 with other widths of 18′, 20′, 22′, and 24′ also available. The next longer sizes in length after 21′ are 26′, 31′, 36′, 41′, and we can even make our metal carports and metal garages longer in 5′ increments to the length that best suits your particular needs.
If you are looking for a wider metal carport than 24′, we've got you covered with our triple-wide carports, which come in 26′, 28′, and 30′ wide.
Our metal carports can also be built with a lean-to, which comes in widths of 36′, 42′, 44′, 46′, and 48′, with the lengths starting at 21′ long and available in 5′ increments longer to the size you need.
Triple Wide Carports Georgia
Metal Barn Lean To Buildings Georgia
RV Carports GA
Metal Carports and Garages come in 3 different styles:
A Frequently Asked Question: What is the difference between the boxed eave and the vertical roof style of our metal carports? Georgia buyers should know that on the boxed-eave roof, the sheeting on the roof goes lengthwise, and on the vertical roof, the sheeting is side to side or up and down, which helps snow slide off of your roof. So if there is a good chance of snow falling on their carports, Georgia residents are often better off with the vertical roof option.
Our metal carports in Georgia are delivered and installed in all of GA including Atlanta, Augusta, Columbus, Savannah, Athens, Sandy Springs, Albany, Macon, Dalton, Cartersville, Griffin, and Roswell. You will also enjoy our free delivery and setup in Georgia on all metal carports
Popular Delivery Locations
Alan's Factory Outlet offers metal buildings and carports for delivery and installation. Some of the popular areas outside of Georgia we deliver to include:
Price and Design Your Carport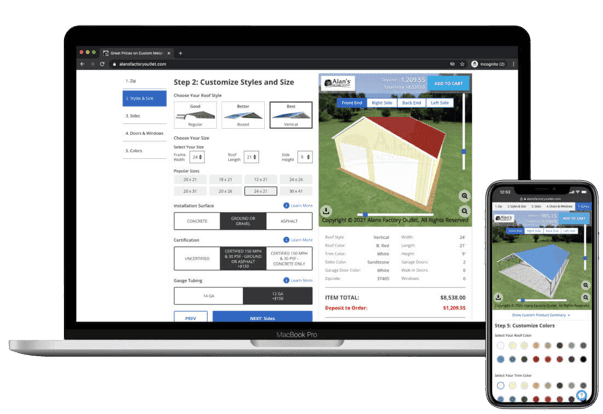 Customize Now