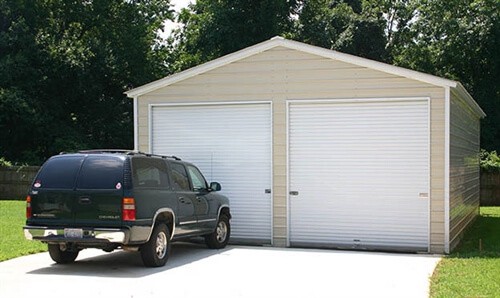 If you're looking for an affordable, sturdy garage, you can't go wrong with a durable storage building made of metal. Building a garage is simple with Alan's Factory Outlet, and you can customize our wide selection of steel structures to get the perfect one for your needs.
But why shop with us over our competitors?
Each of our metal garages is custom-made to your exact specifications and is delivered and installed completely for free. On top of that, you'll only need to put down a small deposit up front: Full payment isn't required until your new metal building is delivered. Your satisfaction is our number one concern, and we believe that you shouldn't pay until you're satisfied. It's no wonder that we're America's top supplier of metal garages!
Building a Garage to Fit Your Needs
One of the best things about using a metal building for a garage is the versatility. Whether you're just looking to store your car for the winter or you want to build an entire workshop within, the metal buildings from Alan's Factory Outlet can be whatever you need them to be.
Our metal buildings are completely customizable, so you can get exactly the garage you require. While we do have standard prefab sizes available, we'll also do our best to accommodate those searching for something a bit more in a metal building. A garage as big as 60'x100′ isn't out of the question: Add five garage doors and you'll have enough room for your entire car collection! We can also customize the height of our steel structures to create an RV garage, a boat storage building, or any other type of storage space you need.
As for the outside of your new garage, our metal buildings come in 16 different colors that can be applied to the roof, trim, and walls. You can color-coordinate your garage to perfectly match your home and amplify your curb appeal! You can also add windows where you want them to make the outside look a little nicer and bring a bit of natural light to the inside.
Is a Metal Garage Worth It?
Yes! A metal garage is a great investment, especially when you consider how durable these buildings are. Metal buildings will last for years to come and are significantly less expensive than wood alternatives. That means you'll pay less for a building you'll get more out of!
You should also consider the costs you might incur if you don't have a metal building for a garage. Cars, boats, and farm equipment can all be very expensive, and the last thing you want is to leave them open to the elements year-round, running the risk of damage from falling debris or hail. The price of a metal garage is minuscule in comparison to the potential costs of repairing or replacing your vehicles and/or equipment, especially when you buy an affordable steel building from Alan's Factory Outlet.