Whether you have a yard full of prize-winning roses or a small vegetable garden, a garden shed is a perfect place to store your tools and equipment.
If you want to organize your garden shed, you might just need a spark of inspiration. That's why we've assembled 22 ideas to shake up your shed organization, whether you have a spacious metal garden shed or a small, cozy greenhouse.
Shed Organization Ideas
If you need a little help with garden shed storage ideas, look no further than these 23 suggestions.
1. Stack Old, Wooden Crates
Wooden crates are hefty, so you can store larger items such as your watering can, big tools, or even bags of fertilizer. Plus, they give your shed a vintage look that'll make you feel right at home.
2. Hang That Wheelbarrow
You don't need to convert your shed into a greenhouse just to make room for all your gardening tools. Plenty of racks and simple devices are available to hang your wheelbarrow on the wall of your garden shed. This is helpful because a wheelbarrow can take up a lot of floor space in a shed.
3. Store Your Garden Hose in a Creative Way
Whether you have a metal or wood shed, you don't want water pooling on the floor, creating slip hazards, or worse. You need a smart way to store your garden hose without buying an expensive contraption.
With the help of a small metal bucket, you can wrap your garden hose and hang it on the wall of your garden shed. This prevents it from becoming tangled or damaged by visitors stepping on it.
4. Give an Old Bookcase a Second Chance
A simple wooden bookcase with three or four shelves can be an excellent home for your watering can, gloves, and even some small gardening tools. The bookshelves allow you to see all of your items at one glance.
If you want to jazz up your old bookcase, paint it a pastel blue or green. This adds some bright color to the interior of your shed.
5. Add a Multipurpose Hanging Shoe Tree
Get hold of an inexpensive hanging shoe tree with plenty of pockets and hang it on one wall of your garden shed. You can put useful items like garden gloves, garden shoes, and a crushable garden hat in each of its storage pockets.
6. Use a Pegboard to Serve Different Purposes
A pegboard can be as useful in a garden shed as in a garage. Attach one to a wall in your shed and hang your small gardening tools on it. This convenient storage item allows you to grab your tools and get on with the gardening tasks of the day!
7. Install a Single Shelf
Install a single shelf up high on one wall of your garden shed. I recommend you put bug spray, weed killer, and similar items on this shelf to keep them out of reach of little ones who are there to help your garden.
8. Give Clear, Moveable Bins a Try
Your shed might not be a tiny house, but that doesn't mean it can't be tidy and well-kept. Pick up a large, clear bin with a lid and wheels at your local garden store. You may even find one at a pet store, where employees sometimes use them to store dog food. You can store your potting soil in this bin. When you need a supply of soil, you can roll the bin outside to your garden.
9. Repurpose Neat Storage for Seed Packets
Use an old coupon box to organize your seed packets. This handy item will allow you to find the right seeds in seconds.
10. Organize Tools with PVC Pipe
With a little modification to standard PVC pipes, you'll end up with a neat area on the wall for your rake, shovel, broom, and other larger tools. You can even make labels so young helpers will know where to put the items when they finish with them.
11. Use a Wire Basket with a Handle
Purchase an inexpensive wire basket with a handle and keep your old rags in it. You can either hang the basket on the wall or put it on top of your bookcase. When washing the rags, you can pick up the whole basket and take it into the house.
12. Lay Down a Welcome Mat
Just because it's a garden shed doesn't mean you want to track mud around the interior. Find a colorful welcome mat and put it at the door of your shed. You'll appreciate seeing a clean floor every time you open the door.
13. Add a Few Bucket Hooks
Hang your small buckets from hooks on one wall to keep them out of your way as you walk around the shed.
14. Use Magnets for Easy Tool Storage
It can get tricky figuring out convenient places to put gardening tools where you know you won't lose them. Hang magnetic strips on the walls so your most-used tools stay within easy reach when you need them.
15. Don't Forget to Use Your Door
Remember to use all the space available when you need a new way to organize your shed. Shed doors are often large enough for medium-sized tools like pruners and loppers. Add a couple of hooks and watch your floor and shelf space magically clear up.
16. Hang a Metal Closet Rack
Have an extra piece of a metal shelf from your bedroom closet lying around? Metal closet racks are great places to store extra mulch or fertilizer. Plus, the slots between the metal bars create a built-in holder for long tools like rakes or shovels.
17. Use Peanut Butter Jars for Seed Storage
If you're always wondering what to do with peanut butter jars or any other plastic jar you have sitting around waiting for a new home, you can use them as quick-access seed storage containers. They can even house tiny tools. Just glue the lids of the jars under the lip of a shelf to suspend them. Put them at eye level for an even easier way to immediately tell what's inside.
18. Reuse an Old Pallet
Wood pallets make great outdoor tool storage solutions. They're easy to find in many cases—stores will sometimes let you take unused pallets for free. You can sand and stain it to match the rest of your garden shed, or just hang it and start using it to store shovels and other garden tools.
19. Hook Bungee Cords for Quick Access
Since they're often in the backyard, sheds make great places to store things for backyard activities like sports balls and pool toys. Hang bungee cords vertically about six inches away from the wall, with six to eight inches between them. They'll keep sports balls and other toys in place for quick, easy access that makes cleanup a snap.
20. Store Trash Bags on a Toilet Paper Holder
The best garden shed ideas are the ones that make organization something you don't even have to think twice about. Trash bags are convenient in a garden shed, so why not make them even easier to reach? Reuse an old toilet paper or paper towel holder to hang your roll of trash bags and keep them out of your way.
21. Repurpose Old Cans as Tool Caddies
If you don't know what to do with your old metal cans like paint cans or soup cans, the answer is to use them as a storage solution. Peel the label off and use a permanent marker to label them for their new purpose—your small, handheld garden tools. Or, cover them in wallpaper to give them a cleaner, more bubbly look.
22. Keep Saucers and Drip Trays on a Drying Rack
Keeping pots organized with their saucers or drip trays can be a headache. They don't stack well, especially if you have lots of pots of different sizes. Use a dish drying rack or bamboo dinner plate holder to store your drip trays and saucers so you can easily spot the size you're looking for next time you go to grab one.
Design Your Ideal Metal Shed
A shed is the perfect building to fit your varying gardening needs. Part of the fun of owning a metal shed can be changing the layout every now and then to shake things up and try something different. It may even lead to some gardening inspiration!
If you're ready to design your ideal metal gardening shed, head to our custom 3D builder below to see what yours will look like.
Get an instant price for your new metal shed.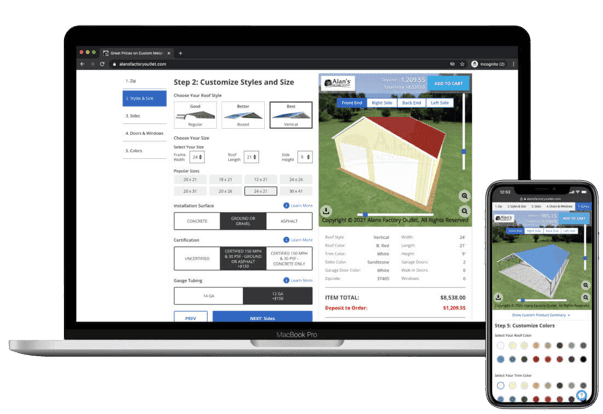 Price and Buy Online with Our 3D Builder Plus Free Shipping and Installation!
Select a size to meet your needs
Choose roof, side, and trim colors
Add garage doors, windows, and walk-in doors
Customize additional options
Customize Now