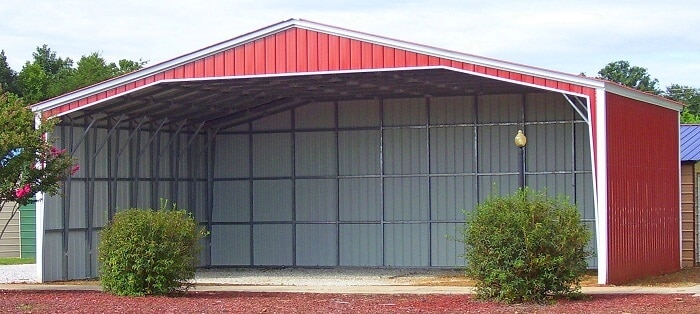 This particular style of metal building from Alan's Factory Outlet is 46′ wide by 48′ long and comes with a total of 2,208 square feet of storage space. It's fully braced certified for 140 mph winds and 35 PSF. Those living in regions with higher amounts of snowfall can select the optional upgrade to 105 mph and 65 PSF certification.
Florida residents ordering a 46×48 carport or metal building need to select the 170 mph upgrade option so that it is constructed in compliance with state code.
Our team uses rebar and mobile home or concrete anchors to install your 46×48 metal building. Please make sure the location for your new metal building is level or within 3″ of it before delivery. We won't be able to install your 46×48 vertical style carport or metal building on an uneven surface.
Each 46 by 48 vertical roof metal building from Alan's Factory Outlet includes a wide range of highly customizable features. The ends, gables, and sides can all be left open, partially closed, or even fully closed. Closing each of them will create a full metal garage. The height of your 46 by 48 carport can also be customized. They are built with 8′ legs as the standard, but 10′, 12′, 14′, 16′, 18′, and 20′ options are available as well. Your custom 46×48 metal building can also be outfitted with garage doors, walk-in doors, windows, and more for an additional cost.
There are 16 colors to choose from for the roof, trim, and sides of your 46×48 vertical roof carport or metal building.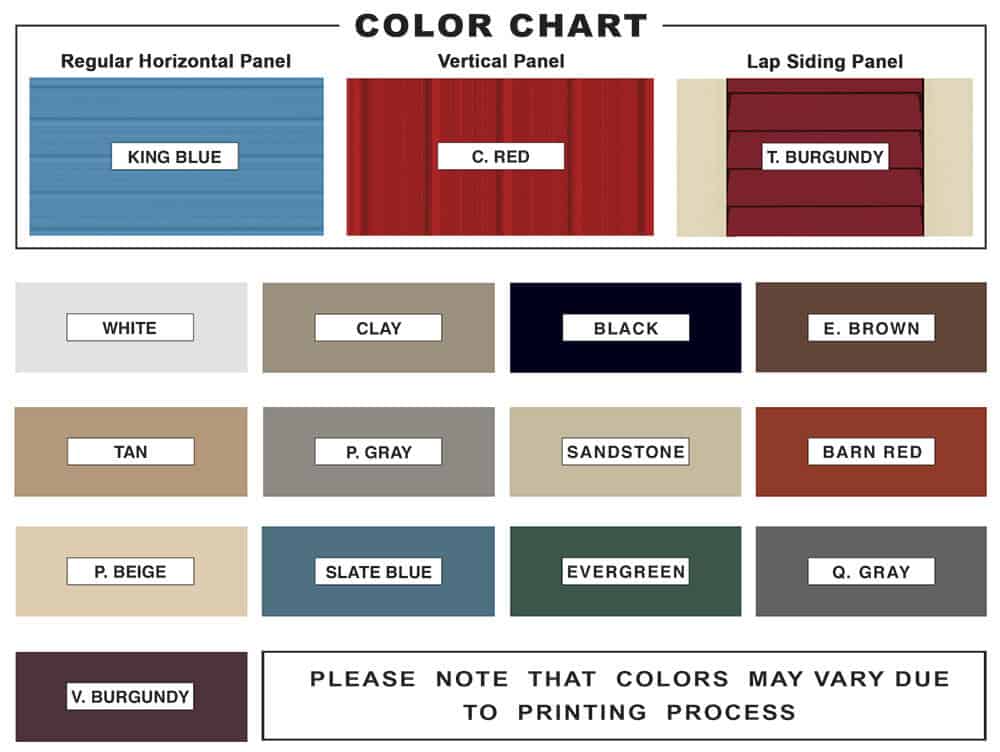 Each 46×48 vertical style metal building order comes with free delivery and installation in the following states:
Alabama
Arkansas
Georgia
Indiana
Kentucky
Kansas
Louisiana
Maryland
Missouri
Mississippi
North Carolina
Ohio
Oklahoma
Pennsylvania
South Carolina
Tennessee
Texas
Virginia
West Virginia

A 16% deposit of your building's total cost will be due when the order is placed. This can be paid with either a credit card or check. Upon scheduling your delivery date, 50% of your remaining cost will be due. Your remaining balance will be due when your 46×48 vertical style carport or metal building has been delivered and installed. We will also send you a copy of the order when it is first submitted for you to review and approve before delivery.
If you require building permits to install your new steel building, blueprint drawings are available via email upon request. They will take 3 to 4 business days to be delivered once you have submitted your request.

Customize and place your order for a new 46×48 vertical roof carport or metal building online today or by calling a knowledgeable member of our staff toll-free at 1-800-488-6903.