Our 12×50 vertical-roof metal carport has several features and customizable options that can help you to create the perfect storage space.
Standard 6′ legs that can be adjusted in 1′ increments up to 16′
600 square feet of space
16 colors choices for the roof, trim, and walls (if added)
Sides, gables, and ends can be left open, partially enclosed, or fully enclosed
Certified for 140 mph winds and 35 psf snow load
Order yours today and get free delivery and installation!
Alan's Factory Outlet 12×50 vertical roof carport is 12' wide by 50' long and has 600 square feet of covered storage space.  Please feel free to call a customer service representative today at 1-800-488-6903 with any questions about the carports.
Each 12×50 vertical roof metal carport from Alan's Factory Outlet is designed to your specifications and built to withstand even the toughest elements. Our carports are secured in place using either mobile home anchors or concrete anchor bolts, and their tight screw pattern helps them stand up to 140 mph winds and 35 psf of snow. The vertical roof style encourages snow to slide right off, so there's no need to rake the roof after a storm. And our 12 by 50 metal carports are also constructed using 14-gauge 2 ½" x 2 ½" square tubing for the framing to help reinforce its sturdy build. You can also opt for 12-gauge 2 ¼"x2 ¼" tubing that includes a 20-year rust-through warranty.
The dimensions for these carports are 12′ wide by 50′ long for a total covered storage space of 600 square feet. The standard design uses 6′ legs, but the legs can be raised in 1′ increments up to 16′ to create an RV carport or a shelter for extra-tall equipment.
Our 12×50 vertical-roof metal carports also give customers the option of partially or fully enclosing the gables, sides, and ends. This allows customers to create a fully enclosed metal garage from a 12 x 50 carport if they so wish.
When you order a 12×50 vertical-roof metal carport, you can also select from 16 different colors for the roof and trim, as well as the sides and ends if they are enclosed. Note that these metal carport colors are approximate and may vary.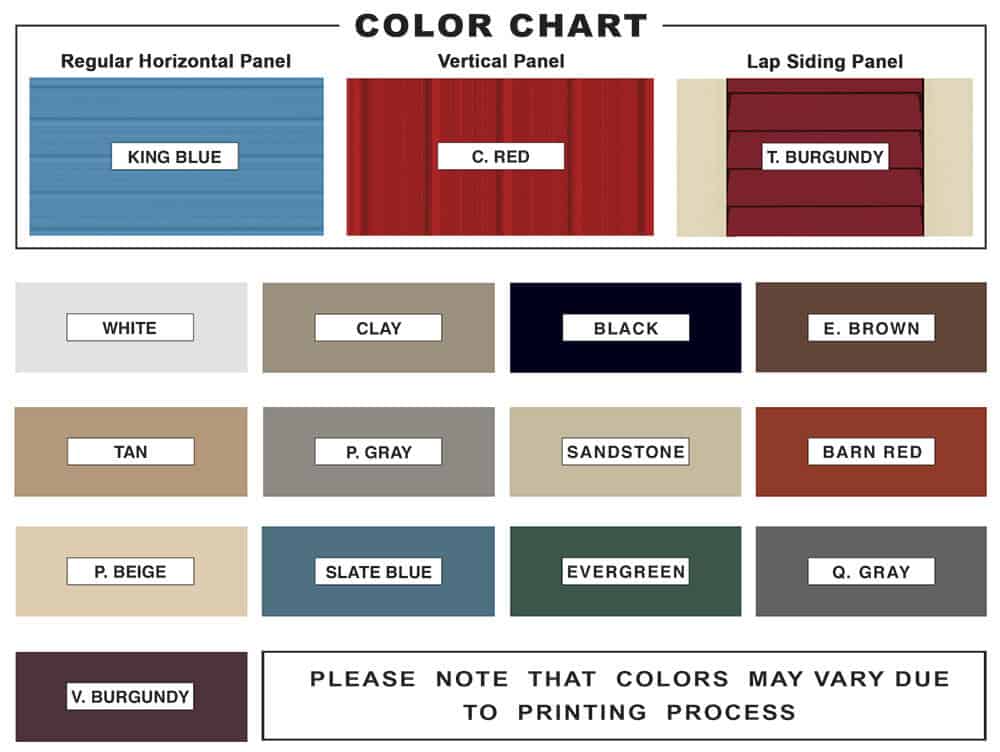 Every 12 by 50 metal carport includes free delivery and installation in Alabama, Arkansas, Georgia, Indiana, Kentucky, Kansas, Louisiana, Maryland, Missouri, Mississippi, North Carolina, Ohio, Oklahoma, Pennsylvania, South Carolina, Tennessee, Texas, Virginia, and West Virginia. Delivery may not be possible in every area within a state.
When you place your order for a 12×50 vertical-roof metal carport, you'll only pay a 10% to 17% deposit; we accept credit cards or mailed checks. The remainder of the balance won't be due until your custom 12×50 metal carport is delivered and installed.
Once you place your order, we will also send you a copy of the order to review, so you can double-check that everything is just how you want it. To aid with building permit requirements, blueprint drawings of your 12×50 vertical-roof metal carport are also available via email upon request. Please allow for approximately 3 to 4 business days for delivery.
The pictures shown below showcase the vertical roof style, which is designed to allow snow and rain to easily slide off.
Place your order for a custom 12×50 vertical roof metal carport online now, or call us toll-free at 1-800-488-6903.