Temporary buildings have a wide range of functions, which can range from the celebratory to the commercial. Regardless of what kind of project a temporary shed or structure is meant to support, its presence is irrefutably necessary for those owners who depend on a physical structure on a property. Whether you're an entrepreneur interested in an office or a party-hearty personality who wants to set up a booth for others to enjoy, Alan's Factory Outlet has the structures for you. Read on to learn about some common uses for buildings that are intended to be temporary but designed by their owners to leave a lasting impact.
Price and Design Your RV Carport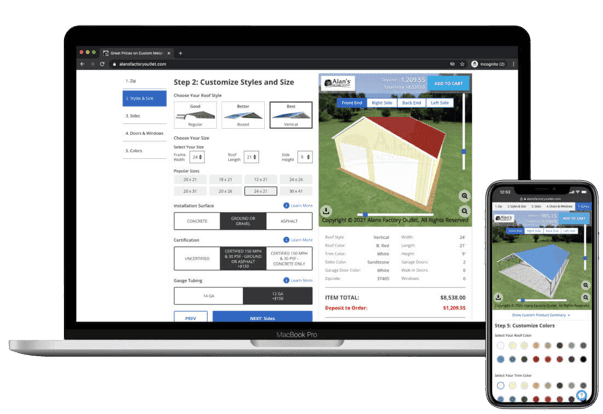 Customize Now
One of the most common uses for temporary buildings revolves around new and short-term storage needs. When used in this way, temporary storage buildings can be an investment in protecting new equipment or materials acquired. For example, renting tools or other large, home-improvement-related pieces of equipment can necessitate that renters protect the tools' integrity for the length of the borrowing period. Using these buildings can ensure that the equipment remains without significant damage and can help renters receive their deposits back.
Those who own seasonal businesses can also benefit from investing in a temporary building. Entrepreneurs who sell Christmas trees during the winter, for example, can use a temporary building as a makeshift office and also as a means to stay warm while they wait for customers to approach. These structures lend an air of legitimacy to any business that is seasonal or otherwise on the move. In some cases, their presence can be what convinces consumers to choose a business over similar competitors.
Outdoor events related to festivities or holidays can be the perfect time to use temporary building structures. Carnivals and other outdoor celebrations make temporary structures the go-to option to host games and store equipment related to the festivities. For carnivals, especially, sheds can be used as a means to store prizes, spare parts, and other related items that make the celebration go off without a hitch. Special attractions can also be concealed in these structures until they are ready for their introduction to the crowd.
Temporary building structures are commonly used on the grounds of construction sites. These sheds can act as a simple yet functional office for architects and associated staff as they oversee the construction of buildings. They also serve as an area where office-related business takes place. This can come in handy when construction sites are located in desolate places or when several different contractors are needed to complete a project and need a place to meet employers before setting out to do jobs.
These temporary structures can even help support educational initiatives. When the time is right, the sheds can be used as part of school fairs. In many cases, they are relied upon to display new books that children can buy and read. With the right type of decor, sheds of this variety can be instantly transformed into an outdoor reading room that children are invited to use while taking in the other benefits that the outdoors have to offer.
At Alan's Factory Outlet, we have quality metal buildings for sale that can be used as temporary storage buildings or offices on any type of property. Our prefab or pre-assembled solutions are perfect for those who are interested in no-mess, no-fuss structures that can be erected and used within a day. We're confident that we offer the best sheds available to buy online. Contact us today for suggestions on the best structure to purchase for your needs. While its purpose may be temporary, the quality of our structures are built to stand the test of time.