Get your custom carport and get our best prices plus Free Shipping and Installation!
Metal Carports for Sale in Pennsylvania
Alan's Factory Outlet is a leading dealer of custom metal carports in Pennsylvania. Use our 3D Carport Builder to design the exact carport you need and instantly see how much it will cost.
How Much Does a Metal Carport Cost?
The price of a metal carport in Pennsylvania starts at around $2,000. Use our 3D Carport Builder to get instant pricing for your own custom carport.
Carport Sizes
Here are some popular carport sizes we sell (click for details and pricing):
Do You Install Metal Carports Near Me?
Yes! We install metal carports in all parts of Pennsylvania.
The cities, towns, and rural areas we deliver and install in include Abington, Allentown, Altoona, Bensalem, Bethel Park, Bethlehem, Bristol, Cheltenham, Chester, Cranberry, Easton, Erie, Falls, Hampden, Harrisburg, Haverford, Hempfield, Horsham, Lancaster, Lower Macungie, Lower Makefield, Lower Merion, Lower Paxton, Lower Providence, Manheim, McCandless, Middletown, Millcreek, Monroeville, Mount Lebanon, Norristown, North Huntingdon, Northampton, Penn Hills, Philadelphia, Pittsburgh, Plum Borough, Radnor, Reading, Ridley, Ross, Scranton, Shaler, Spring, Springettsbury, State College, Tredyffrin, Upper Darby, Upper Dublin, Upper Merion, Warminster, Whitehall, Wilkes-Barre, Williamsport, York, and more.
Make a Great Decision with Our Carport Buyer's Guide
Get our free Carport Buyer's Guide and find out everything you need to know before you buy a metal carport.
Thank You!
Your guide should arrive in your inbox in about 5 minutes.

Alan Bernau Jr., Owner
75,000 Satisfied Customers and Counting
"I compared your metal carport to others and no one comes close in price or quality. Completely satisfied customer. Thank you very much."

Carl C.
"Fast installation seems to be a well built carport"

Keith C., Pennsylvania, January 2021
"I am very happy with my new carport for my RV. It's exactly as described as well as what I wanted."

Jerome T., Pennsylvania, June 2020, 12×40 Vertical Carport North
"Professional organization, high quality communications, quick response to my questions, very courteous and caring service representatives."

Robert R., Pennsylvania, January 2019, 22×20 Regular Carport North
"Ordering from Alan's Factory Outlet was very easy and speedy. When I realized that the car port wasn't high enough, I called and they were happy to change the order. I'm very happy with Alans factory Outlet ."

Jimmie D., Pennsylvania, November 2017
"I was very impressed with the quality of this carport, it was delivered and set up within 1 month of purchase. The installers did a very good job setting it up and were very friendly. If i every need another carport i wouldn't go anywhere else."

jacques G., Pennsylvania, October 2017
"No issues so far. Installers were very efficient, courteous, and professional. Great Job !!!!!"

Linda H., Pennsylvania, September 2017
"Very nice product"

Bernie V., Pennsylvania, June 2017
"We are very satisfied with the product. We were surprised at the quality of the metal material. There was some dissatisfaction with the scheduling for delivery and installation but it was resolved satisfactorily. The installation crew were very professional and adept at their job. Overall, we would purchase from this company again if we should need further products and we would recommend your product and services as well."

James D., Pennsylvania, September 2015
See our estimated delivery times to see how long delivery might take in your area.
"Easy directions, easy to find what you're looking fore!! Friendly group of people. Kind and courteous. Love the carport!!"

Tammy, Pennsylvania, March 2015
About Alan's Factory Outlet
Alan's Factory Outlet is owned and operated by Alan Bernau Jr and wife Julie Bernau. When you buy a carport from Alan's you are supporting a small, family-run business, and you get the excellent customer service you expect from a family-operated business.
Whether you have one vehicle or several, you know how important it is to have a structure that will shelter your car, RV, motorcycle, truck, or other transport from the damaging effects of the natural elements. Many people trust their garage for this purpose but, if you do not have a garage or cannot use it to store your vehicle, putting up a quality carport on your property is definitely a solution worth considering. Alan's Factory Outlet is the best place to buy carports for delivery in Philadelphia, Pittsburgh, and Harrisburg, PA, and we are sure to have a model that will meet your needs.
There are many reasons why you should choose Alan's Factory Outlet as your source for carports. PA residents should be aware that carports in PA are made in several sizes and styles to give you the carport shelter that will meet your needs. A variety of different lengths and widths are available, so you know that you will certainly be able to acquire the size carport you need whether you have one car or many more.
Another reason why you should consider buying carports in PA from us has to do with the fact that they are secure structures that we install for you. Each of our carports can be anchored to the ground, asphalt, or a cement pad for free by our trained crew. Once the installation crew arrives to install the carport in PA on your property, you will want to show them the location you want for the carport. Most carports are set up in a few hours to a half of a day. Best of all, Alan's Factory Outlet steel carports are delivered and installed throughout the great state of Pennsylvania for free.
In addition to the aforementioned options, our carports in Pennsylvania are built in the color you want and with many options to choose from, such as partially or fully enclosing the sides of the structure. If you live in a windy region of the state or regularly get a good deal of snowfall in the winter, then you will definitely want to consider one of the carports in PA that has enclosed sides. These carports offer better protection from the elements, which is why so many choose this enclosure option for their carports PA products.
One neat feature of our carports in PA is that you can close off the back end or fully enclose the metal carport in order to turn it into a garage. This is a great option if you want the carport to serve more as a permanent place of storage for your belongings. Taller leg heights are another option, with up to 12′ legs available if you need enough room for a tractor-trailer or motorhome to be parked underneath your carport. Metal RV carports are built in a variety of sizes, ranging from 12′ wide up to 40′ wide, and they can be made as long as you need them to be in order to totally cover your motorhome in Pennsylvania.
Finally, if you need your carports in PA to have additional side storage options, then metal carports in PA can be built with a lean-to on each side and have the sides and gable closed. This is a popular option for those who need their carport to be more of an outbuilding than anything else.
Consult our Car Port Prices Pennsylvania page today and place your order. We are excited to deliver to Pittsburgh, Harrisburg, and Philadelphia, Pennsylvania.
Beyond Pennsylvania, Popular Delivery Location & Service Areas
Alan's Factory Outlet offers metal storage buildings and carports for delivery to popular cities throughout the United States.
Build Your Own Metal Garage or Carport With Our 3D Builder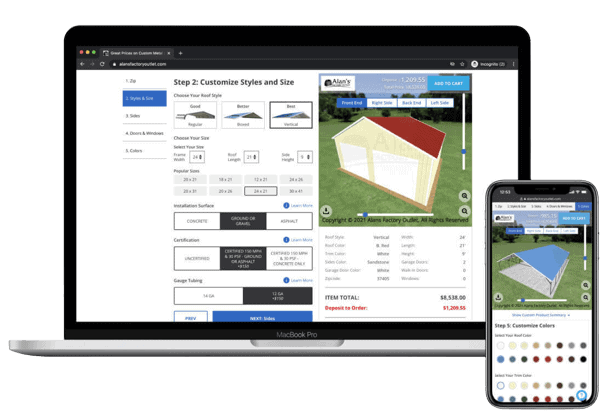 Price and Buy Online with Our 3D Builder Plus Free Shipping and Installation!
Select a size to meet your needs
Choose roof, side, and trim colors
Add garage doors, windows, and walk-in doors
Customize additional options