Alan's Factory Outlet is a leading seller of custom metal carports in Ohio. Use our cost calculator to get an instant price for the exact carport you need..
How Much Does a Metal Carport Cost?
The price of a metal carport in Ohio starts at around $1,865. Use our 3D Carport Builder to get instant pricing for your own custom carport.
Carport Sizes
Here are some popular carport sizes we sell (click for details and pricing):
Do You Install Metal Carports Near Me?
Yes! We install metal carports in all parts of Ohio.
The cities, towns, and rural areas we deliver and install in include Akron, Athens, Austintown, Avon Lake, Barberton, Beavercreek, Bowling Green, Brunswick, Canton, Centerville, Cincinnati, Cleveland, Cleveland Heights, Columbus, Cuyahoga Falls, Dayton, Delaware, Dublin, Elyria, Euclid, Fairborn, Fairfield, Findlay, Gahanna, Garfield Heights, Green, Grove City, Hamilton, Hilliard, Huber Heights, Kent, Kettering, Lakewood, Lancaster, Lima, Lorain, Mansfield, Marion, Marysville, Mason, Massillon, Medina, Mentor, Middletown, Newark, North Olmsted, North Ridgeville, North Royalton, Parma, Reynoldsburg, Riverside, Sandusky, Shaker Heights, Springfield, Stow, Strongsville, Toledo, Trotwood, Troy, Upper Arlington, Wadsworth, Warren, Westerville, Westlake, Wooster, Xenia, Youngstown, Zanesville, and more.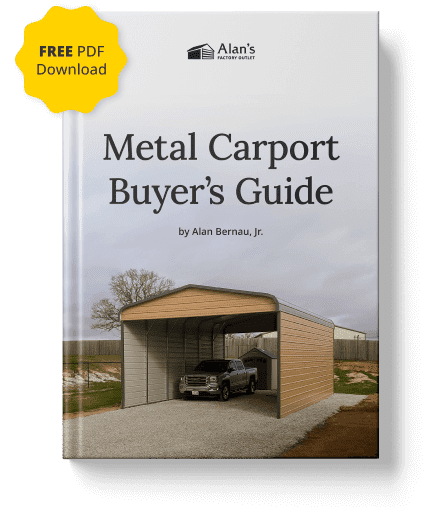 Avoid Buyer's Remorse!
Get a free buyer's guide to help you plan the perfect carport for your needs.
Find out:
How to save a lot of money
If a metal carport is right for you
How to choose the right size
What you need to know about foundations
And much more...
75,000 Satisfied Customers and Counting
"I compared your metal carport to others and no one comes close in price or quality. Completely satisfied customer. Thank you very much."

Carl C., Ohio, October 2015
"good pricing , great service, nice people wish i went bigger,"

john G., July 2019, Ohio, 24×20 Regular Carport North
"Love my carport and so happy with my purchase!"

Valerie C., Ohio, July 2019, 28×20 Regular Style Triple Wide Carport
"Very satisfied with installers they put it up in no time, with quality in mind for sure. highly recomend Alan's factory outlet . Matter of fact I have to 3 other people allready."

Terry B., Ohio, November 2018
"The crew was great, very nice and kept us informed. They did a quick job and cleaned up the area. The office also did a great job on keeping us informed of the status of our order along with follow-up."

Bruce A., Ohio, October 2018
"Easy to order and EXCELLENT customer service! We are very happy with our purchase and will definitely recommend Alan's to our friends and family!"

Sharlene, Ohio, December 2016
"Easy to use- glad for the free delivery. Workers were efficient, professional, talented and friendly."

Galen L., Ohio, September 2026
"Absolutely a great experience from order to installation. Super fast and the workers that constructed our garage were great. The garage itself is of great quality and I am very happy with it."

John S., Ohio, August 2016
"on line shopping is quick and easy … Wait time was exactly 8 weeks, Installation crew were right on time and in 3 hours job was complete. My driveway is on a hill that the crew had to back a long trailer up to get to the build site . Needless to say it wasn't the easiest job location and the crew worked around any obstacle they had to.I would highly recommend this Co. And will use again if needed.."

Gregg B., Ohio, November 2015
About Alan's Factory Outlet
Alan's Factory Outlet is owned and operated by Alan Bernau Jr and wife Julie Bernau. When you buy a carport from Alan's you are supporting a small, family-run business, and you get the excellent customer service you expect from a family-operated business.
Carports in Ohio are built on-site with free delivery and installation year-round to your home. Metal carports for sale in Ohio are built in many different ways to give you a carport that best suits your needs. Alan's Factory Outlet can help you find the right carport for sale in the Columbus, Dayton, and Zanesville areas. You can buy a wide variety of carports. Ohio weather should influence the style of carport you order.
Carports for sale in Ohio are built with three different roof lines. We have a regular style roof and two roofs in the gable style. One of our gable carports features a vertical roof that allows snow to slide off. When you purchase this option, you do not need to worry about too much snow affecting the carport.
Steel carports can be built with up to 12′ legs. With these carports, Ohio residents can protect their RVs from the effects of both winter snowstorms and the heat and sun of summer. You can browse the options we have for sale online.
Ohio metal RV carports are built with one panel closed on each side. The carports are custom built in the exact size you need. There are 13 paint colors to choose from on the roof, trim, and sides if you have the sides closed.
Our customers appreciate our selection of carports for sale in Ohio for several reasons. Our carports serve as reliable protection against rain, snow, and the glaring sun. Customers use our carports for sale in Ohio to shelter RVs, trucks, and cars. Not surprisingly, an owner who offers his or her vehicle protection from various weather conditions may be able to get a few extra years out of a car or truck. By purchasing one of our carports, Ohio residents can help to protect their vehicles from damage caused by harsh weather conditions. This can help you save on vehicle maintenance and help your vehicles retain their values.
Visual appeal is another reason why some of our customers buy from our selection of carports. Ohio residents appreciate the 13 color options they have for their carports. A customer can coordinate the look of his or her carport with a shed or other structure on the property. Just because our carports for sale in Ohio are practical purchases, doesn't mean they have to be ugly!
When shopping our inventory of carports, Ohio residents often want one that they can utilize for a rarely used vehicle. For instance, an owner may have a classic vehicle that he or she drives in parades or car shows. A carport with enclosed sides would be ideal for protecting a classic car. Alternatively, a family may have a car that they want to keep in good condition until a teenager is old enough to drive it. Many of our carports for sale in Ohio would be perfect for preserving a car for a new driver. In short, our selection is full of carports that can serve the purposes of any household. We offer a wide variety of carports. Ohio residents in the Columbus, Dayton, Zanesville areas, and beyond should be able to find a style that suits their current needs.
Our carports for sale in Ohio are perfect for housing a visitor's car. For example, a visiting relative could park his or her car beneath the family's carport. Furthermore, if a relative drives an RV, a carport is an ideal place to store the vehicle during the visit. A visitor's vehicle would be safe and protected for the duration of the person's visit.