Alan's Factory Outlet is the #1 seller of custom metal carports in Maryland. Our 3D Carport Builder allows you to design your own carport, and instantly see how much it will cost.
How Much Does a Metal Carport Cost?
The price of a metal carport in Maryland starts at around $1,865. Use our 3D Carport Builder to get instant pricing for your own custom carport.
Carport Sizes
Here are some popular carport sizes we sell (click for details and pricing):
Do You Install Metal Carports Near Me?
Yes! We install metal carports in all parts of Maryland.
The cities, towns, and rural areas we deliver and install in include Annapolis, Aspen Hill, Baltimore, Bel Air North, Bel Air South, Bethesda, Bowie, Carney, Catonsville, Chillum, Clarksburg, Clinton, College Park, Columbia, Crofton, Dundalk, Edgewood, Eldersburg, Ellicott City, Essex, Fairland, Frederick, Gaithersburg, Germantown, Glen Burnie, Hagerstown, Ilchester, Laurel, Lochearn, Middle River, Milford Mill, Montgomery Village, North Bethesda, Odenton, Olney, Owings Mills, Parkville, Pasadena, Perry Hall, Pikesville, Potomac, Randallstown, Reisterstown, Rockville, Salisbury, Severn, Severna Park, Silver Spring, South Laurel, Suitland, Towson, Waldorf, Wheaton, Woodlawn, and more.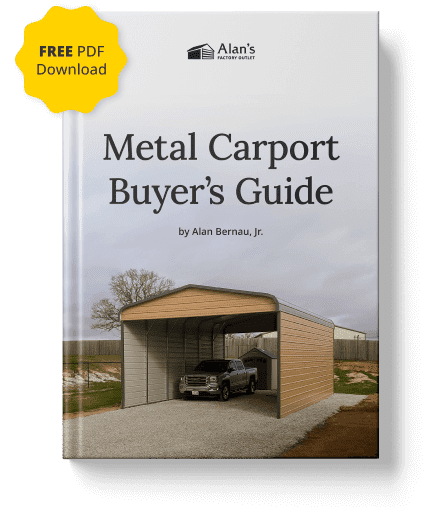 Avoid Buyer's Remorse!
Get a free buyer's guide to help you plan the perfect carport for your needs.
Find out:
How to save a lot of money
If a metal carport is right for you
How to choose the right size
What you need to know about foundations
And much more...
75,000 Satisfied Customers and Counting
"I compared your metal carport to others and no one comes close in price or quality. Completely satisfied customer. Thank you very much."

Carl C.
"I was extremely happy with time for delivery, except they were just a little later than expected, but they were quick and efficient. The quality was as expected and I am happy with the product."

Ava F., Maryland, September 2020, 20×20 Regular Triple Wide Carport
"I really like the new carport. The guys that installed it were great and really fast! It seems to be a good quality and exactly what I was looking for!"

JIM L., Maryland, September 2019, 12×20 Regular Carport North
"Great buying experience, installers were very professional and installed triple wide carport in 1 day."

Tom, Maryland, August 2019, 30×35 Vertical Triple Wide Metal Carport
"I was extremely impressed with the quality of this carport. It is very stable and I am sure it will outlast any other carport on the market."

Daniel T., Maryland, December 2018, 18×20 Regular Carport North
"Beautiful well constructed car port, would recommend to others that were looking to purchase one."

Donald C., Maryland, August 2018, 18×20 Boxed Eave Carport North
"Solid, quality built structure. Very pleased with the carport and the installation."

Christopher B., Maryland, June 2018, 12×20 Regular Carport North
"It was so easy. To order online and the time wait for delivery and installation was very short.I have told all of our family and friends to make sure they check them out if buying a carport. Very satisfied ."

Charles, Maryland, November 2016
About Alan's Factory Outlet
Alan's Factory Outlet is owned and operated by Alan Bernau Jr and wife Julie Bernau. When you buy a carport from Alan's you are supporting a small, family-run business, and you get the excellent customer service you expect from a family-operated business.
People living in Baltimore, Columbia, Germantown, Maryland need to look no further than Alan's Factory Outlet for carports. At Alan's Factory Outlet you'll find that we have several different styles of metal carports for sale, such as the regular roof style, the boxed eave style, and the vertical roof style. Carports in Maryland are the perfect way to protect one's car, boat, or recreational vehicle from rain, snow, and sun exposure. When you purchase metal carports in MD you will also save money when they are delivered, set up, and anchored to the ground, asphalt or concrete for free in Maryland. In addition to the savings that you'll receive when you buy your new carport, you will also be impressed with its construction. The Maryland carport is built with the steel frame tubing 4′ on center. The metal carports in Maryland are fully braced to ensure the sturdiness of the structure and to help give the carport more strength against the snow and wind.
Many other options are also available, such as a thicker 12 gauge tubing and taller legs up to 12′ which makes a great RV carport cover. When choosing the right carport, it is important to select the right size for your home and vehicles. The standard width metal carports in Maryland are 12′, 18′, 20′, 22′, and 24′ wide. There is a triple carport available in the 26′, 28′, and 30′ wide carport in Maryland as well. Alan's Factory Outlet biggest carport in Maryland are built in 32′, 34′, 36′, 38′, and 40′ wide carport. The length starts out at 21′ long and runs in 5′ increments which are 26′, 31′, 36′, 41′ and even longer if you want.
The prices of our carports in Maryland are determined by the style and the size. Click on the above link to view the current prices; however, the listed prices are subject to change without notice. There are several ways to place an order with Alan's Factory Outlet – by phone using our toll-free phone number, or online. When placing your order, our customer service representative can help you with any questions regarding carport setup and delivery.
Alan's Factory Outlet is proud to serve customers in Baltimore, Columbia, Germantown, Maryland.
Beyond Maryland, Popular Service Areas
Alan's Factory Outlet offers prefab metal buildings and carports for delivery and installation in areas across the U.S., including these popular locations: