Get your custom carport and get our best prices plus Free Shipping and Installation!
Metal Carports – Designed for Florida
Alan's Factory Outlet is the #1 seller of custom metal carports in Florida. Our 3D Carport Builder allows you to design your own carport, and instantly see how much it will cost.
How Much Does a Metal Carport Cost?
The price of a metal carport in Florida starts at around $1,700. Use our 3D Carport Builder to get instant pricing for your own custom carport.
Do You Install Metal Carports Near Me?
Yes! We install metal carports in most parts of Florida.
The areas we can't deliver to are St. Johns County (St. Augustine), Marion County (Ocala), and the southern tip of Florida (Broward, Monroe, and Miami-Dade Counties).
Some of the cities and rural areas we deliver and install in include Alafaya, Apopka, Boca Raton, Bonita Springs, Boynton Beach, Bradenton, Brandon, Cape Coral, Clearwater, Coconut Creek, Coral Springs, Davie, Daytona Beach, Deerfield Beach, Delray Beach, Deltona, Doral, Fort Myers, Fountainebleau, Gainesville, Jacksonville, Jupiter, Kendale Lakes, Kissimmee, Lakeland, Largo, Lauderhill, Lehigh Acres, Margate, Melbourne, Miramar, North Port, Orlando, Palm Bay, Palm Beach Gardens, Palm Coast, Palm Harbor, Pembroke Pines, Pensacola, Pine Hills, Pinellas Park, Plantation city, Poinciana, Port Charlotte, Port Orange, Port St. Lucie, Riverview, Sanford, Sarasota, Spring Hill, St. Cloud, St. Petersburg, Sunrise, Tallahassee, Tamarac, Tamiami, Tampa, The Hammocks, The Villages, Town 'n' Country, Wellington, Wesley Chapel, West Palm Beach, Westchester, Weston, and more.
Make a Great Decision with Our Carport Buyer's Guide
Get our free Carport Buyer's Guide and find out everything you need to know before you buy a metal carport.
Thank You!
Your guide should arrive in your inbox in about 5 minutes.

Alan Bernau Jr., Owner
75,000 Satisfied Customers and Counting
"Best online store for Florida options. Carports have to be permitted to Hurricane standards down in our state and this was a great quality."

L S., February 2019, 18×21 Vertical Roof Metal Carport Florida
"Love my carport. Great product and service. Would do business again!"

John O., September 2020, 18×25 Regular Style Carport Florida
"pretty cut and dry
most every thing u need is the online:-)
even through covide 19 they came through
again thanks Alan,"

malinda L., June 2020, 12×20 Vertical Roof Metal Carport Florida
"Excellent product … great install crew …. AAA+++"

frank, March 2020, 18×40 Vertical Roof Metal Carport Florida
"Outstanding service all the way through. Recommended to my brother. Thanks again"

Eric R., January 2020, 24×25 Regular Style Carport Florida
"Shopped around for a while. This is the least expensive but best built carport we found. They installed it really quickly after permit was gotten. Seems to be of good quality."

Tony D., January 2020, 18×30 Regular Style Carport Florida
"Site is easy to use and service outstanding regarding answering my questions
Everything was awesome from start to finish"
–Thanks

Mark Y., December 2019, Florida
"Great buying experience with Alan's Factory outlet. Their website was great and very easy to work with. I'am in construction and I know good materials and workmanship, this company and employees stand out. The office personnel was very pleasant to deal with, I will recommend Alan's Factory Outlet to everyone that comments on my RV Port."

THOMAS T., December 2019, 12×20 Regular Style Carport Florida
"Excellent is all you can say. Quality product, expertly installed , as promised and on time Couldn't ask for anything more!"

Douglas S., December 2018, 18×35 Regular Style Carport Florida
"We had a great experience dealing with this company. The product was delivered in a timely manner and installed quickly and correctly. we received exactly what we ordered. Thanks!"

David P., October 2018, Florida
"We really like our new carport. The installers were friendly and courteous"

Carol T., July 2018, 12×20 Boxed Eave Style Carport Florida
"Wish I would have built my carport to store my horse trailer years ago. Everything went smoothly. Installers were awesome! No problems at all ordering or paying. I recommend Alan's!"

Teri O., November 2017, Florida
"Very good customer service! Professional installation."

Hector G., July 2017, Florida
"Ordering was smooth and easy. Delivery and setup couldn't have been better.Very pleased. Would use this company again!"

Dica F., December 2016, Florida
"The site was easy to use and very informative with information regarding the purchase of my carport."

Ronald W., July 2016, Florida
"Wonderful"

Jay D., June 2016, Florida

"Discussed prices and options with Mellissa, very prompt on returning my calls and answering all my questions."

Mack A., May 2015, Florida
Alan's Factory Outlet
Although Florida's sunshine is delightful, the solar rays can have many damaging effects on people and their vehicles. When it comes to protecting cars, the best solutions include carports. Florida residents can get reliable and low-cost protection from the fading and damaging effects of the sun's rays when they come to Alan's Factory Outlet for their carport needs. And delivery and setup of our metal carports in Florida is always free!
Carport Uses
Florida carports keep the sun, rain, and hail off of your vehicle and protect your car, truck, boat, RV, or motorcycle from the high winds that the state often experiences. Such protection is the chief reason why buyers in the state trust our metal carports. Florida residents should also know that there are many other benefits to owning a quality metal carport besides vehicle protection. Much of your other property that usually must stay outdoors can also be put under a carport. Florida residents and natives who store their non-vehicle property in this way get sturdy protection and save the hassle of moving items from indoors to outside with our aluminum carports. Florida's weather is nothing to be trifled with, so if you want protection for all of your outdoor items, a carport may be the best solution.
You should also remember that Florida carports are a great solution to provide some extra shade for residents and guests. Hosting an outdoor event? Find shade under one of our quality aluminum carports. Florida parents often allow their children to play under the shade of these carports, as it protects their kids from the sun while allowing them to do what they want to do outside. When it comes to the possible uses for a good carport, Florida residents should know that there are few limits to what can be done with them.
What Size Should a Carport Be?
The size of your carport will depend on factors including how you plan to use it and the available space on your property. Florida carports can be built in many different sizes and styles, from 12×21 to 24×41 or larger.
Florida Metal Carport Specifications
All of our carports delivered and set up in FL are certified carports rated for 150 mph winds. When it comes to hurricanes and carports, Florida models from Alan's Factory Outlet are sure to withstand hurricane-force winds up to medium strength, at least Category 3. But for added peace of mind, you can upgrade to a model rated for a 180-mph wind load; only a handful of hurricanes in history have been stronger than that!
The tubing on our carports in Florida is 14-gauge, 2½-inch-by-2½-inch square tubing. A thicker 12-gauge, 2¼-inch-by-2¼-inch tubing is also available as an upgrade. This 12-gauge tubing has a 20-year rust-through warranty when selected for our metal carports. Florida residents should especially consider this option if they are close to the Florida coast's salt spray. The 12-gauge tubing has a 54 psi tensile strength, which is greater than you'll find in many other aluminum carports. Florida residents can trust these structures to withstand anything nature can dish out. Mobile home anchors or cement anchors are also standard with all Florida carports.
When planning for your concrete pad, consider the size of your carport and factor in the amount of overhang. For example, for a 12×21 carport, the concrete pad would need to be 12×20, the exact outside base dimensions, since there is a 6-inch overhang on the front and back ends. Of course, you will want to check with your local building codes to find out if there are different specifications required for your location.
Carport Dimensions and Design Considerations
Many other options are available on our metal carports in FL:
Fully braced with either 2-foot or 4-foot braces
Wider or longer carports
Taller carports with leg heights up to 16 feet tall
Closed gable or closed sides
Fully enclosed metal garages with garage doors, single doors, and windows
Regular metal carport Florida FL
Triple wide metal carports in Florida
40′ wide metal buildings Florida
For the best metal carports for delivery all across Florida State, including Orlando, Tampa, and Naples, FL, shop Alan's Factory Outlet.
Beyond Florida, Other Popular Areas of Service & Locations
Alan's Factory Outlet prides itself in offering quality carports and metal buildings for delivery to customers in many cities across the country, including these popular locations:
Build Your Own Metal Garage or Carport With Our 3D Builder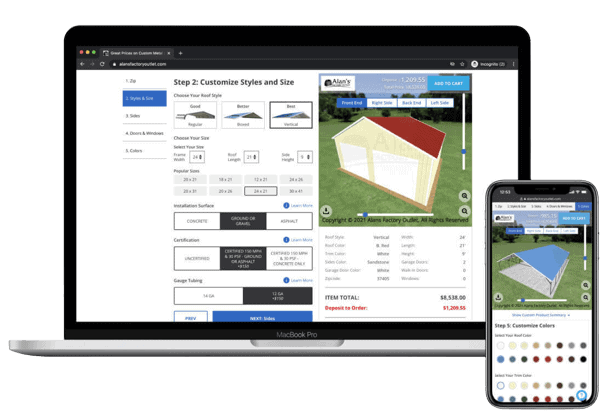 Price and Buy Online with Our 3D Builder Plus Free Shipping and Installation!
Select a size to meet your needs
Choose roof, side, and trim colors
Add garage doors, windows, and walk-in doors
Customize additional options