Our 10×20 metal storage shed kits are delivered and installed for free. We offer a free upgrade to 12×20 in most areas. Use our cost calculator to get an exact price of the shed you need.
A 10×20 metal shed can make a wonderful and useful addition to any yard, and at Alan's Factory Outlet, we sell a host of sturdy outdoor buildings in this size and many others, all at great prices. One popular option we sell is a 10×20 metal storage building. Many of our customers find that a 10-by-20 shed is a good size for most yards and versatile enough to serve many purposes. When you need a high-quality 10×20 storage shed, you can trust us to have exactly what you're looking for at a reasonable cost.
How Can You Use a 10×20 Shed?
A 10×20 metal storage shed can be useful in any number of ways. For instance, a 10×20 metal shed can potentially take care of a family's need for extra storage space and help protect items from damage caused by rain, snow, and the hot sun. You might even choose to use your shed as a garage for a small vehicle as well as a storage space for items like tools, recreational equipment, gardening supplies, and other items for the home and yard. A 10-by-20 shed doesn't just have to be a storage space, though. For some people, a shed of this size is perfect to convert into an extra room, such as an office, a playroom for the kids, a craft or hobby room, an art studio, or a gaming room. Keep in mind that if you plan to use our 10×20 sheds for these types of spaces, you'll probably want to run electricity out to your shed, and this may require an additional permit from your local building officials. Once the structure is up and functional, you could finish the interior walls to turn a shed into a playhouse or office by installing insulation and drywall for warmth.
What Are These 10×20 Storage Sheds Made Of?
Our metal garages and sheds are made of durable steel. When you purchase a metal shed or garage here, you'll get a structure that is sturdy and structurally secure. This low-maintenance option provides maximum protection for your valuables, and metal sheds are quite cost-effective, too. Each metal 10×20 shed for sale is also built to your specifications, so you'll be able to customize it to your liking, choosing things like paint colors and roof styles to get just the right look.
How Much Does it Cost to Build a 10×20 Shed?
The base price for a 10×20 shed is around $4,200, but the cost of your shed will vary depending on its exact configuration and location. The smallest standard size we offer is 12×20, but we can absolutely customize a narrower metal shed for you. You can use our 3D builder tool to get a better idea of the options and prices for our metal sheds.
Is Assembly Included?
Yes! We'll deliver and install our metal sheds on your level land.
No matter what type of 10×20 outdoor structure you choose for your property, we can help you get exactly what you're looking for. Got questions about our 10×20 metal sheds? Just give us a call or contact us online and we'll be glad to help. Place your order with us today and get great prices on great products!
Design and Price a Custom Metal Shed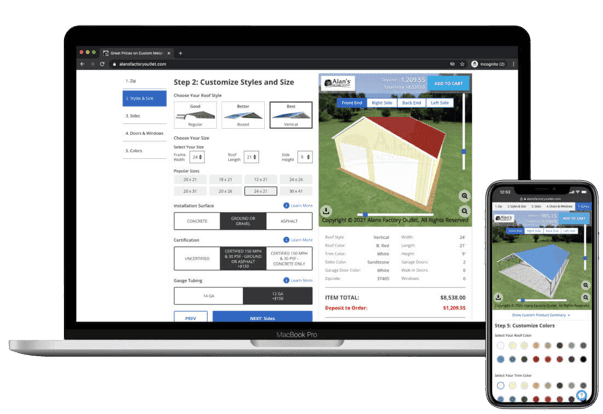 Go to Cost Calculator