The 20 x 25 regular-style carport is a sturdy and dependable storage structure constructed using all metal materials. Its framing consists of 14-gauge 2 1/2″ by 2 1/2″ square tubing that, when combined with our tight screw pattern and anchoring process, certifies it for 140 mph winds and 35 psf of pressure. Customers may also choose to opt for 12-gauge 2 1/4″ by 2 1/4″ tubing, which includes a 20-year rust-through warranty.
Customers should note that in order to install a 20×25 regular-style carport, its location must be level or within at least 3″ of level.
The 20 by 25 regular-style metal carports from Alan's Factory Outlet use standard 6′ legs that customers may choose to increase in 1′ increments up to 16′. In addition, the ends, gables, and sides on each steel carport can be partially or fully enclosed.
When customizing your 20×25 metal carport, you may select from 16 different colors from the roof and trim, as well as the gables and sides if they are closed. The metal colors are approximate and may vary.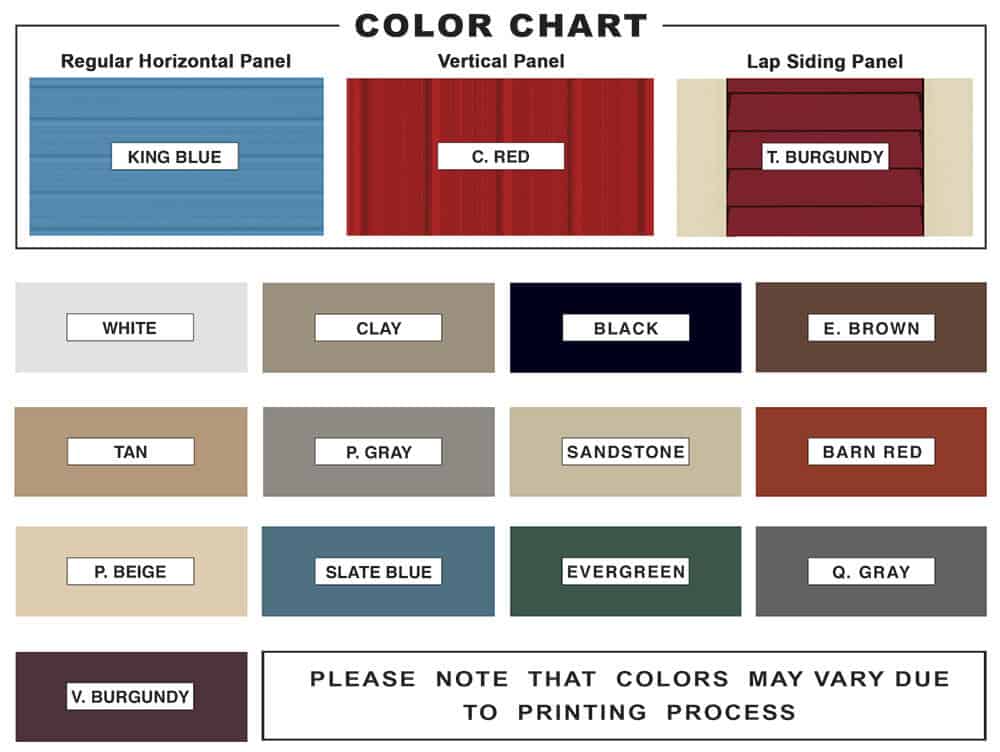 Each 20 x 25 metal carport order comes with free delivery and installation in Alabama, Arkansas, Georgia, Indiana, Kentucky, Kansas, Louisiana, Maryland, Missouri, Mississippi, North Carolina, Ohio, Oklahoma, Pennsylvania, South Carolina, Tennessee, Texas, Virginia, and West Virginia.
*Delivery may not be possible in all locations.
Once you order your 20×25 regular-style carport, a 10% to 17% deposit will be due that can be paid either with a credit card or mail-in check. We will also email you a copy of the order to review and ensure all the details are correct. The remainder of the balance will be due when your carport is delivered and installed.
*The metal carport prices are subject to change without notice.
Some regions will require you to obtain building permits before installing your new carport. To aid with this, blueprint drawings are available via email upon request. They will take approximately 3 to 4 business days to deliver once you have submitted your request.
Customize and order your new 20×25 regular-style carport online now or by calling one of our service representatives toll-free at 1-800-488-6903.