Our outdoor metal pavilion kits are delivered and installed for free. These prefabricated steel frame pavilions cost less than many less durable options.
If you decide to purchase an outdoor pavilion, you have some important details to consider. For one, you need to make sure that the pavilion you buy suits the dimensions of your property. The structure should enhance the look of a garden or courtyard without overwhelming the area. At Alan's Factory Outlet, we want you to end up with the metal pavilion you've always envisioned for your property. Here are a few basic things to consider before buying one.
Choosing a Location
One of the first things to do before browsing our selection of outdoor pavilions for sale is to decide where you want to put the structure. For instance, you may want to put your new pavilion in the garden. It makes for a great place to relax and look at the flowers blooming all around you! A pavilion also looks appealing near a swimming pool. Friends and family can sit and watch the swimmers while staying out of the sun. Most people like to put their pavilion in a place where there is a lot of interesting scenery all around them.
The Size of the Pavilion
Once you've decided where to put the pavilion, you can consider the available sizes. We have a selection of outdoor pavilion structures in a variety of sizes so you can easily find one that is suitable for your property. You may want an 12-by-20-foot metal pavilion that complements the look of your intimate rose garden. Alternatively, you may be looking for a 18-by-20-foot pavilion that looks perfect next to your outdoor swimming pool. Choosing the right size of pavilion is just as important as deciding where to put it on your property.
Selecting a Design and Color
Our outdoor pavilions come in a variety of designs that can add appeal to your property. We have rectangler metal pavilions for sale. In addition, we have outdoor pavilion kits that feature a single roof design. This design is available in metal pavilion. When it comes to the pavilions at Alan's Factory Outlet, there is no one-size-fits-all option!
We have metal outdoor pavilions available in prefab kit form. You can choose the color of the metal roof on your pavilion. We understand that many of our customers have a vision of how they want their pavilion to look on their property: For example, you may want a pavilion with a roof that matches the color of an outdoor shed or even a barn on your property. By carefully selecting the color of the roof or the color of the pavilion itself, you can bring visual harmony to an area.
How Much Does a Metal Pavilion Carport Cost?
A metal pavilion carport from Alan's Factory Outlet will cost somewhere between $1,295 and $4,995 or more depending on the dimensions and style. You can price a metal pavilion carport online today.
Price and Design Your Metal Pavilion Carport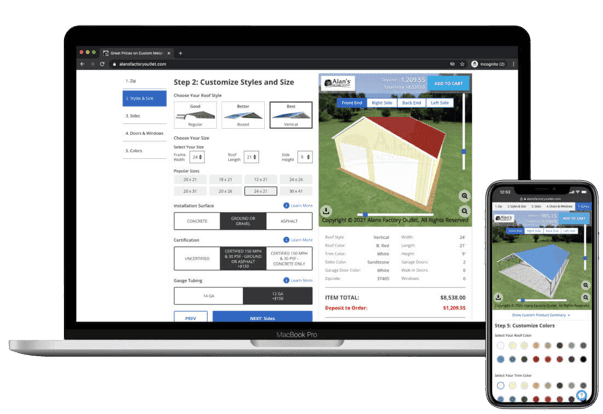 Customize Now
If you aren't a DIY person, you may want to buy a fully assembled pavilion and have it delivered to your property. This way, you are ready to use it the moment the structure is put on the ground. You can start planting flowers around your pavilion or move your comfy chairs and even a small sofa inside it. Your pavilion arrives ready to enjoy!
Whether you want to use the structure for a wedding ceremony or just want a comfortable place to relax outdoors, a pavilion is a practical and decorative item that enhances a piece of property.