Alan's Factory Outlet is the #1 seller of custom metal carports in Virginia. Our 3D Carport Builder allows you to design your own carport, and instantly see how much it will cost.
We also serve West Virginia.
Where We Deliver
We can deliver your carport anywhere in Virginia. The cities, towns, and rural areas we deliver and install in include Alexandria, Blacksburg, Bristol, Charlottesville, Chesapeake, Christiansburg, Colonial Heights, Culpeper, Danville, Fairfax, Falls Church, Fredericksburg, Front Royal, Hampton, Harrisonburg, Herndon, Hopewell, Leesburg, Lynchburg, Manassas, Manassas Park, Martinsville, Newport News, Norfolk, Petersburg, Poquoson, Portsmouth, Purcellville, Radford, Richmond, Roanoke, Salem, Staunton, Suffolk, Vienna, Virginia Beach, Warrenton, Waynesboro, Williamsburg, Winchester, and more.
How Much Does a Metal Carport Cost?
The price of a metal carport starts at around $1,425. Use our 3D Carport Builder to get instant pricing for your own custom carport.
Carport Sizes
Here are some popular carport sizes we sell (click for details and pricing):
75,000 Satisfied Customers and Counting
"Great investment should have bought one years ago"

Jeffrey S., Virginia, October 2020
"Easy to pick what you wanted and good choices to to choose from"

Chris S., Virginia, February 2022
"Good experience, 3 man crew arrived several hours late, don't know why, but they stayed until well after dark and finished the job. The crew was professional and answered several questions I had to my satisfaction. They did an excellent job and I would recommend them. Will probably be ordering a smaller carport from Alans next spring. Very satisified"

Stephen S., Virginia, October 2020, 20×25 Vertical Roof Metal Carport
"This is our second one. Love the craftmanship of the product.."

VERONICa, Virginia, September 2020, 18×20 Regular Style Carport
"Should have bought the carport years ago! Awesome price and very sturdy carport for our 38 foot motor home!"

Donald, Virginia, June 2020, 18×40 Vertical Roof Metal Carport
"Building came quicker than I was expecting … The building is perfect for storing my 21 foot pontoon. It looks very good, and installation crew did an awesome job. I'm very happy with this building. Only thing I regret is I didnt get any sides, when I should have."

Chris S., Virginia, April 2020, 12×30 Regular Style Carport
"Excellent customer interface, easy options and design experience, clear pricing, and ordering. The installation team was thorough but arrived later than planned. They came at dusk and finished the work in the dark with headlamps. Very pleased with the results."

R K., Virginia, January 2020
"I am very pleased with my carport. I only wish I had gotten an 8 Ft. high instead of a 7 Ft. That was my shortsightedness. The crew that installed it was first rate and completed it in about 3 hours. Thank you so much for a quality product."

Linwood L., Virginia, November 2019, 18×25 Vertical Carport
See my Carport Buyer's Guide to learn how to calculate the right height for your carport.
"Great installation crew and excellent quality at a great price! Very good quality and a great crew of installers, the guys went above and beyond to make sure it looked great and we were satisfied. If I ever need another building or carport they are the only ones I'd call!"

Carl S., Virginia, July 2019, 12×20 Regular Style Carport
"Excellent responsive customer support. Delivered and installed as advertised."

david M., Virginia, October 2018, 18×25 Boxed Eave Style Carport
"We love it! And have gotten lots of complements."

Jimmy M., Virginia, July 2018, 20×25 Boxed Eave Style Carport
"Good experience, good staff. Thanks"

Troy S., Virginia, November 2017
"We really like our carport a lot. Before ordering from Alan's we did a great deal of research on quality and prices. Best one around overall!! Highly recommend!!"

Wendy K., Virginia, October 2017
"Dealing with Alan's was a pleasant experience. Prices were good and the service level was outstanding. The installers were on time and did a great job. I will use Alan's in the future."

William P., Virginia, October 2017
"Ordering process was good, wait time was to slow, installation was great, product looks great and I'm very satisfied."

Pete D., Virginia, September 2017
"People love our carports, but sometimes delivery can take a while. See our estimated delivery times to see how long delivery might take in your area.
"So far, everything is good. Love the carport. I wish I had done this a long time ago!"

Kathryn R., Virginia, May 2017
"Best prices out there. Website pretty user friendly too. Had the carport for several months now and couldn't be happier."

Michael C., Virginia, May 2017
"Nice setup online! Very simple…Would order again, just need to plan far enough ahead for delivery!"

john M., Virginia, March 2017
"the shelter was delivered in a timely manner and the crew that delivered was very professional. It was a pleasure to watch them work together with minimal communication. They all knew what to do and when to do it."

Beryl W., Virginia, August 2016
"Thanks, easy to find what I wanted. Good price and great service. THANKS"

Dennis A., Virginia, March 2016
"The carport we received was excellent. The installers did a perfect job with the installation. The installers were quick. It only took about three hours from start to finish to assemble a triple wide carport with both sides and back completely filled in and gables filled in. And the carport looks great. We are very pleased with how everything went. We would definitely recommend this carport to friends."

Fred S., Virginia, December 2015
"Vey Good service. Happy with delivery man. He did a great job."

philippe, Virginia, July 2015
"We are repeat customers and have recommended Alan's Factory Outlet to numerous people."

James, Virginia, December 2014
Alan's Factory Outlet
Throughout the country, Alan's Factory Outlet has become well known for its quality metal buildings and carports. Virginia residents, especially residents in Lynchburg and Richmond, can also enjoy all the benefits of our carport structures and own a carport that will protect their vehicles and possessions from the damaging effects of the natural elements. No matter where you live in the state, it is easy to order from us and get one of our quality carports in VA.
Make a Great Decision with Our Carport Buyer's Guide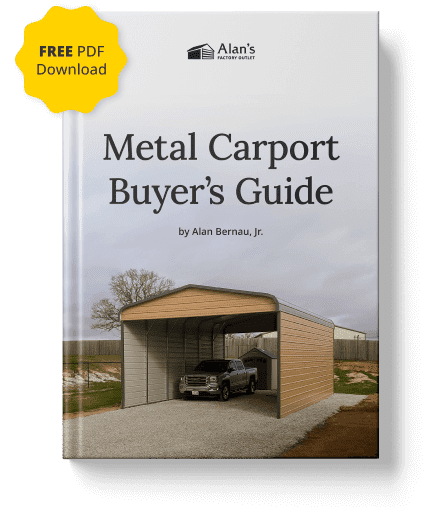 Get our free Carport Buyer's Guide and find out everything you need to know before you buy a metal carport.
Thank You!
Your guide should arrive in your inbox in about 5 minutes.
Alan Bernau Jr., Owner
Continue Shopping
Of course, the primary reason to order one of these metal structures is the shading and protection offered by metal carports. Virginia residents, like those who live elsewhere in the country, have to deal with the effects of the sun, the rain, and other damaging elements that can harm the finish and paint job on their vehicles. With one of our metal carports, Virginia residents no longer have to fear this problem, especially when they add sides to the carport structure. By buying one of these carports in VA, you are creating a protective cover that will hold up well for decades.
Even though vehicle protection is the primary reason why most people buy carports, Virginia residents can also get many other uses out of these structures. In the first place, Virginia carports provide excellent shelter as well for possessions besides cars, and those who own outdoor equipment of various kinds or who must store some belongings outside should know that they will get great protection for such belongings with these carports. VA buyers can also find respite from the hot sun if they are outside, and many families let their children play in their carports in VA when the family vehicles are not parked under the shelter.
Should you be searching for variety in your Virginia carports, Alan's Factory Outlet cannot be beat. Our Virginia carports and garages are available in many different sizes and styles as well as many different heights to meet your needs. Shipping and delivery is also convenient when you order our carports.
As noted above, steel buildings and metal carports give your car, truck, boat, RV, farm equipment, and other valuables the perfect protection from the rain, hail, ice, snow, wind, and sun. Besides preventing harm to your vehicles, there are also comfort benefits that attend our carports. Virginia residents who park under a carport do not have to enter a steaming hot car after it has been sitting in the sun all afternoon.
Alan's Factory Outlet's steel carports in VA are available in many different sizes, starting in a single carport or single garage at 12×21, with other widths of 18', 20', 22', and 24' likewise available. The next longer lengths of our Virginia carports after 21' are 26', 31', 36', and 41', and we can even make the metal carports and metal garages longer in 5' increments to the length that best suits you. When they need custom-size metal carports, VA residents can get exactly what they need when they order from Alan's Factory Outlet.
Looking for a metal building wider than 24'? You should know that we've got you covered there also with our triple-wide carports, which come in 26', 28', and 30' widths.
Triple Wide Carports VA Prices
The newest-style Virginia carport is the metal barn lean-to carport, which comes in widths of 36', 42', 44', 46' and 48', with the lengths starting at 21' long and available in 5' increments longer to the size you need.
**Free Delivery and Setup on All Metal Carports in Virginia**
Metal Barn Lean To Buildings Virginia Prices
**Free Delivery and Setup in Virginia Is Also Available on All Metal Garages and Metal Lean To Barn Buildings.**
Metal carports and garages come in 3 different styles:
When they are looking for metal carports, Virginia buyers tend to have one frequently asked question: What is the difference between the boxed-eave and the vertical roof style? On the boxed-eave roof, the sheeting on the roof goes lengthwise, and on the vertical, the sheeting is side to side or, you could say, up and down, which helps snow slide off of your roof.
Alan's Factory Outlet is proud to serve Lynchburg and Richmond, VA, and beyond for all their metal carport needs.
Beyond Virginia, Other Popular Locations
Alan's Factory Outlet offers metal buildings and carports for delivery and installation. Some of the popular areas we deliver to include:
Price and Design Your Carport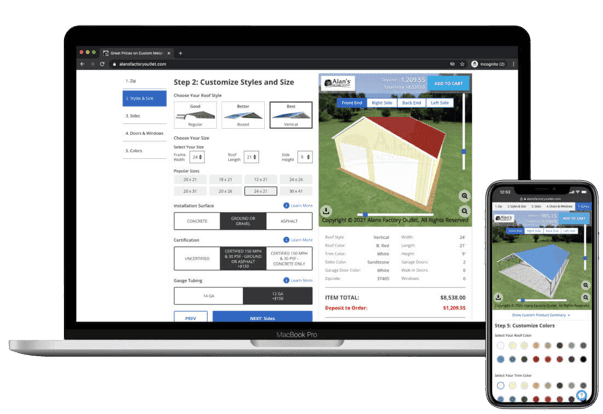 Customize Now