The 30 by 25 regular metal carport from Alan's Factory Outlet is 30′ wide by 25′ long with a total storage space of 750 square feet. It's built using 6′ legs that can be increased to 16′ for even more vertical storage space.
Each 30×25 regular-style triple-wide metal carport includes options for leaving open, partially closing, or fully closing the gables, ends, and sides. Customers can choose to enclose all of them to create a full metal garage instead.
All of our steel carports are anchored using rebar, mobile home anchors, or concrete anchor bolts depending on the location. The location where the carport is placed must be level or within at least 3″ of it for us to install. This anchoring process, combined with our tight screw pattern, gives these 30 x 25 carports a certification for 140 mph winds and 35 psf of pressure. If you live in a state that requires more than 35 psf snow load, you can upgrade to 105 mph and 65 psf.
Customers can also select from 16 different color options for the roof and trim of their metal carport. If you choose to enclose the sides of your carport, you may select a color for those as well. The metal colors are approximate and may vary.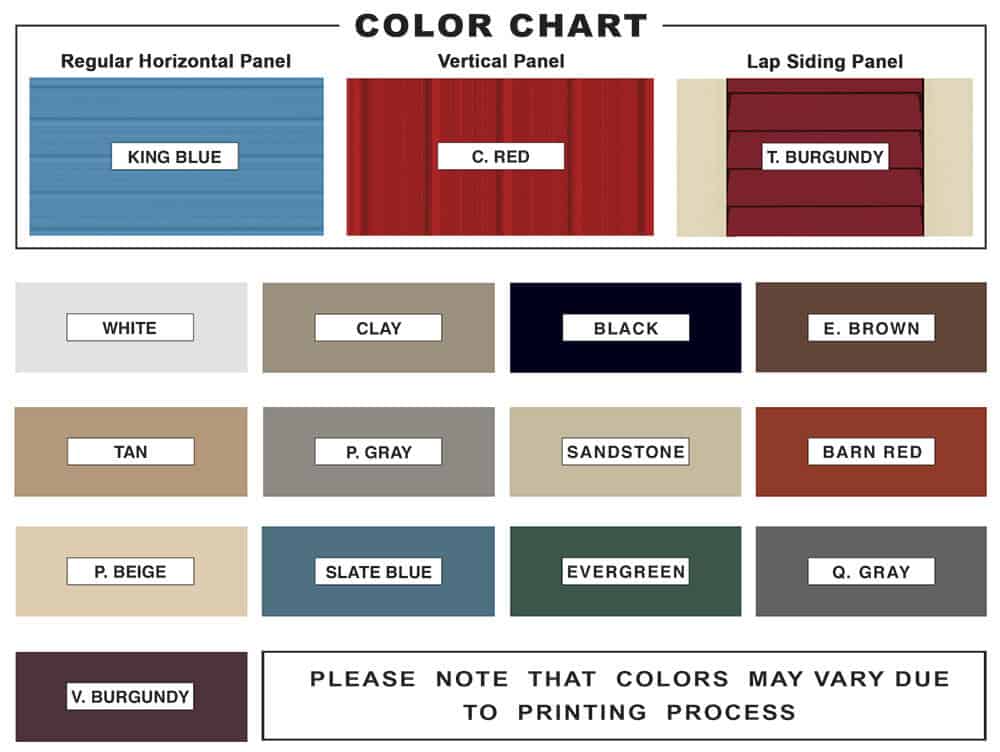 Each 30×25 triple-wide metal carport order also comes with free delivery and installation in Alabama, Arkansas, Georgia, Indiana, Kentucky, Kansas, Louisiana, Maryland, Missouri, Mississippi, North Carolina, Ohio, Oklahoma, Pennsylvania, South Carolina, Tennessee, Texas, Virginia, and West Virginia.
*Delivery may not be possible in all locations.
This particular picture shows a regular-style metal carport with an optional 3′ panel on each side as well as two gables.
When your 30 x 35 triple-wide carport order is placed, a 10% to 17% deposit will be due either with a credit card or check. At this time, we will also email you a copy of the order for your records. The remaining balance for your purchase will be due once the carport has been delivered and installed.
*Carport prices are subject to change without notice.
Blueprint drawings are also available through email upon request to assist with any building permit requirements. These will require approximately 3 to 4 business days after submitting your request for delivery.
This picture showcases a carport that has been turned into a garage by fully enclosing the sides and ends. It also includes an optional window, walk-in door, and garage door.

Customize and order your 30×25 triple-wide carport online now, or feel free to give us a call toll-free at 1-800-488-6903.