Should you buy a plastic shed, or a metal shed? That depends on how fast you need it, if you want a custom shed, and how long you want it to last.
How Long Do You Want Your Shed to Last?
Unlike wooden sheds, metal and plastic sheds are both resistant to rot and insects, so they will last a long time.
Metal sheds are extremely durable and can last a very, very long time.
Plastic sheds are made from vinyl or plastic resin. Over time plastic sheds tend to fade and crack as the sun's UV rays damage the plastic.
Winner: Metal Sheds
How Much Do You Want to Pay?
Both metal and plastic sheds tend to be lower in cost that wooden sheds.
Winner: Tie
Do You Want to Customize Your Shed?
The metal sheds at Alan's Factory Outlet are customizable, so you can get any size or configuration you want.
Plastic sheds generally can't be customized.
Winner: Metal Sheds
How Quickly Do You Need a Shed?
If you design your own custom shed, you'll have to wait for it to be manufactured, delivered, and installed.
You can pick up a plastic shed from Home Depot or Lowes today. They may also have some plain-looking metal sheds too.
Winner: Pre-assembled Plastic or Metal Shed (if you're in a hurry)
How Nice Do You Want Your Shed to Look?
Our metal sheds can be ordered with three different roof styles and 13 different colors, so you can design your shed to match your home and yard.
Plastic sheds aren't the most aesthetically pleasing, tend to have a limited range of styles and colors, and develop an ugly faded look over time.
Winner: A Metal Shed from Alan's Factory Outlet
Overall Winner: Metal Sheds
Need a custom metal shed? Get instant pricing with our 3D Shed Builder.
Build Your Custom Shed Today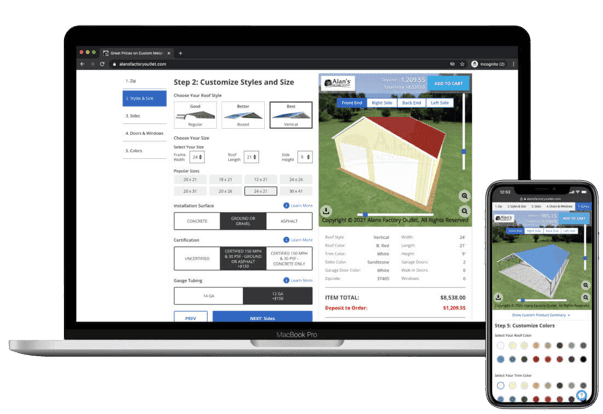 Customize Now