In Houston, carports play a critical role: to protect your vehicle from blazing sun exposure and other damage. Carports run the gamut of styles and materials. Given Houston's climate, open-sided metal carports offer a cooler alternative to metal garages, which can actually heat up your vehicle. Plus, contemporary design professionals and architects are increasingly recommending carports as a more inviting and attractive alternative to garages. If you're considering a metal carport for your Houston home, begin by assessing your particular needs, any desired specifications, and your overall budget. Next, familiarize yourself with the range of quality carports Houston, TX, residents can buy from Alan's Factory Outlet.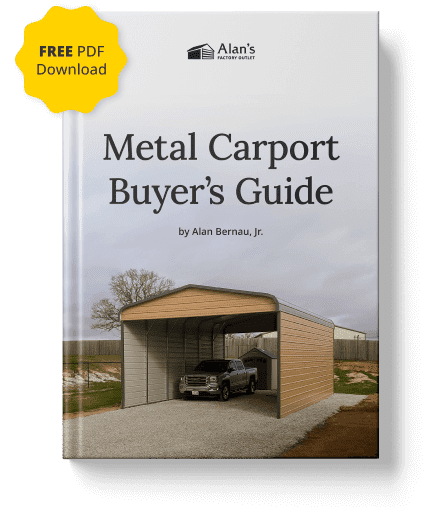 Avoid Buyer's Remorse!
Get a free buyer's guide to help you plan the perfect carport for your needs.
Find out:
How to save a lot of money
If a metal carport is right for you
How to choose the right size
What you need to know about foundations
And much more...
Advantages of a Metal Carport
Given the particular pros and cons of metal carports, Houston, TX, generally makes an ideal place for their installation. Metal carports drastically reduce vehicles' paint damage due to UV exposure, a critical concern for Houston residents. Given the relatively lower price of carports, Houston, Texas, residents often find that their value exceeds that of an enclosed garage. The open design of a carport also provides natural ventilation for your vehicle while protecting it from the elements. When assessing the expense of a carport, it's also worth weighing the cost of car maintenance and repair that a protective shelter can potentially save. Investing in a higher-quality carport can also improve property value, making it possible to at least partially recoup this investment in the future.
Carports also typically feature a lighter, more welcoming façade than metal garages, Houston homeowners often find. The simple lines of the carport are especially well-suited to Houston's many ranch-style homes, as seen in Frank Lloyd Wright's regular use of the carport instead of the closed garage. The celebrated architect, who was the first to use the term "carport," famously said, "A car is not a horse, and it doesn't need a barn."
What to Look For
When you compare metal carports, Houston has a sufficiently distinct climate to help narrow down your search. The rarity of snow means that the carport Houston homeowners choose doesn't need to have a pitched roof. Instead of our vertical roof carports, residents might want to choose a barn roof or boxed-eave roof style instead. Depending on the ruggedness you require, you may opt for either a steel or aluminum carport; the former offers maximum strength in case of heavy falling debris, making it a popular choice for those who live on partially wooded lots. The latter is likewise a durable choice, offering a long lifespan at a relatively lower price point.
Ordering and Installation
If you're looking for a metal carport, Houston residents have no shortage of options. Alan's Factory Outlet carries metal carports that are custom-built to your specifications and include a variety of possible roof colors. You can also choose to add gables or enclosed sides to your structure. And not only do we deliver carports to the Houston area, but we also offer free setup! You should anticipate installation to take between a half-day and a full day of labor.
Additional Considerations
In most parts of Houston, carports blend in admirably with the surrounding architecture and environment. In fact, the carport aesthetic is synonymous with the ranch-style home, which is seen in so many Houston neighborhoods. However, it's still advisable to consult with the zoning regulations set by the city of Houston as well as any community bylaws. In many cases, these regulations will limit the style, materials, or placement of any outbuildings on homeowners' property. For example, the Houston Heights neighborhood requires homeowners to place all carports behind the house in a detached arrangement, thereby preserving the neighborhood's architectural heritage.