Get your custom carport and get our best prices plus Free Shipping and Installation!
Metal Carports – Kentucky – from $1,425
Alan's Factory Outlet is the #1 seller of custom metal carports in Kentucky. Our 3D Carport Builder allows you to design your own carport, and instantly see how much it will cost.
How Much Does a Metal Carport Cost?
The price of a metal carport starts at around $1,425. Use our 3D Carport Builder to get instant pricing for your own custom carport.
Carport Sizes
Here are some popular carport sizes we sell (click for details and pricing):
Do You Install Metal Carports Near Me?
Yes! We install metal carports in all parts of Kentucky.
The cities, towns, and rural areas we deliver and install in include Ashland, Bardstown, Berea, Bowling Green, Burlington, Campbellsville, Covington, Danville, Elizabethtown, Erlanger, Florence, Fort Campbell North, Fort Thomas, Frankfort, Georgetown, Glasgow, Henderson, Hopkinsville, Independence, Jeffersontown, Lawrenceburg, Lexington-Fayette, Louisville, Lyndon, Madisonville, Mayfield, Mount Washington, Murray, Newport, Nicholasville, Owensboro, Paducah, Radcliff, Richmond, Shelbyville, Shepherdsville, Shively, Somerset, St. Matthews, Winchester, and more.
Make a Great Decision with Our Carport Buyer's Guide
Get our free Carport Buyer's Guide and find out everything you need to know before you buy a metal carport.
Thank You!
Your guide should arrive in your inbox in about 5 minutes.

Alan Bernau Jr., Owner
75,00 Satisfied Customers and Counting
"I compared your metal carport to others and no one comes close in price or quality. Completely satisfied customer. Thank you very much."

Carl C.
"Was happy with my carport they got it done in a few hours"

Robert H., Kentucky, November 2020, 24×20 Vertical Roof Metal Carport
"very good price compared to others. This is my third carport and have been very pleased with them all."

Brett C., Kentucky, August 2020, 22×25 Boxed Eave Carport
"Our carport was expertly made and installed. It did take about twenty days longer to get scheduled than what was estimated, but it was worth the wait. We've already had some good storms and it feels and sounds sturdy. I wouldn't hesitate to order another if I needed it."

Benjamin Y., Kentucky, June 2020, 18×26 Vertical Roof Carport
People love our carports, but occasionally delivery takes longer than expected. Read how the scheduling process works to find out why.
"Very easy to do online and very nice people to talk with when answering my questions."

Scotty, Kentucky, November 2019
"Alan's Factory Outlet was a great choice for where to purchase a carport. Friendly people to work with. The crew that installed the carport were fast, polite and efficient."

Gary R., Kentucky, July 2019, 11×20 Regular Style Carport
"I was reluctant to make such a purchase online, but I am very satisfied with the way it turned out. I believe I got a pretty good deal. I'm very satisfied."

Mark P., Kentucky, November 2018, 24×20 Boxed Eave Carport
"easy to follow and great customer service so far.delivery time was a little long. And scheduled time of arrival was off by a few hours. The workers were courteous and quick though. Would purchase from again if delivery time was less."

Shannon V, Kentucky, January 2017
See our estimated delivery times to see how long delivery might take in your area.
"Very easy website. Great prices. Just wish skylights were an option. Building looks great. Workers were very professional. Only issue was they forgot some windows, but had job finished early next morning. Had several interested neighbors."

April M., Kentucky, December 2016
"I purchased from you because I was able to build my products on line. I also hope God blesses and your business."

Ardoth W., Kentucky, November 2015
"Great experience. Would recommend to anyone"

stephanie E. Kentucky, October 2015
"Very good response to inquiry and I thank Sue for her help. The installation crew were very business like and professional. The only negative issue was the wait time but I was advised of the time frame when I ordered the car port."

Daniel C., Kentucky, September 2015
About Alan's Factory Outlet
Alan's Factory Outlet is owned and operated by Alan Bernau Jr and wife Julie Bernau. When you buy a carport from Alan's you are supporting a small, family-run business, and you get the excellent customer service you expect from a family-operated business.
Free Delivery and Setup in Kentucky on all Metal Carports
If you are a Kentucky resident, especially one from Lexington, Louisville, or Owensboro and you lack a garage or you have one that cannot accommodate all of your vehicles, then you must consider purchasing one of the many available carports. Kentucky residents have long trusted metal carports in KY to keep their vehicles safe from precipitation and the other elements and with good reason. After all, cars, trucks, RVs, motorcycles, and other vehicular equipment are an investment, and the shelter offered by metal carports in KY is a great way to keep said vehicles protected and looking their best for many years to come. Furthermore, there are many other practical uses for carports. KY citizens, therefore, get far more than just a carport when they purchase one of the award-winning carport models from Alan's Factory Outlet.
Customers who buy one of our metal carports in KY often use their structure simply for vehicle storage. Others use them as convenient outdoor workspaces because of the fresh air and ventilation available in the very best carports. Kentucky buyers should know that there is really no end to the number of use options that they have with all of the metal carports in KY we offer in our catalog, whether the structure under consideration is basic or more detailed.
Metal Carports Kentucky
As far as our catalog of carports in KY, carports, and garages are available in many different sizes and styles as well as many different heights to meet your needs. Our awesome carports for sale in Kentucky are conveniently installed when you order from us.
Carports give your car, truck, boat, RV, farm equipment, and other valuables the perfect protection from the rain, hail, ice, snow, wind, and sun. Furthermore, we know that you can come up with even more creative ideas for our carports. KY residents simply need to consider their immediate needs so that they can shop for carports in KY without having to worry about buying a product that cannot do the job you need it to accomplish.
Alan's Factory Outlet steel carports in KY are available in many different sizes starting in a single carport or single garage at 12×21 with other widths of 18', 20', 22', and 24' Wide. The next longer sizes in length after 21' are 26', 31', 36', and 41. We can even make the metal carports and metal garages longer in 5' increments to the length that best suits you when you are shopping for carports. Kentucky buyers typically find this customization option to be quite inviting and an attractive selling point for those who have unusually shaped vehicles and other equipment.
If you are looking for a metal building wider than 24' while you are shopping carports for sale in Kentucky, we've got you covered with our triple wide carports which come in 26', 28', and 30' widths.
The newest style metal carport in Kentucky is the metal barn lean-to carport which comes in widths of 36', 42', 44', 46', and 48', with lengths starting at 21' long and available in 5' increments longer to the size you need.
The carports are installed in homes and businesses across Kentucky, including Louisville, Lexington, Bowling Green, Owensboro, Covington, and Frankfort KY.
Triple Wide Carports Kentucky
Metal Barn Lean To Carport Kentucky
RV Carports KY
We Offer Free Delivery and Setup in Lexington, Louisville, Owensboro, Kentucky, and beyond on all Metal Carports, Metal Garages, Triple Wide Carports and Metal Lean To Buildings.
Metal Carports and Garages Come in 3 Different Styles:
Many people approach us with this question: What is the difference between the boxed eave and the vertical roof style? On the boxed-eave roof, the sheeting on the roof goes lengthwise, and on the Vertical the sheeting is side to side or, you could say, up and down, which helps snow slide off of your roof.
Beyond Kentucky, Other Cities We Deliver To
Alan's Factory Outlet provides metal buildings and carports for delivery and installation. Popular cities we deliver to include:
Build Your Own Metal Garage or Carport With Our 3D Builder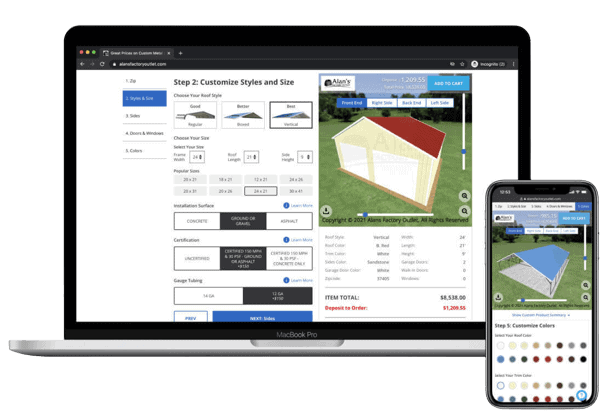 Price and Buy Online with Our 3D Builder Plus Free Shipping and Installation!
Select a size to meet your needs
Choose roof, side, and trim colors
Add garage doors, windows, and walk-in doors
Customize additional options