Product Description
Alan's Metal Carport Kits
The 28×26 vertical roof triple wide metal carport comes standard with 6′ legs.
You can make it taller in 1′ increments with up to 16′ legs available. Sides can be left open, partially closed, or fully closed. You can close one or both gables, close the back or fully enclose it and turn it into a metal garage. The scalability of Alan's carports is truly limitless.
Save money online when you order one of Alan's carports. The picture of the carport is shown with 2 optional gables and a 3′ panel on both sides which can be added for an additional cost.

The triple wide metal carports shown here include free delivery and installation in 24 states: Alabama AL, Arkansas AR, District of Columbia DC, Georgia GA, Indiana IN, Illinois IL, Kansas KS, Kentucky KY, Louisiana LA, Maryland MD, Mississippi MS, Missouri MO, New Jersey NJ, New York NY, North Carolina NC, Ohio OH, Oklahoma OK, Pennsylvania PA, South Carolina SC, Tennessee TN, Texas TX, Virginia VA and West Virginia WV. The carports may not be available in all locations.
This vertical steel carport is shown with options of panel on both sides and two gables.


*The metal carport prices are subject to change without notice.
Upon ordering the carport at Alan's Factory Outlet, a 10%, 12% or 15% deposit is due with either a credit card or you can mail a check for the deposit with the balance due once the steel carport is delivered and installed and final payment can be given via credit card or check for the remaining balance. Once you order one of our metal carport kits, you will be contacted and a copy of the order will be emailed to you for you to review and approve to make sure everything is just like you want it. Every purchase at Alan's Factor Outlet is guaranteed to satisfy our customers.
Our unmatched installation service makes Alan's carports a great buy. We anchor the carport to the ground or asphalt for free with rebar and to the cement for free with concrete anchor bolts. This takes the hassle out of having the buyer install our metal carport kits themselves. The location for the carport must be level or within at least 3″ level or less or we will not be able to install it. If it is anchored to the ground you can upgrade with mobile home anchors.
This carport is fully enclosed and turned into a metal garage shown with both sides closed, both ends closed, 2 garage doors, vertical sides and vertical ends upgrade.


The triple wide metal buildings are fully braced for additional strength. This makes our metal carports durable enough to endure the elements.
The triple wide carports come certified with 35 psf and 140 mph.
You never have to worry about our metal carports rusting. The metal tubing on the steel carports come with 14 ga tubing which is 2 1/2″ by 2 1/2″ square tubing or you can upgrade to the 12 ga tubing which comes 2 1/4″ by 2 1/4″ tubing. The framing on the optional thicker 12 gauge tubing comes with a 20 year rust through warranty.
The triple wide carports are custom built in the size, style, and with the options you want. You get to choose between 13 different colors for the roof and trim colors, and if you close the sides or ends you also get to pick which color you want it to be. This makes choosing Alan's carports one of the best choices available in the market.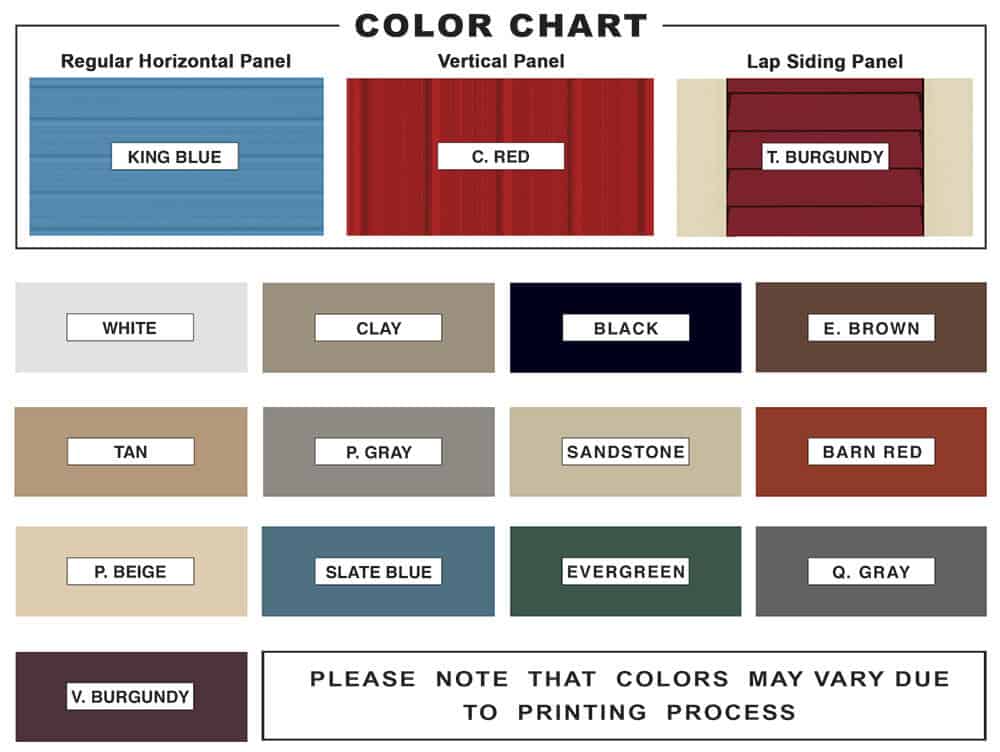 Colors are approximate and may vary. Order one of our metal carport kits today.
The pictures shown for this metal carport is not an exact sizes but more to show you the vertical roof line.
You can buy your metal carport online or you can order it by calling Alan's Factory Outlet toll free 1-800-488-6903 or with any questions.