The other day one of my neighbors got a new Amish-built storage shed from me at Alan's Factory Outlet. He put it in his backyard so he'd have a place to store his yard tools as well as his riding lawn mower. As the days went by, I noticed him busily planting bushes around his shed and even putting in a walkway. By the time he finished his work, his shed looked like an extension of his home! I realized that just because a shed or other storage building is a practical item, doesn't mean it has to look plain. Here are some of the landscaping design ideas I found that can make the appearance of a shed, barn, gazebo, pergola or other structure all the more appealing!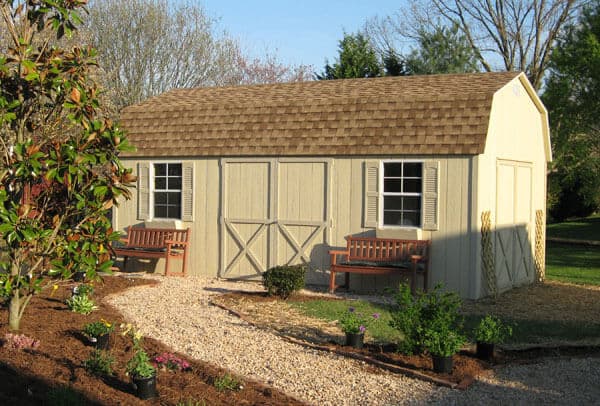 Walkways and Paths Incorporated into Landscaping Designs
My neighbor created a walkway that leads from the back door of his house all the way to his storage shed. He put down flagstones for people to step on as they go. He told me that he chose flagstones because he likes the variety of shapes. They also fit with the atmosphere of his backyard which has lots of trees and flowers. I looked into some other landscaping designs that feature walkways. There are gravel walkways with stone borders. Stone borders, or stone edging, help to keep the gravel from disappearing into the grass or getting kicked around by people walking on the path. Other materials for walkways include pebbles, bricks and field stones. Putting lights along the edges of a walkway is another way to improve the look of the landscape. I'm convinced that an imaginative walkway can be the finishing touch to any landscape design that includes a shed or other storage building.
Landscape Designs with Flowers, Bushes and Shrubs
It's amazing how much interest a gathering of colorful flowers and bushes adds to the look of a shed, barn or gazebo. For instance, someone who puts a gazebo on his or her property may want to plant some beautiful yellow roses or azaleas around the base of the structure. This gives the entire area a brilliant dose of color. Climbing vines with a collection of morning glories are also an attractive addition to a gazebo's design. Other landscaping design ideas include putting a small fish pond next to the gazebo. A natural-looking fountain in or near the fish pond would be an appealing touch. Ferns growing around the edges of the pond would also make for a pleasant scene. No one will be able to resist the temptation to stop and look at the collection of goldfish or Koi in the pond.
My neighbor planted some Russian sage around his shed that gives the structure just the right amount of lively color. The Russian sage is an attractive shade of violet/blue. Some other landscape designs for a shed include planting some brilliant yellow Forsythia shrubs or Blue Star juniper bushes along the sides of the shed. An arrangement of mulch around the sides of a shed, garage or barn can be the perfect setting for a collection of low bushes or colorful blooms. All of this has inspired me to try some new landscaping design ideas in my own yard! Here is a website that will give you more landscaping design ideas and information.
Thanks for reading about finding the perfect landscape design for your storage shed, barn or gazebo. These are just a few ideas so please let me know if you have some other ways that you've landscaped around your buildings.